The former Brazilian minister of culture was going back to his roots. Gilberto Gil may be 71 but he danced on to the stage, clutching a red guitar, fronting a band featuring accordion and fiddle. The emphasis, he explained, would be on forro, the dance music from Brazil's arid north-east that he listened to when he was growing up, and his second song, Danca da Moda, was originally recorded by his early hero Luiz Gonzaga.
Brazil's most celebrated and versatile veteran performer closed Womad 2013 with a jaunty Brazilian folk-rock set that included forro songs that he recorded for the film Eu, Tu, Eles, along with Expresso 2222, which he wrote in London in the 70s when he was exiled by Brazil's military government, and Bob Marley songs, a reminder of the role Gil played in popularising reggae in Brazil.
It was a brave and varied set that captured the mood of the festival. This wasn't quite the perfect Womad, thanks to the weather – rain fell on the site throughout Saturday evening, while Sunday saw intermittent sun and showers – but the music was impressive, with a strong blend of established artists and experimental newcomers, and sounds from right across the planet. My personal favourites were from the US, Italy, Tuva and west and southern Africa.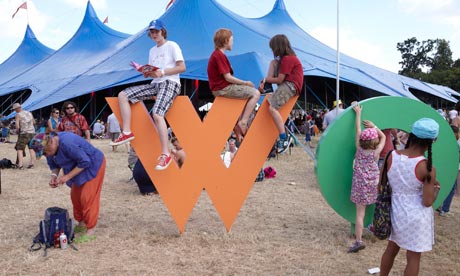 From Africa, the novelty newcomers of the year were the Malawi Mouse Boys, who used to make their living selling rodent kebabs. This was DIY music, featuring a home-made guitar and tin-can percussion, but the harmony singing was impressive, and so were some of their songs, influenced by gospel and soul. It was charming, but they didn't have the variety to sustain a full set.
There were no such problems for the continent's most rousing African newcomers, Mokoomba. They have already proved their worth in the clubs, but they sounded equally confident playing to a festival crowd. The school friends from Victoria Falls performed in front of a Zimbabwean flag, and mixed rapid-fire dance songs and dance routines with a cappella harmony work that echoed South African township styles.
But the finest African performer was Seun Kuti, Fela Kuti's youngest son. A neatly dressed, athletic figure with cropped hair, he could have passed for a successful young Lagos executive had he not then launched into an attack on big business with Fela's ITT (International Thief Thief). He showcased his own increasingly powerful writing with the angry Mr Big Thief, and the new African Airways, a satire about his country that sounded like a musical answer to Pedro Almodóvar's aeroplane comedy I'm So Excited. This was a new take on Afrobeat, and it worked thanks to Seun's theatrical performance, inventive saxophone work and gloriously tight backing from his father's former band Egypt 80.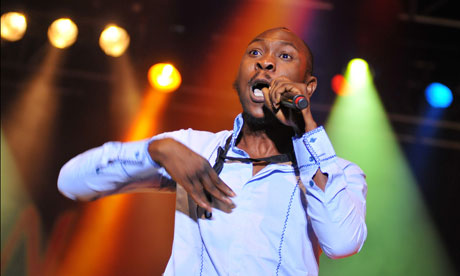 The finest female newcomer was Christine Salem, from La Réunion, who demonstrated her deep, soulful vocals with backing provided by her own percussion and two male singers and percussionists. From Mali, there was a sturdy set from Rokia Traore, who started with cool ballads and showed off her stomping electric guitar riffs on Beautiful Africa. Malouma, from Mauritania, was unexpectedly disappointing. Backed by guitar and keyboards, her set mixed desert blues with R&B and easy-going western pop, but she was at her best when she played the ardin, the ancient Mauritanian harp.
From Europe, one of the most exciting performances of the festival came from Canzoniere Grecanico Salentino, from the south-east of Italy. They played pizzica, a style said to cure snake bites, thanks to the pounding, hypnotic effect of the insistent frame drum, matched with fiddle, bagpipes, accordion and five-part harmonies. It was an extraordinary, exhilarating noise.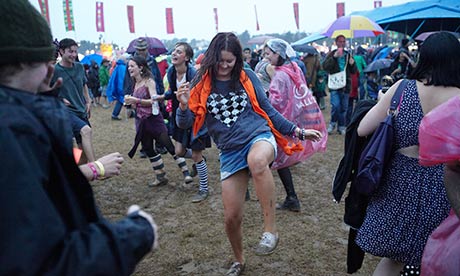 There were more remarkable noises from Huun-Huur-Tu, from the remote Asian territory of Tuva. Four men sat solemnly in a row to demonstrate throat singing, a technique in which a singer produces more than one note at the same time, with deep growling effects matched against what sounded like a flute or whistle. These extraordinary noises were backed by traditional fiddle and lute, and the epic songs sounded like country music from the forests and plains of their homeland.
There was also room for Americana and Mexicana in the eclectic Womad mix. David Wax Museum played a gloriously cheerful fusion dressed up with sturdy pop melodies and slick harmonies. Wax played jarana guitar while Suz Slezak switched between fiddle, accordion and percussion, provided by bashing a donkey's jawbone. It was perfect music for a hot summer evening, and they tried hard to pretend they weren't playing in the rain.