Conductors need a sense of timing. It is the least we ask of them, whatever else they might offer. Daniel Barenboim reaches levels of synchronicity beyond the musical, embracing world politics, global events and – after his mesmerising Ring Cycle at the Proms this week, which ends with Götterdämmerung today – meteorology and royal obstetrics too. Last year he managed to take the lengthy applause after a stupendous Beethoven's Ninth prom, slip into a white suit and cross the city just in time to be a surprise flag-holder at the opening ceremony of London 2012.
This year he improved on his own impressive form. A couple of hours after the birth of a future king some two miles from the Albert Hall, Barenboim embarked on a journey to Valhalla with his Staatskapelle Berlin forces and a godly line-up of soloists which is sure to be seen as one of the great Proms events of the decade. It was the festival's first complete Ring in a single season, as well as Barenboim's first Wagner in the UK.
It was also, naturally, the hottest night of the year. At the end of last Monday's Das Rheingold, enthralling and vital despite the airless, sweltering temperature, Donner, god of thunder, swung his hammer and called up a "flashing storm" to sweep the heavens clear. And lo, up and down the land the skies rumbled and flickered and the clouds burst. Does Barenboim consult almanacs? Do they consult him?
The 70-year-old conductor-pianist certainly remains the most exciting and authoritative musical superstar in a congested firmament. His name has become a byword for musical brilliance and danger. He can be furious or flirtatious. He is impatient for the best. At rehearsals, I gather, he repeatedly urged his magnificent orchestra to keep the volume down. He instructed them to play with the lightness of Mendelssohn, reminding them that he, Barenboim, had played Schubert's Winterreise in the Albert Hall with Dietrich Fischer-Dieskau – just two men, one piano – and every note could be heard. That was his goal here. He largely achieved it.
On Tuesday, with that characteristic mix of chutzpah and charm, Barenboim spent some time adjusting the height of his music stand then ceremoniously shut the score and conducted Act 1 of Die Walküre from memory. Blessed with a matchless cast and an orchestra who know this music, and Barenboim, inside out, this mini-drama was as spellbinding as you could hope. Simon O'Neill, the New Zealand-born tenor who sang Siegmund, has a purity and warmth that shine through every phrase. As he threw his head back and opened his arms for the climactic utterance of the name "Wälse", it was as if Wagner had found his ideal Siegmund. Not that there haven't been others.
It was also a night of triumph for Sieglinde, the German-born soprano Anja Kampe making her Proms debut. A natural stage creature, she lived every agonising second of the tragedy in which she betrays her husband to sleep with her brother and then to watch him die while – let's have the full sordid story – carrying his child. She sang thrillingly, powered by emotion. She may think it's always like this at the Proms: intense silence, barely a cough for the duration and, at the end, explosive ovations lasting 20 minutes with 6,000 people on their feet yelling.
While Rheingold moves inexorably through its uninterrupted duration, suddenly notching up with a rush of vigour in the last 10 minutes, the architecture of Die Walküre is different: the urgency of Act 1, the argument and discourse of Act 2, and the heartbreak of Wotan as he bids farewell to his daughter Brünnhilde in Act 3. With doughty Longborough's largely British complete Ring this summer (I heard their fine Rheingold), we scarcely need reminding of the British tradition of Wagner singing.
Barenboim had chosen the Glaswegian Iain Paterson – who began his career in the chorus of Opera North – to sing Wotan in Rheingold. The cast also had fine contributions from Ekaterina Gubanova (Fricka), Johannes Martin Kränzle (Alberich), Peter Bronder (Mime), Stephen Milling (Fasolt) and the ever evil veteran Eric Halfvarson as Fafner (some of whom reappear later in the cycle). Paterson made an impressive, lyrical debut. We must wait to see if he, like Bryn Terfel, will grow into this hyper-challenging part as the ambitious, morally complex leader of the gods. Terfel took over for Die Walküre and seems to plunge ever deeper into this loneliest of characters.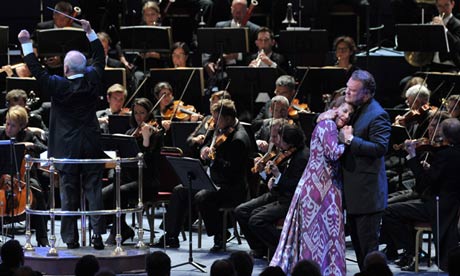 The marathon role demands prolonged, non-lyrical outbursts, yet Terfel also managed soft-voice singing of incomparable beauty. As he fell to his knees to sing, Barenboim, in response, bent nearly to his knees to support and guide him. Barenboim has a range of gestures which are his alone: the hand twiddling as if steering a pony and trap, the wide, scything movement which slices across players' heads, the slamming motion you would use to shut a car boot. At times he has a hand in his pocket, usually in search of his handkerchief, at others he ceases beating time altogether. He appeared indefatigable, alone unable to pause or rest for a second throughout. Highest praise goes to the orchestral brass, with never a split note between them.
The admirable Terfel showed another side too. It underlined the collegiate nature essential to any music-making. Nina Stemme, ardent and accomplished as Brünnhilde, even if the limited staging did not quite unleash her full dramatic potential, missed an entry – in that heat, made worse by bright stage lights, anyone would sympathise. The only point in mentioning it is to note Terfel's professionalism. Barenboim tried to cue her. Without losing a beat, Terfel saw Stemme's situation and started singing her line himself (would all singers have known the words? Probably not.) A few seconds later she regained her poise and took over. In this epic endeavour, Wagner's gods may be flawed, but the mortals who sing them need to be more truly super-human.