Born blind, pianist Nobuyuki Tsujii has learnt the repertoire largely by ear. In his native Japan, he is a star. Would his Proms debut – Rachmaninov's Concerto No 2, his latest collaboration with the BBC Philharmonic – still have raised a standing ovation had he been sighted? Maybe not, but he would belong in this lineup all the same. His melodies had lyricism as well as muscle, there was a refreshing lack of sentimentality, and inner details were unusually clearly put across, even if it sometimes led to moments of harshness or fleetingly clunky phrasing.
How much scope there might be for split-second spontaneity in his concerto performances is another question; but Tsujii and conductor Juanjo Mena certainly communicated here, the orchestra played lovingly, and even the staunchest cynic would have to concede that it's inspiring to witness a pianist skipping through Liszt's La Campanella, Tsujii's encore, when they have never been able to see the keyboard.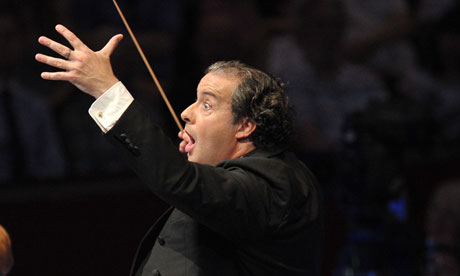 You can certainly see the ocean when you listen to David Matthews's new work, A Vision of the Sea, a 20-minute score inspired by the Kent coast. Waltzing strings conjure up glittering spray, rainsticks evoke waves sucking back the sand, and the woodwind imitate seagulls. It is all skilfully, lightly done, even if there is much here that could have been written at almost any point in the last century. In the final sunrise, though, the piece shows its teeth – and the nature quote is even more direct. Matthews refers to the discovery that magnetic loops in the sun's atmosphere vibrate rather like the strings of a violin; his sun rises on two of the actual recorded pitches.
Nielsen's Symphony No 4, "The Inextinguishable", rounded off what now seemed like a programme of Big Ideas. Mena drew electric, responsive playing from an orchestra on fine form, and as the two timpanists battled it out in the closing minutes, you could feel the life force Nielsen wanted to summon zinging out from the platform.
• Did you catch this gig – or any other recently? Tell us about it using #GdnGig