In the early 1980s, everyone was trying to find new types of music. Electro-pop, hip-hop and rap were just starting to emerge in the US and house music was bubbling under. Thanks to punk, it felt as if rock had been consigned to the dustbin of history, certainly in London. There was a club called Gossips that played African music and there was a huge interest in funk, jazz and Latin sounds. It was a very exciting time.
I was listening to all this stuff and made up a tune that was vaguely Latin-African. I didn't quite know what it was, but it was very simple. The main melody was just three notes – C, D, E – with brass embroidered around it. I think writing the tune before writing any lyrics was key. If I'd known anything about Nelson Mandela beforehand, I'd probably have come up with some earnest thing on a strummed acoustic guitar.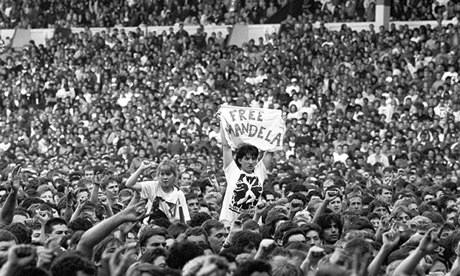 When I was a schoolkid in Coventry, I used to put up anti-apartheid stickers. And when I was 14, I demonstrated against the Springboks rugby tour [South Africa's whites-only team]. But funnily enough, I hadn't actually heard of Mandela until I went to a concert at Alexandra Palace to celebrate his 65th birthday. People like Julian Bahula, the South African musician who came to Britain in exile, were singing about him, which gave me the idea for the lyrics.
I picked up lots of leaflets at the concert and started learning about Mandela. At that point, he'd been imprisoned for 21 years and the leaflets said the shoes he had in jail were too small for his feet, so I put that in the lyrics. At the time, the Specials were in chaos. Terry Hall, Lynval Golding and Neville Staple had left to form the Fun Boy Three, but I'd carried on with the name the Special AKA and a fluctuating lineup. There were lots of arguments so I asked Elvis Costello to produce the song, because I thought he'd bring everyone together. The track felt very important: trying to get it done before the whole thing fell apart was exceedingly stressful.
A song called Let's Clean Up the Ghetto, by the Philadelphia All Stars, gave me the idea of having a variety of famous artists all performing together on the record, which Bob Geldof would later do with Band Aid. So I had Elvis there, as well as Dave Wakeling and Ranking Roger from the Beat, and I invited Lynval back as a gesture of goodwill. The chorus was sung by three top session singers including Caron Wheeler, who went on to join Soul II Soul. They'd been singing with Pink Floyd but we got them. The way the song begins – with them doing the chorus a cappella – was an afterthought. It might even be slightly out of tune with the rest of the song, since it was added afterwards. But it gives it a weird kind of lift when the main melody comes in.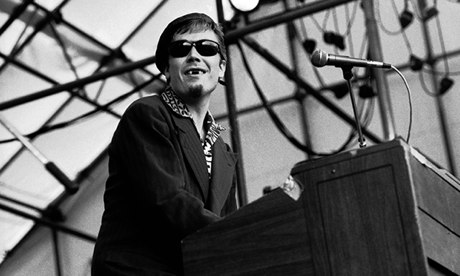 The lead singer, Stan Campbell, was very young. He was in a little band in Coventry and I wanted to show some loyalty to my hometown. The backing vocals are by Molly and Polly Jackson, two girls Brad [drummer John Bradbury] met in a bar in Camden. Brad played a disco, afro-type beat and Elvis put an echo on it right in the middle of the song, for that boom-boom-boom bit. I wrote the brass. Ghost Town [the Specials' 1981 No 1] was a melancholy song with a happy middle eight. Nelson Mandela, as the song was originally called, was the other way round: two mournful brass moments contrast with the uptempo celebratory melody.
The song said what I wanted it to say very clearly. At the time, there was a huge amount of opposition and propaganda directed against Mandela. Margaret Thatcher had described his party, the African National Congress, as a "terrorist organisation". But in the days just after punk, record companies would never have refused to release something on the grounds it might be controversial. At the time, there were these two enormously influential record pluggers called Ferret'n'Spanner. They were big Specials fans and pushed the track at radio stations. If they hadn't liked it, I don't know if it would have been played on Radio 1.
We shot the video in a church hall with these kids doing crazy jazz dancing, and we used the sleeve to give people information about the Anti-Apartheid Movement. The song was banned in South Africa, but they played it at football matches, which were communal black gatherings. It was an international hit and helped build momentum against apartheid. Dali Tambo [son of exiled ANC president Oliver] approached me to form a British wing of Artists Against Apartheid, and we did loads of concerts, leading up to a huge event on Clapham Common in 1986 that attracted a quarter of a million people. That was the proudest day of my life. It led to the Wembley Stadium concert with people like Dire Straits and Whitney Houston, which was broadcast to millions around the world – comparable to Live Aid. And then things really took off, with a lot of people who hadn't previously supported anti-apartheid coming on board.
Politicians realised how popular the whole cause was becoming, but I don't know if I ever thought Mandela would be freed. The situation in South Africa was dire. There'd been massacres and it was getting worse, but obviously negotiations were going on behind the scenes. The sanctions campaign tipped the balance. All those people who didn't bank at Barclays or buy South African fruit helped bring about change. It was people power around the world. But what we did was nothing compared to the sacrifices made by those who suffered under apartheid.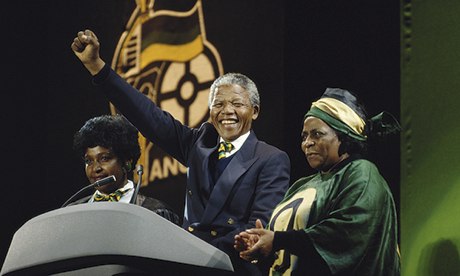 In February 1990, when I heard Mandela was being released, it felt incredible. He'd been in jail so long no one knew what he would look like. People were shocked by this very gentle person, and immediately warmed to him. The concert at Wembley to celebrate his freedom was amazing. He went from being in prison to being mobbed. When he came on stage, the standing ovation lasted 10 minutes. I'd gone into the audience to experience it and I've never known anything like it. It was reassuring: it made you think the vast majority of human beings aren't racist and are actually all right.
Writing the song has led to some of the greatest moments in my life. You meet people from all over the world, Africa to Brazil, who know it. It went top 10 in the UK and made No 1 in New Zealand. I've even got a Jerry Dammers spinning top from Argentina!
I wrote a song about Mandela because of what he stood for. He became a figurehead for the struggle against apartheid, but when he came out of jail he wasn't a Martin Luther King type orator: he just said, and continued to say, important things about equality and justice. "Like slavery and apartheid," he once told an audience in Trafalgar Square, "poverty is not natural. It is man-made and can be overcome and eradicated by the actions of human beings." He saw that the ending of apartheid is only the beginning – and that's as true now as it ever has been.
At that 1990 Wembley show, someone introduced me to him as the person who wrote Free Nelson Mandela. "Ah yes," he said, "very good."
• Jerry Dammers was talking to Dave Simpson. This interview was given before Nelson Mandela's death.