John Wizards: If the name suggests finding magic in the everyday, then it's entirely appropriate for a group that has the most magical of stories. It's a story that takes in apartheid, loneliness and the overwhelming triumph of friendship. A story of how a South African production whizz teamed up with a Rwandan refugee to make one of the best – most magical – albums of 2013.
To tell the story properly we need to journey back to 2010, around the time of the World Cup in South Africa. In a Cape Town bedroom, John Withers – at the time just 22 – has begun making music on his computer: beguiling, dreamlike compositions that reference his internet-fuelled interests, from Congolese rumba to the Warp catalogue. Withers' keen ear for sound has been honed through a job writing music for TV commercials, but these private compositions require a human voice to give them life.
That human voice – although Withers doesn't know it yet – belongs to Emmanuel Nzaramba, a refugee who arrived in Cape Town only a year earlier, after an eight-week journey through Tanzania and Mozambique. The purpose of his journey was partly a musical one – after years playing reggae music in Rwanda and Uganda he wanted to find a wider audience. But it was also a journey of desperation: born to a Hutu father and Tutsi mother, Nzaramba had struggled to find acceptance and security in his homeland following the Rwandan genocide of 1994. "I lost a lot of members of my country, of my family … my brother, my sister, some of my parents and relatives," says the 39-year-old over the phone from Cape Town. "All the hope I had to go to school … I could not afford. No one could support me. Even after the genocide there is avenging, killing each other. If you are Hutu, Hutus support you. If you are Tutsi, Tutsis support you. But me? I look like my mother, a Tutsi, so no Hutu can help me."
Initially, Nzaramba found that South Africa offered little but a reminder of his past: "I live as a homeless person, just on the road," he says. "Other refugees I find in South Africa, they never give me a job. They say: 'You look like our enemy.' I tried to live with another guy from my country – he broke my guitar because he had the same feelings, saying: 'This guy looks like he's not my tribe.' I felt very bad from that time."
Fate struck, however, when the pair crossed paths in a cafe where Nzaramba had found work as a security guard. The guitar Withers was carrying acted as a spark for conversation and the pair began recording together as John Wizards. Then, just as suddenly as they began, they stopped. "I disappeared," says Nzaramba. "I lost that job …"
"... and he can be a hard man to track down," laughs Withers, who joins Nzaramba on conference call.
Fate wasn't giving up on this story, though: Withers moved houses and ended up running into Nzaramba on the same street. By this time he had written more songs and John Wizards' music could take shape properly – giddy, playful songs created using nothing more than a laptop, condenser microphone and guitar. A live band was formed around the duo in order to perform local shows. After a mix of their songs online, electronic label Planet Mu got in touch asking them to record a full album.
Although John Wizards' self-titled debut has a lo-fi, dreamlike quality familiar to fans of chillwave or indie R&B, the overriding flavour is an African one. Withers speaks of his love for Brenda Fassie, Franco Luambo and the South African house music scene. He also encouraged Nzaramba to sing not just in English, as he had been doing previously, but also his native Kinyarwandan (evident on the twinkling Lusaka by Night), as well as Swahili. The album often feels geographical: Limpop references the Shanghan electro style of Limpopo; Durvs nods to the vibrant house music scene in Durban. Standout track Muizenberg – with its funky guitars and lolloping beat – captures the feeling Withers had from riding the train from the titular seaside suburb.
Withers says the album's hazy quality comes from him being "unaware of what's going on around me. I get lost in my own thoughts and I guess that translates into the music."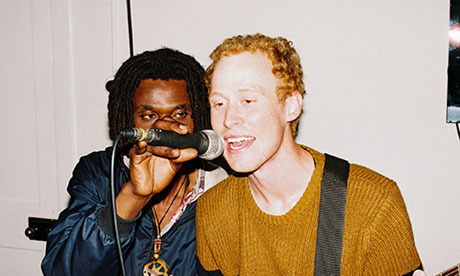 Indeed, songs end unexpectedly, clatter awkwardly into other tracks, and even fizzle out completely. At one point the music disappears only to be replaced by a snippet of conversation. Yet the pervading mood is not one of slacker apathy but joyful optimism. It certainly sounds unburdened by commercial intent, a freedom that is perhaps a reaction to the odd demands of Withers's day job in advertising.
"You know the theme song from Titanic?" he laughs. "Well some creative director of a company wanted a track which evoked the same feelings as that … only in the style of traditional Capetonian minstrel music. That music is so jolly, I really couldn't believe that this was coming from this guy!"
Withers doesn't, however, see any conflict between advertising work and his own music – rather he thinks the two can work hand in hand. Advertising, he says, taught him to "finish things off a bit better", and sometimes songs conceived for commercial work can be transformed into more personal creations. The song Finally/Jet Up was one such track, an ad for a clothing chain that Withers reworked heavily: listen closely and you can just about make out the words of the female vocal sample: "Jet up – reveal your style!"
"Often when you're writing for commercials you end up following your instincts and writing something you might actually like anyway," says Withers. "That will rarely end up being pitched to the clients so the track is just there doing nothing."
In June this year, when music website Pitchfork picked up on the record, Withers became inundated with emails. "I really didn't think about if there would be a reception for it critically," he says. He was equally surprised by the way critics picked up on the band's racially diverse line-up as a pointer towards a more harmonious, post-apartheid South Africa. "I guess it's an unusual thing, it's not something you see here often," he concedes. "But I'd be cautious to ever think of ourselves as a progressive band representing any sort of social change in South Africa."
Nzaramba is more open to the idea of what their music can represent. "For me, being in a band with white guys is something a lot of people in South Africa feel they can't do," he says. "The past of this country, there is animosity between black and white people. So a lot of black people, they are a little bit scared of white people, and some white people, they can't trust black people. I never find a band like our band. I want to show to people that we are all born in Africa – we can work together."
Certainly, the music of John Wizards wouldn't be anything as special without the input of either party. Without Withers there would be no star-gazing production, no tinkering with the established boundaries of genre. And without Nzaramba, you would lose the soul, and the stories - songs of love, friendship and abandonment that come from what he describes as "always living a lonely life". The final song on the album, for example, is called simply Friend, or Inshuti.
"It's trying to say: what is the meaning of a friend?" explains Nzaramba. "So I put lyrics saying a friend is someone who could be near you and keep secret and not get tired of you. You can eat the same thing and he will not feel to eat more than you."
The telephone line goes silent. Then he says softly: "I have not had a friend like that until I met John."