The huge Chicago city-centre space in which Lollapalooza takes place, Grant Park, is situated at the beginning – or possibly the end – of Route 66. It's apt that a festival should happen at the very root of the United States' great music highway, a road so embedded with soul that it even has its own theme-tune.
Fittingly, then, Saturday kicks off with a set of classic Americana from sixtysomething vocal powerhouse Charles Bradley. A former James Brown impersonator, his debut album might have only come out two years ago, but he already has the gravitas of the greats. Today his brass driven R'n'B sounds like it could have been crafted a mile and a half away, and 50 years ago, at the iconic Chess Records studio. He wears his bright blue jumpsuit and slip-on white snakeskin loafers like he was born in them and when he rousingly offers to take us to church, well, it'd be rude to say no, no matter what your religious persuasion might be.
Giving Bradders a run for his money in the style stakes are Local Natives, who sport a bold line in Hawaiian print and patterned shirts. Their woozy, stacked sonics and attire are perfect for a sunny Saturday afternoon of lolling in the sun. Sweetly, they ask the crowd to yell "hey Aaron" en masse to Aaron Dessner of The National, who produced their most recent album, Hummingbird, and imbued their sound with a touch of his group's glorious gloom. The National themselves are next, and as well as bringing their gut-punching despondency, frontman Matt Berninger adds a punk twist. During Sea of Love and This Is The Last Time, he's to be found doubled over the mic, gasping and growling at the climax of each in his sharp black suit, like a howling widower breaking down at the wake.
We should also mention – if only as a warning – the particularly American curiosity Eric Church, who draws an alarmingly large crowd to the Lake Shore stage. Barking drinking songs that are AC/DC by way of Merle Haggard, but nowhere near as fun as that sounds, his honky tonk bro-billy is offensive on numerous levels. His list of crimes include failing to chug a light beer, taking the names of Johnny Cash and Bruce Springsteen in vein and, blasphemy of blasphemys, covering Born to Run and sapping it of every last ounce of emotional impact.
Due to the double whammy of Azealia Banks' throat infection and Death Grips pulling their performance, alluding to the suicide of a fan as the reason why, Haim are upgraded from an afternoon to evening slot. It's not under the most jolly of circumstances, but the trio still make for one of the most fun sets of the day. They even get their first bra thrown at them mid-show. "Is it weird that I'm touched?" says Alana Haim, clutching the orange underwear. "I might wear it."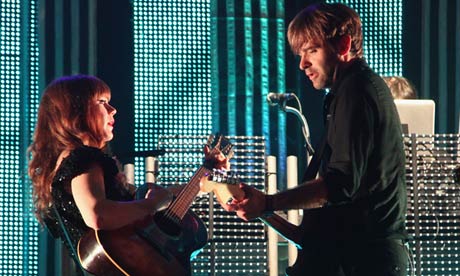 While Mumford & Sons keep up things on the world domination front, pulling a mammoth audience to their firework assisted headline slot, The Postal Service play their second to last gig, before they wind up their reunion run with a farewell appearance at Chicago's 1,150-capacity Metro on Sunday evening. Ben Gibbard and Jenny Lewis play off each other perfectly, him doing his well-practised dad dance, she calmly stealing the show by skipping between guitar, drums, vocals and a fuzzing sampler box type thing on Such Great Heights and A Tattered Line Of String.
With Jimmy Tamborello and Laura Burhenn of The Mynabirds also onstage, it suddenly hits how unusual it is to see big bands with members equally split amongst the sexes. It feels like a throwback to the glory days of Fleetwood Mac or The B-52s and as such, is utterly brilliant. What a shame they've only got one more show.