'I think of myself as an Olympian," says Danielle de Niese, picking at salad in Glyndebourne's staff canteen after a morning rehearsal of Donizetti's Don Pasquale. "I have had a dream since I was a very small child. And because I have parents without whom I couldn't have realised that dream." Her eyebrows point in diagonals towards the top of her nose. "Have you ever heard of an Olympian whose parents aren't supportive in their career? Me neither." What was that dream? "To be a famously successful opera singer. I wanted that since I was eight."
Oh, come on, I say to opera's putative answer to Jessica Ennis-Hill. It's one thing for Tom Daley, at eight, to dream of becoming an Olympic diver, quite another for eight-year-old Danni to dream of becoming a diva. "I'm very unusual. I don't know anyone like me." Classically trained since the age of eight? "No, definitely not." At that age, De Niese was singing Bach and Gounod's Ave Maria. "People find it really hard to believe I was singing quite complicated things like Haydn's Creation at that age, but I was."
The Australian-born daughter of Sri Lankan Burgher parents ("that means my mum and dad are people of mixed descent from the island's colonial days," she explains) spent so much of her childhood in Los Angeles that her "really" sounds like a Valley girl "rillay", but she has lived in Sussex for three years and so her "quite complicated" sounds, if not quite like Joyce Grenfell, then not far off. I knew that the soprano had phenomenal musicality but not that in one sentence she could sound as though she's chillaxing over frogurt and ordering her spaniels across the South Downs.
There weren't many people who would take on an eight-year-old in Melbourne to train her classically," she says, "but my parents found someone. And I loved what I was learning." She checks herself. "I didn't love it. I loooved it."
Excellent. But what did she love? "I sang with a voice that was natural and I liked the way I produced that sound. I thought of my other friends that they were singing and dancing, but they didn't have this. I was special." Didn't she rebel against being pushed in that direction? "I wasn't pushed. I was the one pushing the practice."
De Niese could, if she wanted, be a poster girl for the virtues of hot-housing. She was studying piano, tap, jazz dance, ballet, karate and drama while the rest of us were eating crayons. Aged seven she started music theory.
At nine, she won a baby grand in an Australian TV talent show singing Whitney Houston's I Wanna Dance with Somebody and The Greatest Love of All (Houston is one of her two idols; the other, Kiri de Kanawa, is an operatic touchstone since, like De Niese, she is of mixed-race descent and from the southern hemisphere). It was around then that her parents realised that Australia wasn't enough for their daughter.
After the family had moved from Melbourne to LA, in part to get their prodigal girl into a conservatory catering for prepubescents, she hosted a TV show called LA Kids. At 15, she made her debut at the Los Angeles Opera. At 16, she won an Emmy for TV presenting. At 19, she was cast as Barbarina in the renowned Jonathan Miller/James Levine 1998 Le Nozze di Figaro at New York's Met, singing opposite Bryn Terfel, Renée Fleming and Cecilia Bartoli.
In 2005, she broke Britain when she stood in at short notice as Cleopatra in David McVicar's Bollywood-meets-Baroque Glyndebourne production of Handel's Giulio Cesare, giving a performance so sensual that one critic suggested she put "the sex in Sussex" (the critic clearly understood nothing of Brighton). In 2009, when she returned to sing in Figaro at the Met (this time, as Susanna) the New York Times called her "opera's coolest soprano", whatever that means.
Now, aged 34, she's married to Gus Christie, Glyndebourne's executive chairman and grandson of the festival's founder. As a result, she lives in a 600-year-old country house. Some walk to work, but few commute in a matter of seconds from Elizabethan house to opera house as De Niese has been for the past few weeks while rehearsing Norina in Don Pasquale. She's confident, multilingual (she learned French and Italian before she was 20, and has some German), and is dressed by either Donna Karan or Vivienne Westwood. Today, she's in that rare thing, a relatively unstructured Westwood summer frock, its colours hotter than July.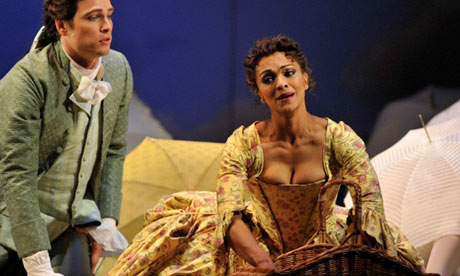 As if all this weren't sickening enough, she insists that she's only a diva in terms of job description, not imperious attitude towards underlings. "My parents kept me very grounded." Her mother, she says, is flying in from New Jersey to see tomorrow's first run-through. That sounds like an Olympian's parent, I say to her, recalling how Tom Daley's dad was forever poolside at diving competitions to see his son excel. Or a tiger mother. De Niese doesn't demur. "My mom taught me everything I know about phrasing. She knows me better than I know myself." De Niese recalls recording Handel's Ombra mai fu at Abbey Road for her Beauty of the Baroque album. "I was terrified because I knew this was a benchmark work that so many have recorded before. I needed to have my mother in sight looking calm and serene while I sang it. She was and so I could."
Before lunch, I watched de Niese in piano rehearsal for the scene in which desiccated-but-randy Don Pasquale catches her widowed-and-scheming Norina and hunky-but-skint Ernesto canoodling amid teacups and parasols of a picnic that director Mariame Clément seems to have cribbed from Seurat's La Grande Jatte. To hear de Niese talk about Clément's reinterpretation of Donizetti's waltz-laden 1843 opera buffa, it sounds as though the story has shifted back 50-odd years into Les Liaisons Dangereuses territory. (In the publicity stills, some of the chorus look uncannily like Glenn Close's Marquise de Merteuil.) Instead of the opera's traditional yawnsome narrative arc that sidelines venerable Pasquale so Norina can hook up with hotsy-totsy Ernesto, Clément imagines something more subtle: maybe Norina is a serial sexual scam artiste, working in cahoots with Pasquale's chum Dr Malatesta. Either way, she's no soubrette. "This production asks is she going to dump Ernesto and run away with Malatesta with the money to the next town and run another scam," says De Niese. "We're not sure what Norina will do. I love that ambiguity."
After lunch, we head to a dressing room where two artistes freshen De Niese's makeup so she's ready for our photographer. You may have seen De Niese recently presenting the BBC's Cardiff Singer of the World competition. But what you probably didn't know is what foundation cream she and co-host Petroc Trelawny were wearing on telly. His was called Barcelona, hers Saint Tropez. What's the difference? "Nothing but the name." Such is our civilisation.
I ask what's on her iPod, since it plays a vital role in her preparations. "I'm like the Michael Phelps of opera. You know how he has his headphones in right before he jumps in the pool? I'm exactly the same. I have them on right until I go on stage." She hands it to me. As the other three talk moisturising regimens, I scroll: Aqualung, Ben Lee, Dave Matthews Band. That reminds me, what happened to your mooted Snow Patrol collaboration? "Not happened yet but they're cool." Can you imagine going pop à la Charlotte Church? "But I have. She hands me her phone and soon I'm listening to her singing a John Denver song from a new album of opera stars (Thomas Hampson, René Pape etc) interpreting the late singer-songwriter's oeuvre. Typically, when De Niese talks career goals, she does so in pragmatic terms. "I'm ripe and ready for Donizetti now. I've had offers to sing Norina before but, in terms of the weight of my sound and the technical accomplishment, I was waiting until it felt right."
Any roles she'll never sing? "Like what?" Brünnhilde? "Oh God, I don't know that I ever will. It remains to be seen." Butterfly? "I shouldn't think so." Other Puccini heroines? "Mimi, definitely. Tosca, Turandot – probably not. I'll do Mozart, Strauss, Sonnambula. I definitely want to do Massenet's Manon. I'll do creamy lyrical soprano but not over-spinto soprano." (Spinto soprano means a lyric soprano with a darker timbre and extra weight to deal with the vocal challenges that Verdi, Puccini and Wagner enjoyed setting their heroines).
It's pleasing to know that there are some things she can't do. Next year, though, she will sing Anne Truelove in Stravinsky's A Rake's Progress in Turin and, the following year, take the lead role in the operatic adaptation of Anne Patchett's novel Bel Canto in Chicago.
It's time for De Niese to swap heels for flats so she can walk through Glyndebourne's gardens past the lake to the spot chosen for pictures. One last question. Hasn't her husband got his work cut out? After all, his grandfather John built an opera house here to honour his wife, Canadian soprano Audrey Mildmay. What can Gus do to beat that? "He's already built the turbine." The controversial wind turbine, with all due respect, is no romantic gesture. "We've got a long marriage ahead of us. We've only been married three years. I want a whole other tribute!" Such as? "I've got a list," she says mysteriously before heading off to find those flats.
* Don Pasquale is streamed live from Glyndebourne on 6 August on theguardian.com/glyndebourne and will be available to watch on demand until 31 August.