Three years ago, on a warm July afternoon, I visited the German Resistance Museum near the Tiergarten in Berlin. The main exhibition was on the first floor and as I set off up the stairs I saw a familiar photograph: Elisabeth von Thadden, my aunt. I had thought there might be some record of her in the museum, but to find her so quickly was a shock. The place was full of stories of individuals who, like Elisabeth, had refused to compromise in the face of totalitarian inhumanity. As I emerged into the sunlight again, I knew I wanted to make some sort of musical memorial to these extraordinary people.
Apart from the Stauffenberg bomb plot to kill Hitler, which inspired Tom Cruise's 2008 movie Valkyrie, few of these stories were spectacular. But music is particularly suited to the depiction of the inner life, and I decided to make my aunt my subject. The eldest of five children, Elisabeth was born in 1890. After her mother's death, she ran the household, until her father remarried; she then became a teacher, setting up her own school in Heidelberg. My mother, Elisabeth's half-sister but 35 years younger, was a pupil at the school, until the Nazis closed it in 1941 – because it was not "providing a suitably National Socialist education". Two years later, Elisabeth was executed.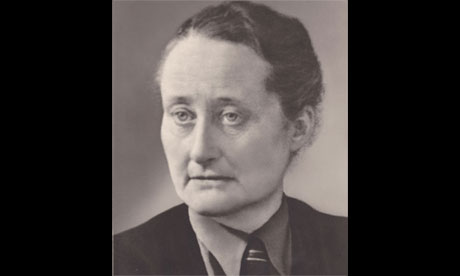 Why was she sentenced to death? At what point did her evident distaste for Nazi policies turn into a treasonable offence? The decisive moment came on 10 September 1943. It was the birthday of Elisabeth's sister, Agnes-Marie, and a small group of friends were celebrating. They drank tea and talked. The previous day, the Italian army had surrendered and the conversation turned to politics and to one of Elisabeth's preoccupations: how German society could be rebuilt after the now-inevitable military defeat. The newest member of the group, a young doctor called Paul Reckzeh, suggested that he might travel to Switzerland with letters to German exiles there.
It had been a dangerous conversation and it was more dangerous to put it in writing, even if the letter was going to be delivered by hand. In fact, Reckzeh was a Gestapo spy and Elisabeth's letter went straight to the secret police. She was arrested, imprisoned, tried and convicted of "subverting the war effort" and "aiding the enemy".
I discovered that, on the day of her execution, the official assigned to travel to the death cells at Plötzensee prison had, most unusually, chosen to stay with Elisabeth. "She looked pale and thin but she was so calm," this woman later told her sister. Here was a dramatic form based in reality: Elisabeth and the official in the death cell, Elisabeth talking about her life, her family, her faith. There was even musical detail: Elisabeth went to the guillotine singing the Passion Chorale Mach End, O Herr, mach Ende (Make an end, O Lord).
The Berlin Artists' Programme gave me a residency to research and write, while German chamber music group Ensemble Recherche agreed to give the premiere. I found a title, Widerstehen (Resistance), and a form, and the work, which premieres next week, is a chamber opera in eight scenes, each a different perspective on Elisabeth's life: her journey to Plötzensee, the tea party, her work as a teacher. The prison official is played by an actress; she speaks because she's our witness, explaining why she and Elisabeth are there. Elisabeth is played by a mezzo-soprano and she sings not only because we know she did, but also because it's a way of representing her extraordinary inner calm.
The Nazis' obsession with documentation provided more material meanwhile. Elisabeth's trial judge, Roland Freisler, had presided over the Stauffenberg show trial and many hours of his hectoring travesty of justice was captured on film. As another of Elisabeth's sisters, Ehrengard, wrote, her trial was "a piece of theatre with Freisler as its satanic director"; the penultimate scene is a cacophonous montage of Freisler's ranting. It is the work's most operatic moment, a sort of mad scene, played in darkness.
In the rest of the work I have tried to create music that not only reflects aspects of Elisabeth's character – bustling energy in the fourth scene, radiant certainty in the sixth scene – but which she, too, might have understood. Reckzeh's presence at the tea party is represented by a twisted version of the knight on the hobby-horse from Schumann's Scenes from Childhood, and there are many references to Bach's St Matthew Passion. When the lights come on again, the cell is empty and the final scene is "sung" by the oboe, the solo instrument that colours the serene last aria of Bach's St Matthew.
I know Elisabeth better now. I don't think she saw herself as a victim or a martyr, nor as a heroine of the resistance. The Elisabeth von Thadden I have tried to portray is a woman who lived life as she believed it should be lived, no more, no less. Her resistance was not willed; it was simply a consequence of her humanity.