This Is The Kit, London & Eastleigh
Don't be fooled by Jesse Vernon's straw hat or Kate Stables's acoustic guitar: This Is The Kit are no new folkies. It's true, the group's music does thrive in minimal settings, where it can better highlight Stables's charmingly unmannered voice, but their songs seem to come from no tradition but their own. The band have so far run to two albums of sideways glances at life, an approach that can sometimes lead them towards the quirky, domestic and twee, but often rejuvenates familiar constituent parts. Live, Vernon supplies additional guitar or violin, but any additional tweaks to their formation here are unlikely to be at the expense of their singular melodic clarity.
Bull & Gate, NW5, Tue; Eastleigh Festival Of Music, The Point, Thu
John Robinson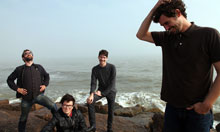 It's competitive being a musician, but now there are plenty of events that can help you experience some of that competition as a punter. An example of that burgeoning festival iteration, the citywide trudge, Stag And Dagger stands alongside the Camden Crawl and The Great Escape among events where you don your wristband and throw yourself in the dangerous currents of humanity trekking from venue to venue in the hope of cherrypicking the acts you want to see – or sticking in one place and hoping you've chosen wisely. The sheer volume of bands on show is on your side here, but among those worth taking in are Beta Band-reminiscent popsters Django Django, the quirky but excellent Eleanor Friedburger, electropop newcomers Niki And The Dove, and White Denim, the world's only makers of progressive southern rock.
Various venues, Sat
JR
I'll Be Your Mirror, London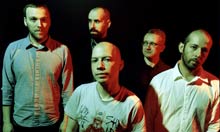 Last year a kind of one-day boutique goth festival, this year IBYM extends itself over three days, one of which will be curated by Mogwai. Essentially a version of the All Tomorrow's Parties festival come to the capital, the deal here is to present three thematically coherent days of music from leftfield, yet not quite so far out there you're going to mistake it for art. Specific tastes are being catered for here. Been hoping to see Slayer performing their once controversial 1986 thrash metal classic Reign In Blood in its entirety? This, on Friday, you will be able to do – as well as seeing hardy perennials such as Melvins, and Sleep, whose seminal Dopesmoker album has just been reissued. Mogwai's own night features themselves, returning slowcore team Codeine, Mudhoney, and the excellent Dirty Three while Sunday presents the revived Afghan Whigs and Ian Svenonius's great post-Nation Of Ulysses band, the Make-Up.
Alexandra Palace, N22, Fri to 27 May
JR
Lucian Ban, Mat Maneri & Corey Mwamba, Derby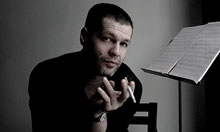 Lucian Ban is a classically trained Romanian jazz pianist and composer who in recent years has become a key figure on New York's downtown jazz scene. With last year's ambitious album Enescu Re-imagined, Ban enlisted innovative free-jazz violin and viola improviser Mat Maneri and others to join him in a reappraisal of Romanian classical genius George Enescu, the violinist who taught Yehudi Menuhin. For that project, Ban cavalierly dropped eight of Enescu's sinewy themes between long passages of sympathetic improvisation and astute deployment of a mixed-genre lineup. It was a rare mix of uninhibited solo and collective improv, shrewd arrangement, and dazzling thematic writing that marked out Ban as a coming force in contemporary music. This UK performance for Ban and Maneri previews their latest adventure as the duo Deco Heart. Distinctive Derby vibraphonist Corey Mwamba joins them for this show.
The Voicebox, Sat
John Fordham
Caligula, London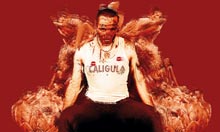 Detlev Glanert is one of Europe's leading opera composers, yet until now none of his full-length stage works has ever been seen in Britain. English National Opera remedies that neglect this week with the UK premiere of Glanert's Caligula, in a production by Benedict Andrews and with Peter Coleman Wright in the title role. Born in 1960, Glanert studied under Hans Werner Henze in Cologne, and like his teacher he's always had a intensely practical attitude to the craft of composing, which combines potently with an instinctive sense of theatre. Caligula is a perfect example of that dramatic craftmanship: based upon Albert Camus's play about the last days of the Roman emperor, it's a wonderfully fluent piece of theatre, psychologically penetrating and full of orchestral subtleties. The story may be a gruelling one, but it's handled with remarkable musical refinement.
London Coliseum, WC2, Fri to 14 Jun
Andrew Clements
Trio Mediæval And Arve Henriksen, On tour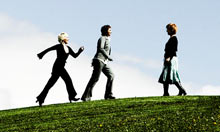 All-female vocal trio Mediæval may have been formed to perform polyphonic music from the 12th to the 15th centuries, but their concerts range much more widely. As well as traditional Norwegian folk music and ballads, they also include a range of contemporary works in their programmes. Twelfth-century Italian laude and 13th-century music from the French Notre Dame school will be juxtaposed with special commissioned settings, and combined with trumpeter Arve Henriksen's electronically extended improvisations.
Trinity College, Cambridge, Sat, LSO St Luke's, EC1, Sun; Sage, Gateshead, Mon; Victoria Baths, Manchester, Tue; St Matthew's Church, Lee, Wed; St George's, Bristol, Thu
Andrew Clements