Lil B, London
Much has been made about how Lil B has used social networking to establish himself, but this somehow contrives to concentrate unduly on the frame, all the while ignoring the amazing picture within it. What makes B interesting is the fact that he's developed an entire culture for himself outside mainstream hip-hop, while subtly influencing that mainstream via his eerie productions. He has his own philosophy and belief system (called "Based" – his full title is Lil B The Based God), and a seemingly unstoppable flow of ideas (two dozen mixtapes in the last two years). His latest album is called I'm Gay (he's straight, but happy), but this won't be an event about promotion, more about seeing the God in the flesh.
XOYO, EC2, Sun
John Robinson
Grimes, On tour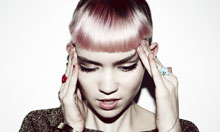 Last week's Guide cover star Claire Boucher, AKA Grimes, is part of a post-Knife tendency we might call "Never mind the tunes – have you seen the installation?" It's an interesting territory if you've got more than just good ideas, and Grimes has her own sound (ghostly high voice sings Madonna songs down a well) that fits in nicely behind the more mainstream sounds of La Roux but ahead of more confrontational artists such as Zola Jesus. It's coffee-table goth, in a nutshell, but it's good to see that in her music she can conjure, for all its complex content, some reassuringly simple tunes. This Friday's Brighton gig is part of the Great Escape, whose lengthy bill of new and old takes in the Temper Trap, Maxïmo Park, Django Django and Willis Earl Beal.
Simple Things Festival, Bristol, Sun; Berkeley Suite, Glasgow, Mon; Brudenell Social Club, Leeds, Tue; XOYO, EC2, Wed; Islington Mill, Salford, Thu; Digital, Brighton, Fri
JR
Happy Mondays, On tour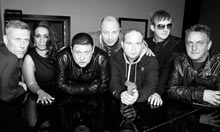 It's the "original and definitive" lineup of the Happy Mondays that has reconvened here, in a bid to salvage some of the band's reputation after their successes of 20 years ago collapsed into rancour, drug abuse, bad music and financial disaster. The re-formed Stone Roses, the band's "Madchester" contemporaries and a far less original group, may have got the bigger headlines but the Mondays will be keeping things a bit lower-key, playing to smaller but more discerning crowds. One wishes them well, though total legitimacy may still be a way off for this band. I made an enquiry about these shows and received a vaguely intimidating call on my mobile from a gentleman in Wales, making very little sense at all.
Manchester Arena, Sat; O2 Academy Sheffield, Sun; O2 Academy Bournemouth, Wed; O2 Brixton Academy, SW9, Thu & Fri
JR
Bill Frisell, Cheltenham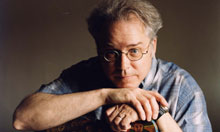 A headliner of the Cheltenham Jazz Festival's closing weekend, guitarist Bill Frisell returns to explore the country-steeped impressionism, chugging barn-dance music, brooding folk-blues, and whimsical pop covers that are the specialities of his Beautiful Dreamers trio. Frisell formed this unusual group (with viola player Eyvind Kang and drummer Rudy Royston) in 2008, and it's one of his most seductively melodic and accessible ensembles. There were certainly some jazz-rooted pieces on their 2010 CD, like the Benny Goodman and Charlie Christian tribute Benny's Bugle, and a playful Tea For Two that caught a hint of Django Reinhardt and Stéphane Grappelli swing. But for the most part, the trio has an eloquently mournful and mysterious sound, of wounded viola cries traversing quiet tango rhythms, and poignantly tingling viola and guitar dialogues. Not all of these pieces sound like songs, but Frisell can't do anything unmusical if he tries.
The Big Top, Montpellier Gardens, Sun
John Fordham
The Apostles, Manchester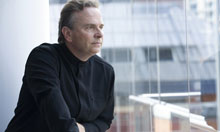 In the 12 seasons he has been music director of the Hallé Orchestra, one of the threads running through Mark Elder's programmes has been the music of Elgar. Elder and the orchestra have already performed and recorded most of Elgar's major orchestral works, as well as two of the composer's choral masterpieces, The Dream Of Gerontius and The Kingdom. This weekend he adds a third, The Apostles, in a performance that includes soloists Rebecca Evans, Alice Coote, Paul Groves and Brindley Sherratt with the Hallé Choir. Elgar intended The Apostles to be the first part of a New Testament trilogy. That continued with The Kingdom but for whatever reason – most likely a loss of his Roman Catholic faith – he got no further than a few sketches for part three, The Last Judgement. And though it's heard even less often than The Kingdom, The Apostles remains one of Elgar's most intriguing works, one that some Elgarians consider a greater achievement even than Gerontius.
Bridgewater Hall, Sat
Andrew Clements
Gergiev conducts Stravinsky, London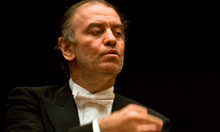 Thematically planned programmes have abounded in Valery Gergiev's concerts with the London Symphony Orchestra. Having performed cycles of Mahler and Prokofiev symphonies, the latest is a sequence of four concerts devoted to Stravinsky. Next Saturday Gergiev and the LSO give a free concert in Trafalgar Square, taking in The Firebird and The Rite Of Spring. You can also can catch them at the Barbican on Friday and on 15 May respectively, but it's the Mass and the opera-oratorio Oedipus Rex, as well as a chamber programme pairing The Soldier's Tale with the rarely heard burlesque Renard (13 May) that promise to be the most compelling.
Barbican Hall, EC2, Fri
AC