'My default setting is nine years old," says Graham Coxon, 43, as he wolfs down a cheese and ham toastie in a Camden brasserie. And there is something of the Bash Street Kid about him: in jeans and striped T-shirt, with shaggy bowl haircut and serious specs, you wouldn't be surprised to find he had a catapult in his back pocket. He's like a living cartoon. I say this. Coxon scrunches up his fringe, sets his eyebrows to "anxious".
"For a while I wasn't wearing glasses and stripy T-shirts," he says earnestly, "even though I like them, because I thought that's what I had become to so many people. A pair of glasses and a stripy T-shirt. But then, they help cover me up. I'm pretty shy and English. Maybe I need stripier T-shirts. Bigger glasses. Longer hair. Um."
Ah, Graham. How does he do it? How can a middle-aged man be so boyish and not be annoying? Somehow, when it comes to Graham Coxon, what should make you want to kill him – his child-like voice, his bewildered air, his habit of biting his lower lip – instead makes you think he's ace. Partly because it's wrapped up in silliness and a very definite charisma; mostly because underneath it lurks something far more interesting – an expressive, opinionated, all-grown-up artist. His untucked, who-me? demeanour seems designed to deter the kind of people who think that genius should be high status.
Best known as the guitarist from Blur – the awkward one who was pushed out a decade ago, during the making of Think Tank – Coxon has actually spent a good part of his adult life working on his own artistic activities. It's worth remembering that he's almost as prolific as Blur's confidently multi-tasking lead singer, Damon Albarn: he released three solo albums while he was still in Blur, and there have been four since then, with a new one, A+E, coming out on 2 April. He never stops creating, really: he takes photographs, draws and paints (he had a show of his paintings at the ICA in 2004); he plays saxophone, bass, guitar, drums and pretty much any other instrument he turns his hand to. So if he is a nine-year-old, he's a hyperactive one. One that has obsessions that he can't put away.
At the moment, he's into the sax. He recently bought himself another alto – "There's nothing like a new instrument to inspire you" – and spends much of his spare time practising, as well as researching saxophones and listening to old jazz players such as Oliver Nelson, Ornette Coleman, Eric Dolphy. His other current craze is manipulating photographs, and he chats happily about the joy of "rubbish" snaps in an era of super-sharp digital pictures. "I like that technology is so amazing now, and yet things can be pixellated and look a bit crap." The photo on the front of A+E, of a woman's legs, with a thin trickle of blood running from her left knee, was taken by Coxon. "On this phone!" he barks, waving an old-school Nokia across the table.
"I see drawing and guitar-playing and all the other stuff as almost the same," he says. "I'm not technically great, it's all just an expressive tool. My sketchbook is full of puerile drawings of willies, it's disgraceful, but it entertains me and that's the reason I do things: to entertain myself. Sometimes those things manage to get out into the open, and sometimes they don't."
This time, it's A+E's 10 noisy, messy-edged tracks that have pushed themselves into the sunlight, and his fans will be thoroughly delighted. A few days after we meet, I go to see Coxon play at 6Music's 10th birthday party, where he airs several of his new songs. Though the gig is at Queen Elizabeth Hall, a respectably seated venue, the audience are thrilled, cheering and stomping with abandon, doing squirmy solo dances while sitting down. Coxon, in – yep – glasses and stripy T-shirt, is flanked by guitarist Owen Thomas and Toby Macfarlaine on bass. Behind them is big-haired drummer Stephen Gilchrist, as well as Jen Clayton and Lucy Parnall, who play synths and guitars while rocking some terrific librarian chic.
The sound they make together is marvellous. Scratchy, loud, confrontational, complicated, full of hooks and riffs. A bit Sonic Youth, a bit Joy Division… a bit Blur, obviously. At one point, on new track "City Hall", there are five guitars being played at once. It's fantastically hectic.
"Well," Coxon says today, "I don't like being bored and I can't see the point of people writing three minutes of music that doesn't make you think, or jump, or laugh, or doesn't entertain your ear at all. And I like the idea of condensing 15-minute prog-rock things into three minutes."
A+E started off as a reaction by Coxon against his last album, The Spinning Top. That was a beautiful, acoustic affair; outdoorsy, with a wistful, English summer feel, it was rapturously received by critics. But it was technically challenging – "fingers going hell for leather," as he puts it – and the accompanying gigs were a graft.
"I got overwhelmed by my own flavour," he says. "Finger-picking guitar, having to sit down to play. Being in venues that weren't set up for that sort of thing and audiences getting disgruntled. In the end, I did it in a huge room in the Barbican, which worked better because it was more, um, mature, but then there's more pressure. You can hear mistakes. So after that, I regressed."
By this, he means he set aside his acoustic guitar and started messing around on the bass, playing with riffs. After a while, he added guitar – "using lots of effect, rather than twiddling" – plus weird sounds and set the resulting noise to a drum machine. He got in touch with producer Ben Hillier, who worked on Coxon's second solo album, the thrashy The Golden D, and with Blur on Think Tank. Together, in Hillier's Bermondsey studio, they bashed the songs around.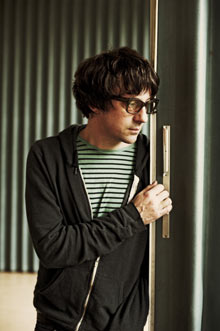 Hillier, who I talk to on the phone a few days after meeting Coxon, describes a quick, fun recording process, with him capturing Coxon's first performances whenever possible, "otherwise he gets bored". Coxon played all the instruments apart from a few synths and remembers the sessions like "a big playground", with everything in the same room together and all the mics left open, so that extraneous noise, such as headphones left clicking in a corner, or Coxon shouting cues for Hillier, were all left in the mix. "If the noise made us laugh or swear, then it would stay in."
Hillier also says, almost by the by, that Coxon is by far the most talented rock musician he has ever worked with. He compares him with classical virtuosos, says his musicianship is so advanced that it's as though his instrument is an extension of his body, so whatever is in his head comes straight out in his playing. It makes me think of a previous interview I did with Coxon, in the 90s, around the time of Blur's 13, when he told me that when he couldn't talk to Albarn, he said what he wanted to say through his guitar.
Anyhow, Coxon and Hillier recorded 21 songs in two months, and divided them into two albums: A+E, and one that may well be released later in the year, which is, according to Hillier, less riff-based, more "song-y", soul-influenced, with backing singers and strings.
Before that, of course, Coxon will be playing with Blur, at their Hyde Park gig on 12 August to celebrate the end of the Olympics. Also performing are New Order and the Specials, so it should be amazing, though Coxon tells me there's been a lot of complaints about the line-up being too old. The idea, he says, was a band from each decade (though that doesn't really work if you think too hard about it) and there will be other, more contemporary artists playing.
"Anyway," he says, grappling with his fringe again, "I'm not sure if I'm allowed to talk about Blur. Every time I open my mouth about it, I get into trouble. And then I go on Twitter and there's hundreds of messages, 'Graham, Graham, what did you mean?' And I wish I'd never said anything!"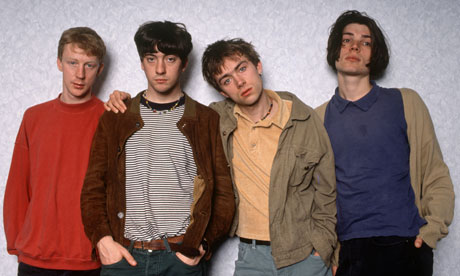 Recently, he said that Blur would definitely make another album, but he's obviously been told off since. Today, he just mumbles something about them hanging out, getting together and playing, with nothing formal planned. No pressure, because "that would make what might happen not happen".
We do talk a bit about the band's performance at the Brits, where they were given a special award. TV viewers were miffed that Adele's speech was cut off for Blur to come on and that, when they did, they didn't sound as polished as, say, Olly Murs. Coxon explains that when Albarn ran along the walkway, it meant his vocals were half a second out of sync, and that when you're playing live, you can't play as though you're fully warmed-up when you're not… "It's all a bit hooliganist, that stuff," he says. "It's not what it's about, really."
So, instead, we go back to the joyous puzzle that is A+E. The first single, the upbeat, synthy "What'll It Take", has two easy vocal hooks – "What'll it take to make you people dance?" and "I don't know what's really wrong with me" – but, to be honest, I'm not quite sure what some of the other songs are about.
"Advice", for instance, which I thought concerned being bored with well-meaning people talking at you, turns out to be Coxon's take on a big night out gone wrong. In the 80s, he went to a house party in Brentwood, where he and his two friends took off the tape that was playing and put on a Smiths album. "And then we danced about in quite a… 'faggy' way, for want of a better word." With the result that they got really beaten up. Afterwards, they wandered about Brentwood wondering how they were going to get home. "We'd all of us thought we would probably get off with one of our friend's cousins at the party and, well, no."
Coxon wrote many of A+E's songs in an auto-suggestive manner, by making "vowel-like noises" over the top of the guitar. "If you do that and tuck it down into the recorded music, it suggests words and sentences, sparks off a whole load of thoughts," he says. Those thoughts, though, didn't stray too far from his current worries. There's another song called "Running for Your Life" that is similar in theme to "Advice", and he says: "This album is absolutely covered with my own paranoia and neuroses."
What are they?
"Oh, I'm pretty pessimistic culturally, I suppose. I'm scared of the world, of anarchy, control being lost. Bedlam. Pandemonium. Like John Martin paintings, he did the great big pictures in Victorian times of the end of the world. Because I'm old, and I have a daughter, I get worried about the fact that there are adverts for Saw V on the side of a bus, or naked women, stuff like that. I just think there's a lot of unnecessary violence… sex and violence… just there in the street. I don't need to go out to see it, I just watch the news!"
He was at home in Camden when the riots happened: "There was a group of scarved-up youths at the end of my road." Although his daughter, Pepper, who's 12, was at her mum's and his girlfriend was away too, Coxon – not the world's most natural neighbourhood watch vigilante – was overcome with the idea that he must protect his home and family. So he went out into the back garden, gathered up a big container full of fuel. "I thought, I'll bring that in, close the shutters and get a few weapons ready just in case I have to defend my house. It was like I was in the wild west…"
He's half-laughing, half-serious. Like many people who have given up alcohol (he stopped around 10 years ago and rarely drinks now), Coxon is sensitive to other people's anger, especially when it's booze-fuelled. "I think the future of mental health in this country is shot," he says, mildly. "There's even tourists coming over to see the British do their thing on a Friday night. There are! I did some press in France, and they said that a lot of French students go over to Britain to see the bingeing and join in for one night."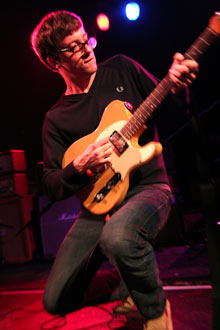 It is immensely strange that Coxon ended up in a band held partly responsible for the mid-90s craze for Page 3 girls and football laddishness. He hates mainstream thuggery with a passion. And he is a man whose taste doesn't change. His preferences are personal and particular, based around well-crafted Englishness (blazer, boots, the Beatles) and knackered Americana (Converse, Levi's, Dinosaur Jr). He's a constant, unaffected by fashion or politics or the delights of country-based cheese-making. In fact, if you consider the members of Blur, and how far they've moved from their early-90s incarnation, it's only Coxon who appears to be the same: still living in the same house in Camden, still rocking the same lo-fi look. Even when it comes to A+E, he wants it to be listened to by very particular people.
"When I was touring in 2005-6, some of the places we played in had a club after the gig. And these clubs would be under the railway arches, loud and echoey, and the kids were dancing and they looked like half-robot, half-mod. Fantastic, really great haircuts, great clothes, dancing properly, puking up. And I thought, 'Yeah! That's where I want this stuff to be played, an environment like that.'"
His aesthetic consistency could seem boring if it wasn't that Coxon has, out of all his Blur compadres, been the one who has personally changed the most. He's still contrary, still what Hillier calls "a delicate flower" on occasion, but his home life is settled now: he lives with Pepper and his girlfriend of six years and their Jack Russell, Frankie. Compared to the Coxon of the 1990s and early 2000s, he's much calmer, less thin-skinned. Giving up drink must have been hard, but he was, undeniably, a rubbish drunk – either resentful and accusatory, or miserable and self-destructive. "I was totally unaware of anything except my own life and my own feelings, what I had to do, feeling overwhelmed, how I got through that day, 'God, when can I get to the pub', things like that."
Back then, you worried about him. Not now. Now his nice PA tells him what he has to do day by day, rather than revealing his schedule for the year. "Like in School for Scoundrels where Ian Carmichael's chap comes in and he's like, 'What are we doing today?' and he's like, 'Just a few signatures, sir.' That's fine, for me: 'Just a few signatures and then the NME Awards later on.'"
So, Graham, can we say you're happy?
"I suppose I am pretty happy. I suppose if I'm an artist or whatever, a musician, and the message I'm getting is that what I'm doing is relevant, then I'm happy. But, you know, it's not 1975, it's a confusing world. Albums used to have launch parties and playbacks and be an event. But nothing goes off with a bang any more. There's a part of me wants to be held aloft by people marching down [Camden's] Parkway with ticker tape and fanfares, you know? Because they've received my LP!"
Coxon is laughing as he stands up. Despite his outsider hair, his nerd specs, he's tall; more physically imposing than you might think. You might even, at a push, call him robust.
A+E is released on 2 April. Graham Coxon's UK tour starts on 13 April at O2 Oxford Academy