Field Day; The Apple Cart, London
Every year Hackney's Victoria Park becomes the London outpost of the festival season and – moved forward two months to avoid clashes with the Olympics – this weekend brings two events. On Sunday there's the family-friendly Apple Cart with Billy Bragg. Today, however, is hipster time with Field Day, boasting interesting US guitar bands (Crocodiles, Liars, Mazzy Star), next-level electropop (Grimes, Julia Holter) and British bright sparks (Metronomy, Django Django). If they've sorted out the layout and sound issues that can spoil things, it'll be worth getting along to.
Victoria Park, E3, Sat, Sun
John Robinson
Poliça, London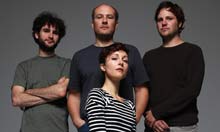 From his cabin in the woods, Bon Iver performed a remarkable escape: digging a tunnel that sprung him from indie rock, and deposited him in the neutral states of R&B. Among those bands following him down this road to freedom are Poliça. Fronted by singer Channy Leaneagh and featuring Ryan Olson and guitarist Mike Noyce, Poliça have fairly close regional ties to Justin Vernon: Noyce plays with him in Bon Iver; Leaneagh sang with his and Olson's stealthily popular MOR side-project Gayngs. However aside from their fondness for Auto-Tune, they don't appear to have a huge amount in common. The hope, one imagines, is to channel modern R&B while retaining a semblance of indie "authenticity". As it is, the band's debut album Give You The Ghost makes a fair effort of bolting these influences on to their own creations, but it's a busy and far from seamless effort.
The CAMP, EC1, Wed, Thu
JR
Breton, Glasgow & London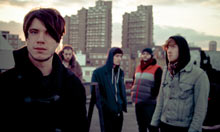 Breton are a band that seem at times like the London arm of Wu Lyf; they're trying to operate outside the record business, in the conventional sense of the term. They're making a good job of it, too: residents in a London building that was formerly a bank, they live, rehearse and record there, and even make their own merchandise there. In among all this artistic activity (the band present themselves as an audio-visual experience, with projections and the like), the music hasn't been neglected. As you might expect from a group that's styled more like a faction than a band, there's a vaguely martial stomp to the songs they've collected on their debut album Other People's Problems. Impressively, though, the band are anthemic without being overbearing – mindful that if you want to create card-carrying converts, you need to walk a tuneful walk as well as talk an inflammatory talk.
Berkeley Suite, Glasgow, Sat; Cargo, EC2, Tue
JR
Kimmo Pohjonen, Manchester & London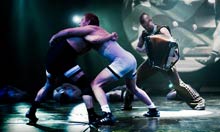 Accordion players might evoke scenes in Parisian cafes or the tangos of Astor Piazzolla. But the Finnish virtuoso Kimmo Pohjonen prefers wrestling with it on the floor, performing in farmyards or playing in prog rock guitar groups. His latest venture rekindles an old Finnish tradition in which accordionists played at wrestling bouts, and the festivities afterwards turned into a dance. So he has enlisted professional wrestlers, lighting and sound designers and choreographers. With a dazzling technique and experimental technology and electronics to match, these will be shows to remember.
Royal Northern College Of Music, Wed; York Hall, E2, Fri
John Fordham
Trio Libero/Bath International Music Festival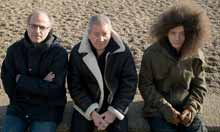 In its spontaneity, melodic freshness and pan-European makeup, the European jazz supergroup Trio Libero neatly symbolises the Bath music festival's annual jazz weekend. Saxophonist Andy Sheppard and drummer Seb Rochford from the UK, and French double-bassist Michel Benita came together in workshop sessions, but they didn't fully polish their conversational, one-touch fluency until a memorable Cheltenham Jazz Festival gig in May 2011. The group now weave a kind of oblique pop-song catchiness into richly textured tone poems, and propel Sheppard's famously light-stepping and frequently Latin-tinged melodies with Rochford's beautiful, bell-like cymbal beat. Other highlights of the weekend include Courtney Pine's eclectic Europa, pianist Gwilym Simcock and saxist Jason Yarde's duo with pianist Andrew McCormack, Iain Ballamy's leftfield Food, pianist Zoe Rahman and the Beats & Pieces Big Band.
Various venues, Sat & Sun
JF
Knussen At 60, Snape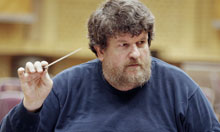 Oliver Knussen has been one of Aldeburgh's stalwarts for many years, appearing at almost every festival, and conducting a stream of major premieres there. Knussen is 60 this year, and the festival will celebrate his work as both conductor and composer. The opening event is a new production by Netia Jones of Knussen's opera double bill based on Maurice Sendak's Where The Wild Things Are and Higglety Pigglety Pop!, with Claire Booth heading the casts and Ryan Wigglesworth conducting. The next day Knussen conducts the Scottish Chamber Orchestra in a programme that debuts his new piece for piano and orchestra composed for Peter Serkin. And a week later he conducts the City Of Birmingham Symphony Orchestra and Birmingham Contemporary Music Group in a night that features the UK premiere of Interventions, Elliott Carter's latest piece for piano and orchestra.
Snape Maltings, Fri to 24 Jun
Andrew Clements