The first concert of orchestral music I ever went to – I was seven – introduced me to Mozart, his 29th Symphony in A major, K 201, a piece that opened up some place of resonance and meaning that I've been exploring ever since. But it also introduced me to the strangest profession in musical culture. Who was this person with a white stick in his right hand, without whom the music could not come to life?
In 1983, in that concert with the Scottish Chamber Orchestra, it was a young Richard Hickox. But the mystery of the conductor, what he did – and it almost always was a he when I was growing up in Glasgow – and what effect the somehow significant semaphore that the baton carved in the air had on the musicians was almost as powerful a phenomenon as the music itself. That was because the music seemed to flow through this person, through Hickox or Neeme Järvi, through Jerzy Maksymiuk or Jukka-Pekka Saraste, into the musicians, and then into the audience. After actually composing it, being a conductor seemed like the most direct route to embodying the music that I was obsessed by, to becoming one with it.
At least, that's what it felt like to me in my bedroom where, to my mute audience of CDs and books, I did my best impressions of what I thought Herbert von Karajan and Arturo Toscanini must have done with the Berlin Philharmonic or the NBC Symphony. That was before I had seen videos of these maestros in action, but I needed to move to the Brahms or Bruckner symphonies I was infatuated with, to find some way of feeling Beethoven's Ninth or Mahler's Sixth in my body, and waving my arms around to the recordings and orchestral scores I loved seemed like a pretty good way of doing it.
But that wasn't, of course, to get anywhere near an answer to the question of just what the conductor does up there on the podium. So I have sought to find out what happens when some of today's most exciting partnerships between conductor and orchestra get together, and how performances of the quality that Mariss Jansons calls the "cosmic level" are made. I wanted to experience and to describe how the life-changing power of these concerts is painstakingly built up through weeks of preparation and study and days of rehearsal, and how it's realised in the few hours of performance.
The real discovery of the rehearsal rooms was to scotch one of the biggest myths about conducting and conductors – the idea of the conductor as power-hungry maestro. Dictators, a work by the artist and musician Christian Marclay, stitches together 25 LP sleeves of all-male conductors in variously vainglorious poses of maestro-dom: batons aloft, hair gelled, eyes closed in rapturous contemplation of their own brilliance or wide-eyed in mystical musical reverie. Marclay's piece is proof, it seems, of Elias Canetti's formulation, in his Crowds and Power, of what the conductor essentially represents: "There is no more obvious expression of power than the performance of a conductor … He is the living embodiment of law, both positive and negative." The image of the conductor as dictator is as much a marketing myth as a musical one, and it's a fiction, at least as it applies to today's conductor-orchestra relationships. It was not what I saw happening in, say, Simon Rattle's rehearsals of Sibelius's symphonies with the Berlin Philharmonic, or Claudio Abbado's work on Berlioz, Stravinsky, and Mahler with the Lucerne Festival Orchestra, or Valery Gergiev's run-throughs of Rachmaninov in London.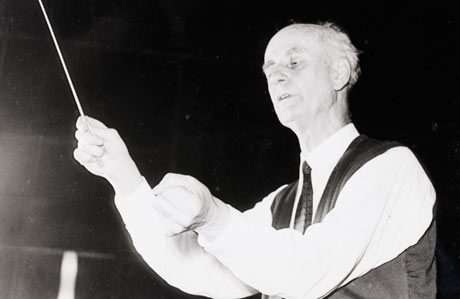 It's possible to trace how that myth was made. On the first set of Beethoven symphonies I ever owned, Karajan's name was the biggest one on the sleeve. When we talk of a particular conductor's approach to a composer, we speak of "Furtwängler's Brahms" or "Celibidache's Bruckner", a slippage that makes the composers the property of their conductors.
Yet the idea of the great conductor as despot is merely a blip in the history of conducting. There was no real need of a separate time-keeper – apart from what a keyboard player or violinist in the ensemble could indicate – until the development of larger orchestras in the late 18th and early 19th centuries. And it's only in the late 19th century that the professional conductor, as opposed to the composer- or pianist-conductor, was taken seriously as a vocation in musical life. Before then, to be merely a conductor was an economic and professional impossibility. The vast majority of the 19th century's most important conductors were also its composers: Mendelssohn, who revived Bach's St Matthew Passion for audiences in Leipzig, Berlioz, Weber, Liszt, and, above all, Wagner. Wagner's treatise On Conducting formulates a theory of interpretation that just happens to give a philosophical underpinning for Wagner's own performance practice and rails against what he sees as the prosaic and inexpressive conducting of Mendelssohn. Wagner's interpretative licence on the podium was the catalyst for a debate that still rages today, between advocates of textual propriety on the one hand and those who see the score as the basis for creative exploration rather than literal translation – as if such a thing were even possible. In the 20th century, the great antipodes of this supposed split were Arturo Toscanini, who relished hearing "just what was written" in his recordings, and Wilhelm Furtwängler, whose performances were thought to amount more to recreations than renditions of the music he played.
With the developing machinery of the record industry later in the 20th century, through broadcasting on radio, TV, and film, the conductor could be elevated to the realms of the seemingly all-powerful autocrat. Yet none of them, not Bernstein, not Carlos Kleiber, not Karajan, means anything without their musicians. But it's only in watching how performances are made, from the rehearsal room to the concert hall, in observing how the connection between conductors and their musicians is created, sustained and sometimes transcended, that you can understand the subtlety of the relationship.
The last thing the best conductors do is to force a group of musicians to do their bidding. In Lucerne, Abbado uses one word more than any other in his rehearsals: "listen". Performances are constructed through patient hours of listening, so that each player has the chance to build up a similar mental, musical and emotional map of the piece in question. In the performances, the charmed circle of listening expands to include the audience, too, so that in hearing these concerts live in Lucerne, you aren't simply letting a musical experience happen to you, you're an active, essential part of it.
Rattle's relationship with the Berlin Philharmonic is founded on similar principles of collaboration. He isn't trying to control his musicians – an impossible task in any case, given the cast of virtuosos that makes up this most powerfully individualistic of all orchestras, which he compares to a force of nature, "like lava". Instead, he's continually shaping and moulding the orchestra's sound, and he's surprised by it as well. Music that he thought he knew – the late symphonies of Sibelius – is transformed expressively, structurally, by the Berliners' performances. Jonathan Nott creates a positive feedback loop between the energy he puts into his rehearsals and performances in Bamberg and what the orchestra gives back to him; Gergiev needs the London Symphony Orchestra to catalyse his imagination; and even Ivan Fischer, the most suspicious of conductors of today's orchestral democracies, says he needs to be inspired as much by his orchestra as the musicians should be by him.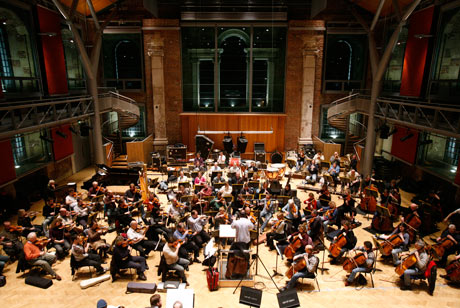 And yet there's a complicated psychology at work in these relationships, depending on the history of the orchestra, its function and constitution, and its cultural and political significance within each city and country. The London Symphony Orchestra works harder than any other orchestra I've studied, and the musicians are paid for how much they play – a completely different system and psychology from the much larger and more stable salaries of the orchestras in Berlin, Bamberg or Amsterdam. In Lucerne, the atmosphere is more that of the ideal youth orchestra, a truly festive coming together of musicians that is independent of worldly concerns, such as job security, with which everyday orchestras have to contend.
And while it's true that every player I spoke to, from London to Lucerne, wants to feel valued as an individual musician as well as part of the collective, they also would not tolerate a lack of inspiration or leadership from the person on the podium. As Kolja Blacher, soloist and ex-leader of the Berlin Philharmonic and now leader of the Lucerne Festival Orchestra, says: "There is a sociological difficulty nowadays, where personal liberty is so important to everybody. So why stick with this very un-free job of being an orchestral musician?" The answer is to be found in those "cosmic" performances, where, in a truly alchemical transformation of elements, something is achieved that goes beyond the egos of the players or the conductors and the only choice is to follow the musical energy that's being created on stage.
How you get there is wildly different from one orchestra to another, even from one player to another. The profession that seemed ridiculous little more than a century and a half ago has grown up. As a whole, it needs to become more diverse and more representative – none of the world's great orchestras works with enough female conductors, for example. But the new possibilities and new meanings that orchestras and conductors are giving to music all over the world, from Gustavo Dudamel in Venezuela and Los Angeles to Andris Nelsons with the City of Birmingham Symphony Orchestra, show that orchestral concerts are as capable of reflecting and transforming the world and our imaginations as ever. The trick, as it has always been, is to keep listening, whether you're in the audience, in the orchestra, or on the podium.
• Tom Service's Music as Alchemy: Journeys with Great Conductors and Their Orchestras is published by Faber on 7 June (£18.99).