Dizzee Rascal, Nottingham & London
Following the near-overnight successes of Plan B and Professor Green, the journey from underground sensation to mainstream artist has become an almost expected career track for the UK MC. However, the trailblazer in this regard is undoubtedly Dizzee Rascal. Rightly lauded for his angular productions and the wryness of his rhymes, Dizzee is perhaps more remarkable for his post-fame successes. Since his breakthrough Brit awards mash-up with Florence in 2010, he's consolidated his role as a chart performer and earned the slightly dubious honour of becoming being the UK artist of choice for princes William and Harry. As if to confirm this quasi-establishment status, on Thursday he rounds off a brief stint of festival appearances with a concert that's part of the London 2012 celebrations, the Olympic torch relay finale in Hyde Park, headlining atop a bill including the Wanted, Katy B and the ersatz Lily Allen, Eliza Doolittle.
Splendour In Nottingham, Sat; Hyde Park, W2, Thu
John Robinson
Frankie Rose, On tour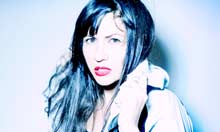 Frankie Rose must be the indiest person in all of indie. Once the go-to drummer for many of the bands – Crystal Stilts, Dum Dum Girls, Vivian Girls – involved in the US jangly C86 revival of 2009, Rose has now gone solo. Instead of abandoning guitar groups however, her most recent album Interstellar reveals that while she has made some concessions to the echoing atmospheres of dream pop, what she's most interested in is the emotive clang of the electric guitar, and a Phil Spector kind of grandeur.
Captain's Rest, Glasgow, Mon; Brudenell Social Club, Leeds, Tue; O2 Academy, Birmingham, Wed; XOYO, EC2, Thu; Green Door Store, Brighton, Fri
JR
Jake Bugg, On tour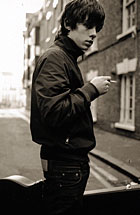 If the story of the La's were told by Dickens, it would feature a character called Jake Bugg: young, vaguely urchin-like, with unbreakable optimism. As his first three singles have shown, freshly retro songwriting is his thing. A man destined to be snapped in black and white, given his earnest style and look, Bugg's a vision of what Miles Kane might be if he was less haircut and famous pals and more songs with tunes. A confident player of cute, slightly whimsical songs, he's a very different kind of acoustic cat to, say, Michael Kiwanuka, with a powerful voice that connects him (though he's from Nottingham) with a Scouseadelic lineage. It's an impression reinforced live by his skiffling two-piece pick-up band; they'll be popping up to entertain at a number of festivals this week.
Secret Garden Party, Huntingdon, Sat & Sun; Splendour In Nottingham, Sat; Nozstock, Bromyard, from Fri
JR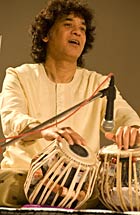 BT River Of Music – one of the biggest cross-cultural music festivals ever staged in the capital – brings together dozens of world music stars for a single packed weekend, among them percussion pioneer Zakir Hussain, South African jazz trumpeter Hugh Masekela, charismatic Portuguese fado singer Mariza, and the genre-crunching composer Matthew Herbert. This pre-Games extravaganza occupies six Thames-side venues, from Battersea Park via Somerset House and the Tower of London to Docklands, the performers representing all the participating nations in the Olympics and Paralympics. India's Zakir Hussain, a classical tabla virtuoso, symbolises the sweep of the event: he's worked with rock stars (George Harrison; Grateful Dead) and jazzers (Charles Lloyd and John McLaughlin), and performs at Battersea Park on Sunday with traditional Scottish and Irish artists.
Various venues, Sat & Sun
John Fordham
The Bad Plus & Joshua Redman, Edinburgh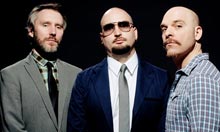 New York's The Bad Plus first made waves in the early noughties as unique deconstructionists of classic pop songs, interpreted with savage inventiveness and wit through techniques absorbed from free jazz and contemporary classical music. Tears For Fears' Everybody Wants To Rule the World was an early favourite, as was David Bowie's Life On Mars, and unceremonious adaptations of pieces by Stravinsky and Ligeti found their way into Bad Plus sets, too. In more recent times the trio have also developed a powerful original repertoire and the first of these Edinburgh Jazz & Blues Festival gigs features a special project incorporating versatile US saxophonist Joshua Redman. A dominant contemporary saxist for 20 years, Redman is a player of tonal delicacy and careering power, capable of everything from Wayne Shorter-like contemplation to more urgent, stomping solo sax-driven blues.
Queen's Hall, Mon; Spiegeltent, Tue
JF
Barenboim's Beethoven Cycle, London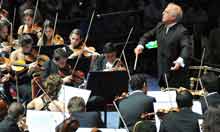 Never mind the blitz of great orchestras visiting the Royal Albert Hall in the final weeks of a summer season that's pulling out all the stops for the cultural Olympiad, it's the chronological cycle of Beethoven's symphonies that Daniel Barenboim is conducting with the West-Eastern Divan – the orchestra that brings together young Arab and Israeli musicians – that has really captured the imagination. Typically, Barenboim is pairing the symphonies with 20th-century pieces, a mini-survey of music by Pierre Boulez. Each concert – except the final one on Friday which is devoted entirely to a performance of Beethoven's Ninth – frames a piece by Boulez with two symphonies.
Royal Albert Hall, SW7, Sat, Mon, Tue, Thu & Fri
Andrew Clements