The Maccabees, On tour
Once an appealingly eccentric indie band, the Maccabees have since signed a major deal and streamlined their sound. No one would begrudge them that, especially since theirs so far has been a slightly difficult journey. On their latest album, Given To The Wild, the Maccabees duly sound buffed to a high gleam, the sound of an investment on which someone hopes to see a return. Still, you can't restrain the band's originality. On the sly, they create singularly rousing choruses and, gratifyingly, it's these that leave the most lasting impression.
The Leadmill, Sheffield, Sat; Lemon Tree, Aberdeen, Sun; QMU, Glasgow, Mon; KOKO, NW1, Tue; O2 Academy Brixton, SW9, Thu; HMV Institute, Birmingham, Fri
John Robinson
Minny Pops, On tour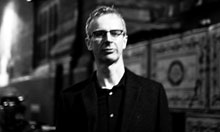 Even in the unsentimental world of post-punk, imitation was the sincerest form of flattery. The project of a Dutch artist-musician called Wally van Middendorp, Minny Pops began their career as support group to Joy Division in Europe. The sight of a skinny man wearing a tie and waving his arms about obviously struck a chord with Joy Division manager Rob Gretton, and the group were soon signed to Factory Records. The group's jerky art gallery synth-pop is – it's not unfair to say – a pretty tough sell, but the time is undoubtedly right for these revival shows. In the past three or so years, there's been a surge in electropop interest that has found its mainstream expression in La Roux but its underground fans in crate-digging compilations of European synth marginalia. It was a cold world, breeding cold wave, but it's now guaranteed a warm reception.
Gullivers, Manchester, Sat; Upstairs At The Garage, N5, Mon
JR
Bonnie 'Prince' Billy, London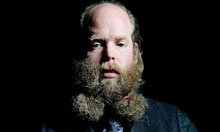 The more he changes, the more he stays the same. As a new batch of reissued albums celebrates Will Oldham's excellent earliest recordings as Palace Brothers, some 18 years later the man himself rolls into town for a couple of UK dates as his current incarnation, Bonnie "Prince" Billy. His beard may be incalculably longer, and his friends – Kanye West and R Kelly among them – even harder to predict, yet in his recordings Oldham remains essentially unchanged; his voice remains a vulnerable instrument, and he's still writing music that's tuneful and quietly challenging. He's certainly producing enough of it. But Oldham's latest work, Wolfroy Goes To Town, illustrates that, for all that quantity, there's no falling off in quality. A work of intimacy, great vocals, strong language and occasional fine dining, it's as odd as everyday life, if you choose to see it.
Hackney Empire, E8, Wed
JR
eXplorations: Soweto Kinch, Jay Phelps & Alex Wilson, London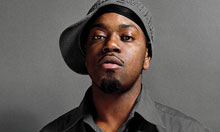 Birmingham-based saxophonist and rapper Soweto Kinch makes his Kings Place debut as part of eXplorations, a project that's way off the beaten track. It's a three-night season involving Kinch and former Empirical trumpeter Jay Phelps, with the thrilling Latin and jazz world-musician Alex Wilson on keys. eXplorations is structured around the three musicians taking a night each to be bandleader, using the other two as sidemen in turn. Kinch here unveils The Legend Of Mike Smith, a jazz and hip-hop reworking of Faust and the Seven Deadly Sins. The ever-elegant Phelps's show Movements For The Modern Artist is inspired by Duke Ellington, and Alex Wilson's closing performance is a new world jazz and crossover suite.
Kings Place, N1, Thu to 28 Jan
John Fordham
Dave Douglas, London
Dave Douglas, the American virtuoso trumpeter and composer, once observed to the Guardian that while improvisation is the most widespread of all musical activities, received wisdom prefers to sideline it. Douglas has had the kind of broad background that makes that outcome particularly baffling. He grew up hearing pop, jazz and classical, has worked with John Zorn, mingled tango, klezmer, bop, free jazz and east European folk song, and recently staged a trumpet festival in New York dedicated to Kenny Wheeler, an influence this visit will undoubtedly explore. Douglas has become 2012 international jazz artist in residence at the Royal Academy Of Music, a place that would once have written off improvisation but which, thankfully, has changed its attitude to jazz in the past two decades. Here, Douglas presents an open rehearsal and a gala concert.
Dukes Hall, Royal Academy Of Music, W1, Wed, Thu
JF
Awakenings, London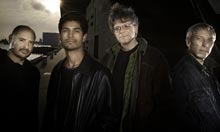 Invite the Kronos Quartet for a residency and you know you won't just get another tour around the familiar string-quartet repertoire. The San Francisco group have been performing together for nearly 40 years but retain a pioneering, inquiring character. So the group's Barbican residency this week takes in three venues for its three concerts and includes works spanning nine centuries, from Hildegard of Bingen to Bob Dylan via contemporary US composers that are a Kronos speciality. The centrepiece in the programme is Awakening itself, built around Michael Gordon's 9/11 memorial work The Sad Park.
Hackney Empire, E8, Tue; Barbican Hall, EC2, Thu; Wilton's Music Hall, E1, Fri
Andrew Clements