NME Awards Tour, On tour
Once solely the preserve of young guitar slingers, the NME Awards Tour has lately evolved to offer some different takes on the traditional rock diet. It's a tough assignment, of course. Do you serve up the wildest newcomers? Or those already embarked on their journey? Inevitably, it's somewhere between the two, and this year the emphasis is on what you'd have to call urbane, slightly retro funk-pop (the very good Metronomy; headliners Two Door Cinema Club). Those craving indie rock of the most rebellious kind, meanwhile, will be well-served by the urchin grunge of Camden's Tribes. The most exciting prospect, though, is a proper chance to see Azealia Banks, whose sweary single 212 was a hugely strong debut and whose simple turntable/mic/charisma presentation recalls the early tour set-up of MIA.
O2 Academy Glasgow, Wed; O2 Academy Newcastle, Thu; Manchester Academy, Fri
John Robinson
Justice, On tour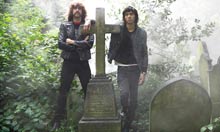 Justice are a great hard rock band, though not quite in the traditional mould. A French duo comprising Gaspard Augé and Xavier de Rosnay, they're an act you might consider filing between Daft Punk (their affection for the sound of double-tracked guitar solos from the late-70s and early-80s; being French) and the Prodigy (the unexpectedly hardcore nature of their live show), though they're more interesting than either. Samplers of prog, the pair already borrow from the graphic lexicon of hard rock with their "cross" logo, and have recorded that rocker staple, the live album. Most persuasively though, there's their Audio, Video, Disco LP, with its collaging of rock riffs and synthpop tunes making them sound like a cross between Heaven 17 and Ritchie Blackmore's Rainbow. Whether your first language is rock or dance, Justice make themselves readily understood.
O2 Academy Bristol, Thu; O2 Academy Brixton, SW9, Fri
JR
Tim Hecker, London
Tim Hecker's most recent album, 2011's awesome Ravedeath 1972, was built around his recordings made playing a pipe organ at a church in Iceland. An Icelandic church organ not being an easy thing to cart about the place, Hecker's live performances of music from that album have been largely laptop-based. This, however, is a fabulous exception: in the stillness and elegance of St Giles-In-The-Fields church in central London, Hecker will perform two concerts – it doesn't seem inappropriate to call them "services" – where he will attempt live what the Ravedeath album ended up comprising, That's to say: Hecker will play the pipes, the music then being crunched, distorted and processed through his effects, before beaming out of the PA in spectacular, slightly delayed fashion. To judge by the immersive sense-confounding shows in which Hecker specialises, this looks likely to be – at the very least – revelatory.
St Giles-In-The-Fields, WC2, Mon
JR
Gregory Porter, London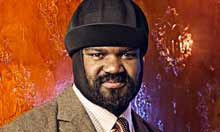 There's been a buzz about young American jazz singer Gregory Porter for a while. Last year, UK audiences finally got personally acquainted with this gifted exponent of a soulfulness worthy of Bill Withers, the jazz agility of Kurt Elling, and a distinctive lyricist's identity mixing intimacy and political realism. Porter's handling of fast music is like an instrumentalist's, but his eloquence as a ballad singer is warm without sentimentality, and his civil rights theme 1960 What? shows him at his most forcefully insistent. Wynton Marsalis has called Porter "fantastic" and Jamie Cullum has described him as "really, really special", but these superlatives have nothing to do with hype, as this four-night run should testify.
Pizza Express Jazz Club, Fri to 13 Feb
John Fordham
Conquering The Antarctic, On tour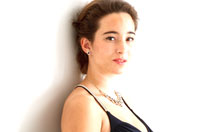 It's a century since Captain Scott's ill-starred expedition to the south pole. More than 30 years later the 1948 Ealing film Scott Of The Antarctic, with John Mills as Scott, rekindled the tragic episode for a new generation. Vaughan Williams composed the score for the film, and went on to recycle much of it in his seventh symphony, the Sinfonia Antarctica. To mark the Scott centenary, the City Of London Sinfonia is touring a programme that includes both that symphony and some of the film score that inspired it, interwoven with readings of extracts from Scott's expedition diary. Between the works comes Cecilia McDowell's Seventy Degrees Below Zero, taking its title from the letter Scott wrote "to my widow". Tenor Robert Murray and soprano Katherine Watson also feature.
Corn Exchange, Cambridge, Sat; St David's Hall, Cardiff, Tue; Town Hall, Cheltenham, Wed
Andrew Clements
Thelma, Croydon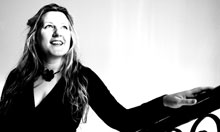 Until it came to light in a box of manuscripts in the British Library, Samuel Coleridge-Taylor's only opera was thought lost, possibly even destroyed by the composer himself. Written between 1907 and 1909, Thelma was never performed in its writer's lifetime but to mark this year's centenary of his death Surrey Opera is giving it a world premiere in Coleridge-Taylor's home town of Croydon. It's based upon a Norse legend – the alternative title is The Amulet – though the libretto, which Coleridge-Taylor wrote himself, is evidently problematic, and has been tactfully edited by the director Christopher Cowell for this production. Joanna Weeks sings the title role.
Ashcroft Theatre, Fairfield Halls, Thu & Fri
AC