Reading/Leeds Festival
It's more than 20 years now since the Reading/Leeds festival entered its modern era, but the event's image remains the same: a goth eating a baked potato sitting by a fire made of plastic cups. A hard rock festival with occasional indie interloping, in recent years rock has steadily returned to the fore. This year that means goth-rock (the Cure), dance-rock (Kasabian and good old no-frills rock (Foo Fighters). Still, beyond the headliners, there's the likes of the Black Keys, the Gaslight Anthem and the re-formed and generally incredible At The Drive-In.
Richfield Avenue, Reading; Bramham Park, Leeds, Fri to 26 Aug
John Robinson
Mark Lanegan Band, On tour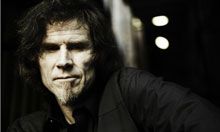 In recent years, we've grown used to thinking of Mark Lanegan as a special guest: more than working on his own music, he's been a voracious collaborator, working with the likes of Queens Of The Stone Age, Greg Dulli and Isobel Campbell – all of whom have benefited from the snarling rock power of his voice and the loom of his presence. But here he fronts his own group again and Blues Funeral, his first solo record for eight years, warrants the formation. Filled with accessible rock and even some pretty persuasive disco, it's easy to see why Lanegan is as convincing as a gang leader as he is a hired gun.
Princess Pavilion, Falmouth, Tue; Wulfrun Hall, Wolverhampton, Wed
JR
V Festival, Chelmsford & Staffordshire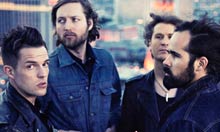 V is a strange event, less like a "proper" festival and more like somewhere Hollyoaks cast members go to be photographed wearing trilby hats. It's an excusable impression; what with all the big screens and heavy advertising, were it not for the fact that you're outdoors, V can feel like you're watching a commercial TV channel with intermittent mainstream rock music. The music itself doesn't exactly subvert that feeling either. V specialises in booking artists with a very high recognition factor, whether from TV talent shows (Cher Lloyd, Olly Murs, Tulisa) or via their long-established reputations. Within that remit, though, they deliver on their promises: the Stone Roses, Noel Gallagher's High Flying Birds, the Killers … it's an impressive digest of the year's big rock events.
Hylands Park, Chelmsford; Weston Park, Staffordshire, Sat & Sun
JR
Mittwoch Aus Licht, Birmingham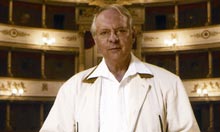 Karlheinz Stockhausen spent 27 years composing the Licht cycle – seven operas, one for each day of the week – and when he died in 2007 two of them had still to be seen complete on stage. Sonntag (Sunday) was performed in Cologne last year, and now the Birmingham Opera Company is staging Mittwoch (Wednesday), directed by Graham Vick. Long regarded as unstageable, Mittwoch Aus Licht includes the Helicopter Quartet, in which the members of a string quartet take to the air and their playing is transmitted back to the audience, mixed with the sounds of the helicopters carrying them. How Vick integrates that into a production that also involves chorus and orchestra floating in mid air and a walk-on part for a camel remains to be seen.
Argyle Works, Wed to 25 Aug
Andrew Clements
Wayne Krantz, London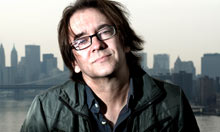 American guitarist Wayne Krantz's famously long residency at New York's 55 Bar used to be documented by downloadable recordings of the gigs made available the very same night – a measure of how devoted to the music of the moment he has been. Krantz sounds somewhere between John Scofield and Bill Frisell, and he has toured in the legacy version of Steely Dan, which has had an audible impact on his playing. But Krantz is also an unflinching adventurer who dislikes repeating himself, and his trio shows (with bassist Tim Lefebvre and drummer Nate Wood) turn into bone-crunching three-way conversations. These match the impact of a heavy rock power trio to the melodic slipperiness of a contemporary jazz group. Krantz recently made an album featuring his rarely revealed, Chet Baker-esque vocals, with added Headhunters-like grooves, electronics and rock-ballad sounds. Wondering how much of that will feature on these shows only adds to the anticipation.
Ronnie Scott's, W1, Mon & Tue
John Fordham
Madeleine Peyroux, London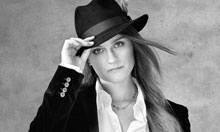 A one-off UK show for American pop-jazz singer-songwriter Peyroux, a performer of such vocal subtlety she can make you replay the same song just to hear the way she intones a single word. After years being pigeonholed as a Billie Holiday reincarnation, and with an identity as an idiosyncratic covers artist, the cosmopolitan former street musician struck out in a bluesier manner with an original repertoire on her 2011 album Standing On The Rooftop – and material from that set is likely to dominate this tour. When she visited last year, Peyroux was reprimanded by some for carrying tasteful restraint so far that her dark emotional power was all but obscured. But at her best, this quietly eloquent artist can touch on Leonard Cohen's blend of impressionism and stark honesty, and her languidly jazz-inspired toying with the placing of a beat is always irresistible to witness.
O2 Shepherd's Bush Empire, W12, Sat
JF
• This article was amended on 20 August 2012 because the original said one site of V Festival is in Leeds. This has been corrected.