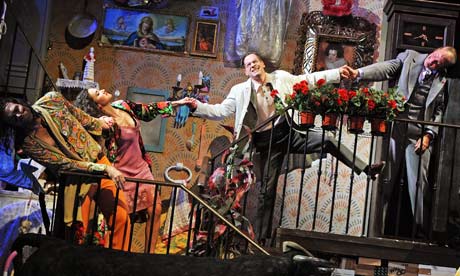 L'Heure Espagnole
Anyone attempting to stage L'Heure espagnole, an opera with an orchestral prelude and 21 short scenes, faces an immediate challenge: how to follow Ravel's instruction to have three pendulums on stage, swinging first at 40 beats per minute, then 100, then a manic, breathless and crazy 232 – or four beats per second, which is beyond human capability, and that's the joke.
Ravel wanted his first opera to be funny, not only in the outrageously saucy plot but in the score too. He chose a perfect subject for musical wit: the winding up, ticking, whirring and striking of every horological mechanism in Torquemada's clock shop in Toledo, where the opera magically, in veiled whispers, starts. While the story unfolds at a relatively mañana pace, an endless pulse – or several different ones – gives the piece a restless, clock-watching urgency. It's a brilliant coup, complete with Spanish habanera, glittering splashes of coloratura and ironic vocal rhapsody.
How does the composer achieve this ticking, clicking, dinging, chiming aural variety? By using, as an early, none too amused commentator put it "too many special effects" and a very large orchestra "for such a slight and light affair". Thus the piece is scored for a standard orchestra with mad-cap additions that create l'Heure's special timbre. Most are familiar: spring, castanets, ratchet, whip, sleigh bells, celesta. One needs explanation: the sarrusophone, a brass instrument played with a reed.
Listen early on for the strange squawk of a clock which makes the sound of a cock crowing. The sarrusophone player blows and squeaks through the mouthpiece in a comically tuneless, pitchless manner. Other instruments, such as a downward-sliding trombone or the trilling bassoon make scurrilous, sexy, windy, digestive noises. Keep your ears pinned for all these musical one-liners.
Each set piece, such as that between Gonsalve and Inigo hiding in their clocks, has an air of tense, nervous comedy. The clash between metronomic precision and brief, wanton Latin passion is the heartbeat of this short, perfect work.
L'Enfant et les Sortilèges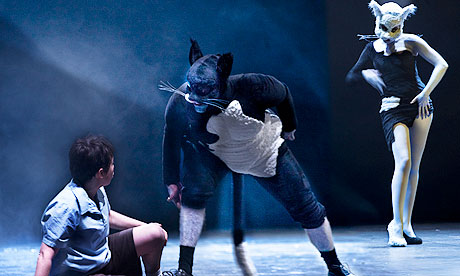 Whereas L'Heure espagnole had an excess of func
tioning clocks, in l'Enfant et les Sortilèges the problem is the opposite. The naughty boy who won't do his homework, in Colette's libretto, takes his anger out on every household object to hand, including the grandfather clock, yanking out its pendulum and creating a noise far louder and nastier than any of the ticking mechanisms in Ravel's first opera.
Yet l'Enfant, too, is that rare commodity: an impeccably constructed comic opera in one act with music that mixes tart irony with lush tenderness. The composer once more calls for a large orchestra, as well as adult chorus, children's chorus and eight soloists – one reason it for its relatively infrequent stagings.
Like Stravinksy, Weill and others of his European contemporaries, Ravel was swept up by the new American music of the time: ragtime and jazz, whose vivid colours and rhythms are omnipresent in l'Enfant. He may have had Gershwin and musical comedy in his ears when he started its composition in 1920, but equally Ravel had fun parodying opera itself, from Wagner in the celebrated, salacious cat duet, to Monteverdi, Puccini and Massenet.
As Ravel himself observed, l'Enfant is "a very smooth blending of all styles from all epochs". Seeking melody above all else – "bel canto, vocalises, vocal virtuosity" - he enjoyed the elaborate artifice he had created, silencing critics by retorting "Does it not occur to people that I may be artificial by nature?" The work consists of several self-contained episodes, each with its own musical highlight.
Here are some to listen out for: the duet for sofa and chair, the noisy dinging of the clock, the orientally coloured fox-trot for Wedgwood teapot and China cup, Fire's coloratura moment, the Renaissance style duet for Shepherd and Shepherdess. After the domestic havoc wreaked by the Child, and a touching encounter between him and the wounded squirrel, all ends in goodness and wisdom with a fugal chorus. The work concludes, as it began, with an oboe duet, subtly altered to give harmonic resolution, and the Child cries a final "Maman".