Ravel's two one-act operas are usually thought of as companion pieces, though they are poles apart in tone. L'Heure Espagnole is an erotic comedy about a day in the life of the voracious wife of a Spanish clockmaker, while L'Enfant et les Sortilèges deals with a child who learns the nature of altruism when the world to which he has been cruel turns against him. Performing them together can be tricky, particularly when a director is more at home with one piece than the other.
At Glyndebourne, Laurent Pelly seems a bit uneasy with L'Heure Espagnole. He updates it to the 1970s, allowing Alek Shrader's glamour-boy Gonzalve to strut his stuff in a silk shirt and flares. The clocks in Torquemada's shop whirr and vibrate suggestively whenever there's a double entendre, and then go haywire when Stéphanie d'Oustrac's Concepcíon finally takes Elliot Madore's Ramiro to bed. The singing is terrific, but Pelly's gravitation towards caricature sits uneasily with the deeper eroticism of the score. There are times when it could be funnier and sexier than it is.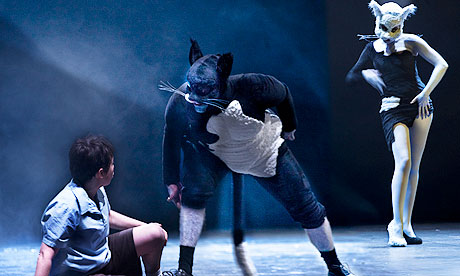 L'Enfant et les Sortilèges, however, is extraordinarily beautiful and wonderfully assured. The magic with which Pelly brings to life first the inanimate objects in the house, then the world of nature in the garden beyond, is breathtaking. He avoids a heavyweight, psychoanalytic interpretation, though there's a wrenching sadness in the Child's (Khatouna Gadelia) encounter with his storybook Princess (Kathleen Kim), and hints of deep confusion at a sexual world beyond his comprehension in his confrontation with the Cats (D'Oustrac and Madore again). As with L'Heure Espagnole, you can't fault the singing, while Kazushi Ono conducts both works with impeccable style.
* This production will be live-streamed on guardian.co.uk/glyndebourne on Sunday 19 August at 6.30pm (BST)