The sound of the suburbs has been evolving for over 30 years. For punk rockers the Members in 1979, it was raucous and faintly melodic. For the Arcade Fire, on their 2010 album The Suburbs, it has proved to be tuneful but seriously histrionic. For Real Estate, a band from the New Jersey 'burbs, and whose songs have often made reference to the quiet and unremarkable nature of their upbringings, it's a sound that's different again.
On the band's second album, Days, you'll discover it to be softly stated, but undeniably powerful. Built for the most part around the gentle tunes of singer Martin Courtney, and articulated by the complementary melodic lines of lead guitarist Matt Mondanile, Real Estate songs are almost architecturally detailed, their mesmeric repetitions evocative of streets whose layout is calm and unvarying, but within whose borders emotional stories are covertly played out.
Quiet, intelligent, thoughtful: it's an album that's very much the product of its makers, gathered today on Hampstead Heath to be photographed. In their quiet way, though, what Real Estate are doing is actually making a statement.
"It's not a violent reaction," explains bassist Alex Bleeker, "but it's a reaction to the idea of 'We're a band and we have a story, and we're super hard-edged or urban …'"
Real Estate, essentially, are attempting an artistic path that's far from straightforward. Namely, trying to make their music from their own ingredients, however manifestly un-"rock'n'roll". The likes of Vampire Weekend have shown how actively playing up what at first glance is an uneventful background might provide a new and exciting musical direction, and in a similar way, Real Estate are gathering adherents to their own cause.
"I don't think we see ourselves as cool rocker guys," Bleeker continues. "We share a bond with a lot of people who have a common, middle-class suburban experience. Our non-image has become the image of the band."
Though they play live as a five-piece, Real Estate began in earnest when Courtney, Mondanile and Bleeker – the band's three songwriting members – returned to their home town, the leafy and pleasant Ridgewood, New Jersey when they graduated from university a few years ago.
The trio had been friends for a decade previously, and shared pivotal musical experiences (a love of Weezer's second album, Pinkerton; a Damascene indie rock conversion via the Pixies' Surfer Rosa). When they moved back home, it was these memories, of their untroubled formative years, that they drew from for their music. There's almost something of the teen movie about it.
"We spent a lot of time in a suburb with tree-lined streets, just hanging out, wasting time," recalls Mondanile, who also plays in his own, slightly more psychedelic side project, Ducktails. "Looking back on it, it was a really formative time for all of us. It's part of the band." Memories of this idyllic period, applied to the songs Courtney had written, eventually gave rise to Real Estate's first, eponymous, album in 2009, a collection which, although slightly tentative, still picked up fans who pinpointed precisely what the band were doing with their nostalgic songs of suburban life, even if the band themselves had yet to fully articulate a mission statement to that effect.
"I was worried that we didn't have a 'thing'," says Courtney of these early steps. "When people started to pay attention … it was made apparent for us that that was what our 'thing' was. It made it easier to follow my intuition."
"We're not going to force anything," adds Bleeker. "We're not going to write an electronic record for the sake of it …"
"We might," laughs Mondanile, "but the lyrics would still be about houses."
'There are people who act like Tony Soprano, they just aren't in the mafia … it was filmed around the area where we grew up' – Matthew Mondanile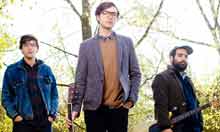 As it is, Days is far from an electronic record. Instead, it's an album that recalls the highest watermarks of late-80s English alternative pop, being reminiscent of the early sound of the Smiths and, particularly, Felt (whose Sunlight Bathed The Golden Glow the band now cover as an encore). If there's a particular surprise here, it's that this Anglophilia should be coming from New Jersey, a place that – if we are to believe what we see on television – is populated chiefly by neurotic mobsters and sexually rapacious young people with waxed eyebrows. As it turns out, this might not be so far from the truth.
"There are people who act like Tony Soprano, they just aren't in the mafia," says Mondanile. "The Sopranos was filmed around the area where we grew up …"
"A lot of the scenes in the Sopranos remind me of my mother's side of the family," says Courtney quietly. "Only minus the guns …"
Real Estate, however, are rather more lyrical and bittersweet, as heard on the single It's Real: "I carved our names into a tree/ I walked on decomposing leaves".
It's a gently defiant position to be taking, the band conscious that what they're doing marks a sea change from the no wave and punk-funk tendencies that dominated US indie music throughout the noughties. Songwriting, they all agree, is back and Real Estate are proud nostalgists; not living in the past, simply looking to their own experiences in order to make something meaningful. After all, it's only if they look back effectively that their work will mean anything to themselves, or anyone else, going forward.
"I'm nostalgic for this moment right now," says Bleeker, gesturing to the beauty of Hampstead Heath. "I'm not sure if it's healthy, but I know that I'll look back on it fondly."
Mondanile nods his agreement, knowing that healthy is exactly what it is.
"It's almost like living in the future," he says.
Real Estate play The Scala, N1, 6 Dec