Forest Fire, On tour
With their acoustic guitars and outdoorsy name, it's little wonder Forest Fire have convinced some they're a folk group. In fact, this Brooklyn band are pretty much textbook literate indie rock. Two albums in, Forest Fire are all about creepy noises and sinister intonations. In among this are the songs of Mark Thresher, appearing as someone out to prove that his band have real tunes and real stories. About half the time they pull it off, but new album Staring At The X occasionally raises suspicions that this is all smoke and mirrors.
Shipping Forecast, Liverpool, Mon; Santiago, Leeds, Wed; Chameleon Arts Cafe, Nottingham, Thu; The Cluny, Newcastle upon Tyne, Fri
John Robinson
WorldService Project, Oxford, London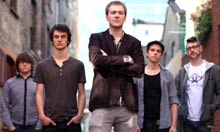 Having toured with Norwegian prog-jazzers SynKoke, London avant funk group WorldService Project continue their Match & Fuse collaborations with Berlin sax'n'guitar thrashers Schulbus. Led by keyboardist-composer Dave Morecroft, they play a tight, deftly structured and grittily grooving music that has led to comparisons with young, rock-influenced UK jazz bands as Led Bib. Schulbus, meanwhile, are part New York downtown-cool, part tempestuous avant rock, part minimalism and improv.
Corpus Christi College Auditorium, Oxford, Sat; Vortex Jazz Club, N16, Sun
John Fordham
Group Inerane, On tour
As raw as Tuareg guitar music remains, it's come a long way in the last five years. Whether it's the shiny French productions of a group such as Toumast, or Tinariwen's collaboration with TV On The Radio, this west African sound remains effective medicine, but in increasingly fancy bottles. Group Inerane, from Agadez in Niger, seem a way off any such smartening up. Built around the guitar talents of Bibi Ahmed and Adi Mohamed, the band have released a couple of records so far, both sounding more like field recordings. Random vocal whoopings accompany their songs, and no wonder: rather than, say, Tinariwen's stately, snaking blues, Group Inerane's work settles into a mesmerising groove. Road music, ultimately, where road and desert are often blurred.
The Croft, Bristol, Tue; Plan B, SW9, Wed; Cumberland Arms, Newcastle upon Tyne, Thu; Kinning Park Complex, Glasgow, Fri
JR
McCormack & Yarde Duo, Oxford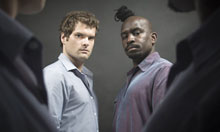 The subtly composed, improvised conversation between pianist Andrew McCormack and saxist-composer Jason Yarde has continued to grow with the pair's latest album, Places And Other Spaces. When their first CD, MY Duo, emerged in 2009, these two vastly-experienced genre-benders seemed to be of the same mind. Their latest work together finds Yarde less preoccupied with the keening soprano saxophone, and applying a weightier sound to a similar repertoire of Keith Jarrett-like piano vamps, reflective and sometimes classical lyricism, and minimalist hooky music that's occasionally suggestive of Portico Quartet. Yarde's studies of eerie sax harmonies and multiphonics continue to expand, his solo sax journeys sometimes recalling the work of John Surman, and the pair make a limited, chamber-jazz format sound broader and deeper than it ought to be able to.
Holywell Music Room, Sat
JF
Thurston Moore, On tour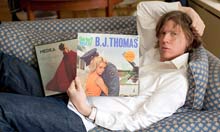 Thurston Moore's music has ridden far on his goofy charm and teenage enthusiasms, his apparent artlessness arguably his strongest suit. His new album, Demolished Thoughts, however, finds Moore recasting himself, his songs given new drama by producer Beck's arrangements, the whole being surprisingly melodic and ultimately moving – which might be connected to his recently announced marriage split. This isn't the Moore of Sonic Youth, attacking a Fender Jaguar with a drumstick. Instead, he's working acoustically, his unorthodox tunings and exploratory songs aligning him with the American primitive school of guitarists, while his pop-leaning tunes and candid lyrical stance seem to suggest he'd like people to understand where he's coming from. It's a great album, and by no means a vain hope.
Button Factory, Dublin, Sun; Arches, Glasgow, Mon; Brudenell Social Club, Leeds, Tue; HMV Ritz, Manchester, Wed; Union Chapel, N1, Fri
JR
HK Gruber Presents, Manchester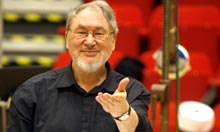 As the BBC Philharmonic's composer and conductor, HK Gruber shoulders much of the responsibility for performing contemporary music with an orchestra for whom it otherwise never seems to be much of a priority. But Gruber's concerts always have a quirky logic, and his particular take on 20th-century music in general is refreshing, just as his own music has chosen its own very distinctive path through the stylistic tangles of modernism and what came after it. So in his latest programme, Gruber's violin concerto Nebelsteinmusik, with its allusions to Alban Berg's Lyric Suite, is preceded with music by Ives (Three Places in New England) and John Adams (My Father Knew Charles Ives) and followed by the Concerto for Orchestra by Gruber's teacher Gottfried von Einem to whom, not coincidentally surely, Nebelsteinmusik is dedicated, and from the spelling of whose name some of its material derives.
Bridgewater Hall, Fri
Andrew Clements