Wretch 32: 'Rapper's rapper'
"I'm really not used to this kind of thing," says Wretch 32 when he arrives at the Observer's offices for a photo shoot, gesturing at the imposing array of photographic equipment. "But I'm definitely getting better at it!"
By "this kind of thing", the north London rapper – real name Jermaine Scott – means the inevitable media scramble that every pop star must face when their single unexpectedly flies up the UK singles chart. Such was the scenario when Wretch 32 – and that's pronounced "three two" – released "Traktor", a propulsive, leftfield club track that reached No 5 earlier this year.
"I thought it might be too hard sounding for people to connect with," explains the rapper. "Our hope was really just to get the clubs on board, because that's half the battle won." But while Wretch's ambitions were tempered, Radio 1 DJs MistaJam and Zane Lowe were busy spreading word. The success of "Traktor" is testament not only to Wretch's talent, but also to the nation's developed palate when it comes to UK rap. It's easy to forget that in the days before Dizzee Rascal was going bonkers, the chances of a British MC finding chart success, particularly with a song as unusual as "Traktor", were slim. "It's like we grew up watching everyone play football outside, while we were stuck in our bedrooms doing kick-ups," says Wretch. "Once one person took their ball outdoors, we were all ready to join them."
Born and raised in Tottenham, north London, Wretch earned his name by getting under everyone's feet. "It was always, 'Oh you little wretch!' from my family and the name just stuck." In person, he is garrulous, smiley and polite. He talks vaguely about a period during his teenage years when he was "going through some frustrations, and I had to leave home", but the situation had a positive outcome: he was compelled to vent his feelings through music. "Other rappers might talk about what they've got or what they want, but I've always put a lot of my emotions into my lyrics."
Between then and his breakthrough with "Traktor", there have been "hundreds and hundreds of mixtapes, tracks and CDs". He cites a friendship with fellow rapper Chipmunk as being his introduction into the limelight, and it's affiliations like this, combined with his lyrical talent, that earned Wretch the title of "rapper's rapper" in a Guardian New Band of the Day profile last year.
Wretch kicks off the Guardian and Observer's inaugural New Band of the Day live gig on 25 May (see guardian.co.uk/music), alongside the seemingly incongruous vocal talents of Rumer. But Wretch says their similarities outweigh any differences. "Ultimately, I'm a lyrics man and I appreciate good words in whatever form they come." After that, it's a summer of festival performances across the country. "I've been on the mic in clubs unable to hear myself over the beat. Festivals don't faze me from that point of view. I just want to get on with it now!" Rosie Swash
Ren Harvieu: Vocal prodigy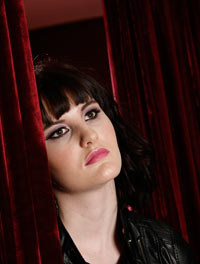 Like many of today's pop hopefuls, talent shows played a role in Ren Harvieu's development. But the kind she participated in were the old-fashioned variety, in a school hall, wearing her sister's clothes, rather than on live television, teased and primped by a professional stylist.
Yet when she reveals her remarkable voice, a tender and muscular organ that evokes some of the great divas of bygone years, you at once recognise Cowell's poppets wouldn't stand a chance. However, Harvieu wasn't interested in that route.
"People had been telling me go on The X Factor. I didn't want to, it's the kiss of death, no way," she tells me when we meet in a cafe in Holland Park, west London.
Born in 1991, the youngest of three girls, Harvieu (her father is French-Canadian) grew up in the Salford suburb of Broughton, an area that has produced talents as diverse as Mark E Smith, Bernard Sumner and Elkie Brooksto the musical firmament. Her father was a regular folk performer in local pubs and the entertainment often carried on in their back garden, where her mum would perform "inappropriate monologues". But the young Harvieu never joined in, preferring to sing Billie Holiday numbers while doing the vacuuming.
The first time she sang in public, at a local pop show, she was 12. While her competitors sung S Club Juniors tracks, she belted out Alicia Keys's "A Woman's Worth". "I came second because someone else accompanied themselves on the piano," she says. Around this time, she developed a musical taste that belied her years; she mentions Joni Mitchell, Stevie Wonder, Don McLean and Tracy Chapman, but special praise is saved for veteran songbird Shelby Flint, particularly her soundtrack to Disney's The Rescuers.
Despite singing in the school choir, Harvieu was told she couldn't sing by the tutors on her musical theatre course. But after meeting a friend of a friend who had a recording studio, she recorded Etta James's "At Last" with a karaoke backing track in one take and posted it on MySpace. A music manager called Paul Harrison, who had previously signed Regina Spektor, stumbled upon her page and was moved enough to seek her out. Harvieu then spent months in the studio trying to develop her sound, and Harrison worked on getting her signed.
The first song they made, "Through the Night" – beautifully orchestrated pop, nudged along by Harvieu's lonesome, world-weary tones – will be her first single (out 4 July). Another track, "Tonight", sounds like a theme to a Bond film, while "Forever in Blue" winds back the years even further, to the era of Doris Day and gentle bossa novas.
Harvieu is aware her path so far has been unusually simple: "It's gone really smoothly, I know I'm really lucky, I know it's really hard to get a record deal. The opportunity that I've been given, I treat it like the last opportunity I might get." Ian Tucker
Rise to Remain: Heavy metallers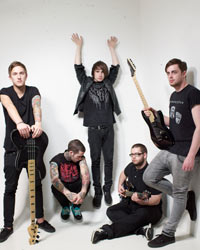 There was a clear moment when lead singer Austin Dickinson realised his destiny was to be Britain's next great metal god: he was halfway through his English literature A-level in an exam room in Guildford writing an essay on Othello. He raised his arm and said he was finished and then sprinted from his seat to jump on a train to the Islington Academy to play with Brazilian/American thrash metallers Soulfly. "I still got a B, which is cool," he says, with unexpected pride.
In their 1980s heyday, heavy metal frontmen did not brag about their A-levels and they certainly didn't think that getting a B was "cool". But then Austin's band, London five-piece Rise to Remain, are a long way from the archetype of long-maned, bat-munching wild men. Today, they are smart, disconcertingly polite and their hair is cropped, even borderline Bieber. Their record label EMI believes that the band, all aged between 20 and 22, could bring heavy metal to a new audience. Their first single, "Nothing Left", is out 13 June.
"Were you expecting us to be really lairy?" asks bassist Joe Copcutt. "Everyone puts on a front, but it's all an act, really." Lead guitarist Ben Tovey adds: "The biggest metal bands now all drink cups of tea before going on stage."
No one knows this better than Dickinson, whose father, Bruce, is an airline pilot, internationally rated fencer, authority on spontaneous human combustion, as well as having a sideline as the lead singer of Iron Maiden. This patronage has led to some perks for Rise to Remain, not least a tour of the Far East and Australia supporting Iron Maiden. "It can be quite surreal," says drummer Pat Lundy. "You're in a bar in Australia and you think, 'Holy dung! I'm with matey-chops from my favourite childhood band' and it's a bit of a Facebook profile-photo moment – we've had a few of those."
But the charges of nepotism also mean, the band believe, that they have worked harder to prove themselves. "We really want to show we're a real band," says Will Homer, rhythm guitar. "We did all meet when we were kids, it's not a manufactured thing."
"You have to develop a thick skin," Dickinson continues. "We've definitely paid our dues. But it's the worst-kept secret in metal that it is great fun. There's us and 400 kids in a sweatbox and you have this moment of realisation: 'Wow, we are all going to do this, aren't we?'" Tim Lewis
Wu Lyf: Indie enigmas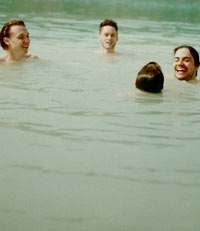 Despite the silly name (pronounced "woo life"), this Mancunian quartet take themselves very seriously. Forgoing interviews, they prefer to communicate through a mysterious online presence that's all wonky MySpace pages, strange short films and photos of kids in hoodies, faces obscured by scarves, which could be of the band, or a fashion shoot themed around starting your own riot. If that wasn't enough self-mythologising, that name's an acronym, standing for the cult-like World Unite/Lucifer Youth Foundation. All this social media activity has done its job – attracting the attention of the mainstream music business – perhaps helped along by having a manager, Warren Bramley, who does this sort of thing for a living at the creative agency he runs, four23. Which goes to show how much effort a band needs to make to get noticed these days, and what's at stake when Wu Lyf commit to the offline world and embark on their first proper tour this summer, which includes shows at Sydney's Opera House.
If their missionary zeal recalls early Arcade Fire, so does the scrappy rock of next month's debut, Go Tell Fire to the Mountain (out 13 June), recorded in a disused church in Manchester and due to be released on their own label. The reality, then, is much less cryptic, broad enough to appeal even if you neither know nor care what the phrase "viral campaign" might mean. Gareth Grundy
Yacht: Cosmic art rockers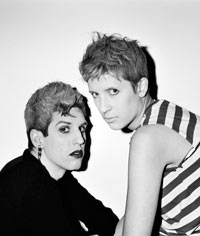 Taking the phrase "cosmic ambition" to its faux-naif conclusion are Portland, Oregon's Yacht, who list outer space and the afterlife as destinations on their Road to Utopia world tour list. "A band, belief system, and business," is how they describe themselves, and though they do an excellent line in ridiculous art-speak meets new age, self-empowerment declarations, the real magnetism is in their grooves, rather than quasi-spiritual manifestos. "Yacht is not a cult," their website proclaims, but as you'd except from a DFA signing, jams such as their latest single, "Dystopia", are infectious enough to approach something like a religious experience.
They're the work of Jona Bechtolt, a technophilic wunderkind from Portland, Oregon, whose skills as a producer have seen him hailed "indie rock's Timbaland", and Claire L Evans, a writer-artist-musician from LA whose droll, deadpan, half-spoken mantras made a delicious foil to Bechtolt's playful beats on 2009's See Mystery Lights. That album was one of the year's best and, if there's any justice, they'll win over this country, if not the galaxy, when their follow up, Shangri-La, is released next month. When they play in the UK this summer, expect baroque PowerPoint presentations, audience Q&A sessions and "shamanistic video environments" to be included. In short, getting brainwashed has never been more fun. Hermione Hoby
Nicola Roberts: Pop phoenix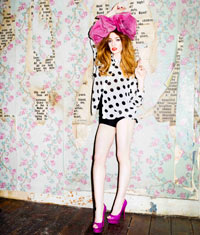 We always suspected there was more to Girls Aloud's youngest member than fox-red hair, pale skin and a perceived reluctance to smile. Now she's going solo, Nicola Roberts has finally got a chance to prove it.
Though the tracks that have emerged so far from the 25-year-old singer's debut album, Cinderella's Eyes, which is out in the autumn, do pay respect to the Xenomania-crafted pop that propelled Girls Aloud to fame, she's wrong-footed the critics by working with innovative producers such as Diplo and Metronomy and penning intriguingly personal, gutsy lyrics. The first single, out on 5 June, "Beat of My Drum", nods to MIA and Gwen Stefani with its imperious chorus and relentless, dancefloor-friendly beat.
For a long time, Roberts was portrayed as Girls Aloud's odd one out, attracting negative comments from the likes of Chris Moyles, and it's only recently that she's had the confidence to rise above it.
"I've been given an opportunity to make the album I want, so I've put every last bit of heart and soul into it," Roberts has said. She must be doing something right – MTV asked her to interview Lady Gaga the other week. Gemma Kappala-Ramsamy