While some city festivals offer bizarrely eclectic bills that seem to reflect simply whoever was available at the time, the lineup for Bristol's inaugural We, The People has been carefully selected with the musical predilections of its host city in mind. That means plenty of bassbin bothering from the likes of Chase And Status, Lee "Scratch" Perry, the Streets, Roots Manuva, Sub Focus and Jammer. Secondary stages are curated by renowned local promoters such as Blowpop and dubstep doyen Pinch, and feature the cream of the Bristol scene: Baobinga, Guido, Peverelist, and, of course, indefatigable OAP reggae selector DJ Derek.
Bristol Harbourside, Sat & Sun
Sam Richards
Yo La Tengo, On tour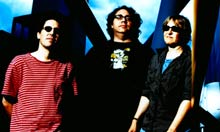 One of the reasons why perennially charming New Jersey indie trio Yo La Tengo have been in the game for more than 25 years is that they strive to keep things interesting. For this Reinventing The Wheel tour, in lieu of a support act, the band will spin a wheel of fortune to decide the nature of a bonus performance. Possibilities include an appearance by their garage rock alter-egos Condo Fucks, a set of songs that all begin with S, or even a spot of "sitcom theatre" (they recently acted out an episode of Seinfeld on stage). While a "regular" set will follow the interval at each gig, these are often just as gloriously unpredictable.
Queens Hall, Edinburgh, Mon; The Sage, Gateshead, Tue; The Cockpit, Leeds, Wed; O2 Academy 2, Birmingham, Thu; O2 Academy, Oxford, Fri
SR
Emmy The Great, On tour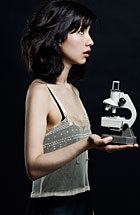 Emmy The Great, AKA London-based singer-songwriter Emma-Lee Moss, may not enjoy the same profile as former nu-folk contemporaries such as Laura Marling and Noah & The Whale, but she's arguably the best thing to come out of that whole scene, her dainty songs subverted by witty and acerbic lyrics that skewer feckless ex-lovers or meditate candidly on sex and death. New album Virtue was written in the aftermath of her fiance abandoning her for God, so her decision to tour English churches is something of a defiant move. The ruminative settings, however, should be ideal for her assured, lyrical songs that are unafraid to address the big topics.
Sheffield Cathedral, Sat; Sacred Trinity Chruch, Salford, Mon; St Pancras Old Church, NW1, Wed to Fri
SR
Phronesis, London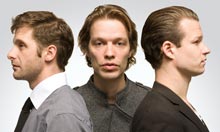 The Aristotelian origins of the band's name have an academic ring, but there's nothing cerebrally remote about the thunder of young Danish double-bassist Jasper Høiby's sound, or the dramatically building improvisations of pianist Ivo Neame. Formed in 2005 after UK-resident Høiby's graduation from the Royal Academy Of Music, Phronesis went on to develop a strong original repertoire, with links to the lyrical music of EST or Avishai Cohen. Musing beginnings develop ambiguous Latin grooves and then abandon them for free-swing in Phronesis' music, or romantic themes that sound like old John Lewis tunes for the Modern Jazz Quartet give way to startling bass-led twisters or delicately folksy meditations.
Vortex Jazz Club, N16, Thu
John Fordham
Michel Legrand, London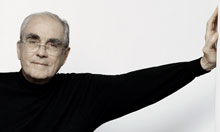 There's a wonderful cover shot to the 1958 album Legrand Jazz, with pianist-composer Michel Legrand wearing an expression of insouciant expectation, Gauloise at the corner of his mouth, indolently summoning invisible sidemen to action. Since the sidemen included Miles Davis, John Coltrane, Bill Evans and Ben Webster, that New York session could hardly have been a more emphatic testament to the then 26-year-old's international stature. He went on to become a star movie composer rather than a jazz musician (The Umbrellas Of Cherbourg, The Thomas Crown Affair), but kept his jazz reflexes sharp with periodic club and concert appearances. Though these trio gigs (with local bass and drums partners Geoff Gascoyne and Sebastiaan de Krom) will likely focus on his massive songwriting CV and long involvement with chanson rather than improv pianistics, they're a rare chance to hear a legend of 20th-century popular composition at close range.
Ronnie Scott's Club, W1, Tue to Thu
JF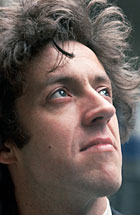 It's almost 30 years since Cornelius Cardew was killed at the age of 45 by a hit-and-run driver near his east London home, and more than 40 since he was at the cutting edge of experimental music in this country. For at least a decade from the late-50s onwards, Cardew had been the most radical figure in British music, a pupil of Stockhausen and a disciple of Cage. His most important work of the late-60s was The Great Learning, based upon the writings of Confucius and performed by the now legendary Scratch Orchestra, a collective of trained and untrained musicians. A rare performance forms the focus of this Bath festival day, with local groups giving simultaneous performances of the work's seven "paragraphs" at different venues around the city. It will all be prefaced by a lecture-recital with composer and Cardew pupil Howard Skempton and biographer John Tilbury.
Various venues, Sat
Andrew Clements