Joan As Police Woman, On tour
Joan Wasser is an interesting relic from the 1990s. Some of this is down to the biographical details – an ex of Jeff Buckley, she also played in early incarnations of Antony And The Johnsons – but for the most part it's down to the persona she brings to her music: her speciality is the emotionally naked wallow. All of which would be fairly testing to the patience had Wasser not devised music so richly detailed and seductive – hers are rich piano melodies, extensively arranged, and sung with grave expression. What's interesting about her new album, The Deep Field, is that while the music remains locked in a doomed embrace, Wasser herself sounds as if she's seen the light at the end of the tunnel.
O2 Academy Oxford, Tue; Komedia, Brighton, Wed; Glee Club, Nottingham, Fri
John Robinson
Jonny, On tour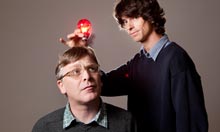 A side project, by two masters of understatement? It's amazing that anyone even knows that Jonny are out there at all. Testimony to the melodic talents of Gorky's Zygotic Mynci frontman Euros Childs and Teenage Fanclub's Norman Blake, and low-key or not, the pair's self-titled debut album has summoned more excitement than recent releases by either's main enterprise. Rather than going off-piste entirely, Jonny have instead dug deeper into the Beatles/Beach Boys melodies they might ordinarily use. And there's an abundant charm: as well as songs of longing to touch the heart, the pair also bring songs like Wich Is Wich and Bread that may eventually enliven TV programming for the under-3s.
Proud Brighton Ballroom, Thu; Haymakers, Cambridge, Fri
JR
Band Of Horses, On tour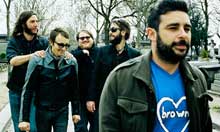 The career of Band Of Horses is a little similar in plot to a film like Crocodile Dundee – where a rough-hewn country type eventually learns a compromise with the ways of the big city, managing to keeping some of his charm intact. That's Ben Bridwell's band all over. Formerly makers of a feisty and outdoorsy kind of country rock that they displayed on their albums Everything All The Time and Cease To Begin, some kind of eureka moment clearly took place before the creation of their most recent one, Infinite Arms. What has since come to pass is a generally smartening up of sound, lineup and songwriting, with some of the hairier tendencies removed from their music if not yet from their faces. All this, however, seems cosmetic. You can take the band out of the country, after all – but you can never totally take the country out of the band.
O2 Academy Bristol, Sun; O2 Academy Leeds, Mon; Manchester Academy, Tue; O2 Academy Brixton, SW9, Thu; De La Warr Pavilion, Bexhill-on-Sea, Fri
JR
The Portrait, Leeds
Mieczyslaw Weinberg is a name we're going to have to learn to spell and pronounce over the next couple of years. A Polish Jew, born in 1919, he spent most of his life in the USSR writing a huge amount of music, but he was a victim of anti-semitism and never gained the recognition he might have earned. Since his death in 1996, interest in his music has been steadily growing in the west. Probably his best opera, The Passenger, is due at English National Opera next season, where it will be directed by David Pountney. First, though, Pountney is staging the British premiere of another Weinberg piece for Opera North. The Portrait, based on a short story by Gogol, was composed in 1980 and is a satire on greed, much like Shostakovich's own Gogol opera The Nose. It hadn't been seen for almost 20 years before a revival at the Bregenz festival last summer.
Grand Theatre, Wed to 12 Feb
Andrew Clements
Georg Friedrich Haas, London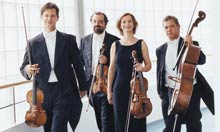 Georg Friedrich Haas is one of a number of fifty-something European composers whose music is widely admired and performed across the continent, but who remains hardly known at all in Britain. But there's a chance to hear Haas's latest work this weekend when, as the centrepiece of their recital, the Hagen Quartet give the UK premiere of his Sixth Quartet, just a few days after its world premiere in Salzburg. Viola and cello retune their bottom strings in microtones, creating unexpected new chords, and the music is filled with trills, tremolandos and glissandos; the goal, Haas says, is "to glide freely through unknown aural landscapes".
Wigmore Hall, W1, Sat
AC
Gwilym Simcock, London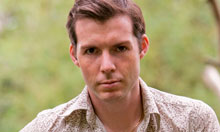 Since his talents broke out of the conservatoire in the mid-noughties, British pianist Gwilym Simcock started insisting that composition was by no means a second string to the keyboard virtuosity that attracted plaudits from jazz stars as big as Chick Corea and Lee Konitz. Simcock toured with Konitz and Kenny Wheeler, wrote powerful big-band music, as well as an orchestral suite for a Prom, and on his recent trio album Blues Vignette joined standards such as On Broadway to Grieg's Piano Concerto, a suite for piano and classical cello, and some absorbing originals. Now he performs unaccompanied performance to launch his new CD for the ACT label, Good Days at Schloss Elmau. A balance of storming multilinear playing suggestive of Keith Jarrett, romantic ballads and fluent improvisation, it's another acceleration in a fast-lane career that shifted from gifted student status to rising star almost overnight.
The Forge Venue, NW1, Tue
John Fordham