The Walkmen, Mona, On tour
Mona are a Nashville band that ask you to imagine what the Kings Of Leon might be like if they dropped all their wilful strangeness and actually tried to make it. Not that Mona are ashamed of this. Looking like a mix of Clash 1979, Springsteen 1973 and Robert Pattinson 2008, they're out for populist fame, with singles Listen To Your Love and Trouble On The Way demonstrating an earnest appeal to a heartland audience. A more interesting route to acclaim has been followed by the Walkmen, who mostly make woozily plotted albums with no discernible sense of ambition. Good policy: their current album Lisbon reached 27 in the US album charts.
O2 Academy Oxford, Sat; Walkmen only: Glee Club, Birmingham, Sun; O2 Shepherd's Bush Empire, W12, Tue; Concorde 2, Brighton, Wed; Mona only: KOKO, NW1, Thu
John Robinson
Roxy Music, On tour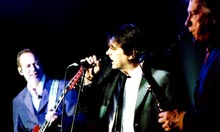 In the early-70s, Roxy Music was the band that was too small to have two Brians, and Mr Eno moved on. As time has passed, however, it has seemed that Roxy is too small for even one: though it still boasts most of its original members, this is a group that operates on the whim of one man, Bryan Ferry. But, of late, there have been interesting developments: rumours of a new album (since abandoned), a new Ferry solo album, and now this band tour, where the set could include anything from their early, passionate avant glam rock to later yuppie smoochers, depending on Bryan.
Metro Arena, Newcastle upon Tyne, Tue; SECC, Glasgow, Thu, Fri
JR
Twin Shadow, On tour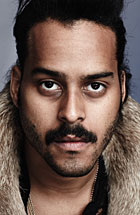 If chillwave has a purpose, then it's to explore what LCD Soundsystem's James Murphy called "the unremembered 80s". Good tunes. Fuzzy synthesizers. A general air of vagueness to the production … at its best the music adds a moving and nostalgic air to a decade which artistically speaking wasn't always so. All of which is a roundabout way of saying that George Lewis Jr – the one-man band from Brooklyn who operates as Twin Shadow – is assuredly one of the artists at the top end of this music. Certainly, he's got the right sort of believers in his talent (his 2010 debut album Forget was produced by Chris Taylor from Grizzly Bear), but the biggest testament to what Lewis and his Smithsy melodies are up to is how they stand out from the crowd rather than blending into it.
The Lexington, N1, Tue; Deaf Institute, Manchester, Wed; Captain's Rest, Glasgow, Thu; The Cluny, Newcastle upon Tyne, Fri
JR
Infernal Dance, London & Basingstoke
Esa-Pekka Salonen has been the Philharmonia's music director since 2008, and has already led the orchestra through a major concert series focused on Vienna in the early years of the 20th century. Now he's shifted his focus farther east, with a survey of the works of Béla Bartók, which not only involves the orchestra, but also other concerts and performers, including a cycle of the string quartets by no less than the Takács Quartet. Salonen's study of the Hungarian composer's orchestral music is not totally comprehensive, but the Philharmonia's five programmes between now and November do cover most of the major scores, including the three piano concertos, both the ballets, The Miraculous Mandarin and The Wooden Prince, and a semi-staging of Bartók's only opera, Bluebeard's Castle. And it starts with the most intriguing prospect of all: a rare outing of the early symphonic poem Kossuth at the Festival Hall in a programme repeated in Basingstoke the following night.
Royal Festival Hall, SE1, Thu; The Anvil, Basingstoke, Fri
Andrew Clements
Evan Parker Season, London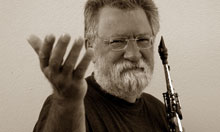 Evan Parker, the British jazz revolutionary who started rewriting the sax-vocabulary book over 40 years ago, has played a crucial role in improvised music. On tenor sax, he sometimes sounds closer to orthodox jazz; on soprano, there might be a more static, abstract- ambient feel, but either instrument he plays on transforms every context he plays in. This ruggedly independent saxophone colossus curates his own Vortex mini-festival (called Might I Suggest?), opening with young keyboards innovator Alexander Hawkins (Wed), and also including such stellar talents as pianists Hans Koller (Fri) and Stan Tracey (30 Jan). But it's Parker's collaboration with the great Django Bates on the latter's Beloved Bird Charlie Parker tribute (Thu) that might be the brightest highlight of a fascinating programme.
Vortex Jazz Club, N16, Wed to 30 Jan
John Fordham
Phil Robson And The Instant Message Service, On tour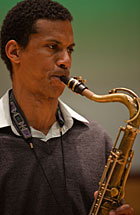 UK guitarist Phil Robson is a fascinating one-off with a growing international reputation and a knack for assembling transatlantic bands of premier-league class. This tour unveils the new Instant Message Service group, featuring formidable double-bassist Michael Janisch, exciting New York-based Cuban drummer Ernesto Simpson, and in alto saxophonist Mark Turner, one of the real originals on his instrument on today's scene. Turner joins contemporary groove-innovations to the soft and long-lined melodic approach of cool school stylists. It's an appetising prospect.
Millennium Hall, Sheffield, Sat; Assembly Rooms, Derby, Sun; Vortex Jazz Club, N16, Mon, Tue; The Hawth, Crawley, Wed
JF