Anna Nicole, London
After much rumour and speculation, Mark-Anthony Turnage's latest opera, Anna Nicole, finally reaches Covent Garden. By deciding to write an opera on the sensationally sordid life and death of Anna Nicole Smith, the former stripper and Playboy Playmate Of The Year who married an 89-year-old billionaire and lived unhappily ever after, and asking Richard Thomas, half of the duo behind Jerry Springer: The Opera, to write the text, Turnage seemed intent on recapturing his youthful status as British new music's enfant terrible. Richard Jones is directing the premiere and the advance publicity promises sex, extreme language, drug abuse and lap dancers, but how shocking the whole thing will be remains to be seen.
Royal Opera House, WC2, Thu
Andrew Clements
The Naked And Famous, On tour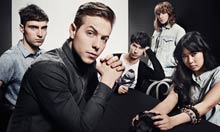 As innovators tend to do, MGMT made music you didn't know you wanted. Psychedelic synth rock played by damaged-looking freaks? Well, of course! Essentially the project of Thom Powers and Alisa Xayalith, the Naked And Famous are currently enjoying success in their native New Zealand with a rather more high-school version of MGMT. Not that it's done them any particular harm: their single, Young Blood, was a No 1 hit in NZ, and has been picked up for a US TV show. Their album, Passive Me, Aggressive You, arrives here filled with synth rock, but the band's vibe is really what you'd have to call all work, no play.
Heaven, WC2, Tue; Leadmill, Sheffield, Thu; Bodega, Nottingham, Fri
John Robinson
Gruff Rhys, On tour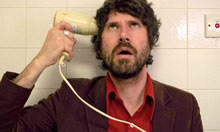 Time was when a rock musician thought it his responsibility to smash up a hotel room. It's a testament to the abilities of Gruff Rhys that even his minor work continues to subvert the cliches of the genre, turning complimentary bathroom items into an art installation – Hotel Shampoo – which then required a soundtrack. It's this that Rhys is currently promoting. Live, he's evolved into an unmissable solo performer, and while the album may be slight, Rhys offers a boutique experience.
Gresham Hotel, Blackpool, Sun; Memorial Hall, Sheffield, Mon; Oran Mor, Glasgow, Tue; St Phillip With St Stephen Church, Manchester, Thu; Kazimier, Liverpool, Fri
JR
Brother, On tour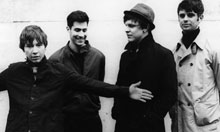 It only takes six words for a certain type of group to outline their mission statement, and so it is with Brother: they want to be "the biggest band in the world". In these post-Oasis days, it takes some chutzpah to say anything quite so daft, but that's this Slough band all over. Shades, comical sneers … Brother have an instinctive grasp of the tropes of Britpop, and have duly polarised comment-leavers of standard indie sounds everywhere. Still, there's a decent walk to back up all their talk. The band's first release, Darling Buds Of May, isn't quite the Twang-style yobbo clumping you might expect, instead exhibiting the charm of, say, an early Shed Seven single, while their other work exhibits a similarly tuneful swagger. A more realistic goal at this point might be "slightly bigger than the Ordinary Boys", but ultimately there's no shame in that.
Central Library, Lancaster, Sun; Underground, Stoke-on-Trent, Tue; Central Station, Wrexham, Wed; Cockpit, Leeds, Thu; Ruby Lounge, Manchester, Fri
JR
London Sinfonietta, On tour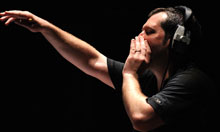 Although nowadays the London Sinfonietta does nothing like the amount of touring in this country and across Europe that it managed in its heyday, it does go on the road up to Scotland this week, for the start of a three-concert tour around Britain with pianist Nicolas Hodges and composer/conductor Thomas Adès. The concerts pair innovative works by Steve Reich with In Seven Days, the "concerto for piano with moving image", on which Adès collaborated with the video artist Tal Rosner, and which Hodges and the Sinfonietta premiered at the Festival Hall in 2008. In Glasgow and in the concert in Birmingham next month the Reich work will be his masterpiece, Music For 18 Musicians, one of the great achievements of minimalism in the 1970s. For London, though, Adès is conducting a rarely heard but still hugely significant and raptly beautiful Reich piece, his 1981 psalm settings Tehillim. All promise to be unmissable concerts.
City Halls, Glasgow, Sun; Royal Festival Hall, SE1, Fri
AC
Trichotomy, On tour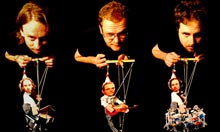 A UK tour for this decade-old piano trio, influenced by fellow Australian improv band the Necks, but now sounding closer to the jump-cut style of the Bad Plus. Sometimes the trio offer 21st-century updates on a dancing, Chick Corea-like lyricism, sometimes a fierce improv edge, sometimes a tumbling hard-bop piano approach but over a castanet-like chatter, or plucked-strings musings. Pianist Sean Foran, drummer John Parker and bassist Patrick Marchisella share an intuitive understanding, as their new album The Gentle War demonstrates, a group empathy that makes constant shuffling of tempos and motifs unfold without pause, and start and stop on a dime. But if they can be dramatic, they can also be absorbingly meditative, and a distinctive take on jazz fusion.
Turner Sims Hall, Southampton, Tue; Vortex, N16, Wed; The Watermill, Dorking, Thu; Seven Art Centre, Leeds, Fri
John Fordham