Aloe Blacc, On tour
Rappers who choose to act are brave; those who choose to sing possibly more so. For Aloe Blacc (real name: Egbert Dawkins III), singing has been the right decision. Formerly an MC with Emanon, it's his pipes that have been winning acclaim. In a retro soul genre that's become a bit overcrowded, Aloe Blacc leads the field from the likes of Eli "Paperboy" Reed and Mayer Hawthorne. His witty material and chutzpah in performance make his recent album Good Things enjoyable, though the hit single I Need A Dollar is still the jewel in his crown.
O2 Academy, Liverpool, Sun; O2 ABC, Glasgow, Mon; O2 Academy, Bristol, Tue; HMV Apollo, W6, Thu; Dome, Brighton, Fri
John Robinson
The Unthanks, On tour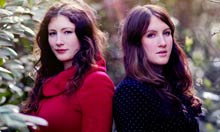 Rosy of cheek, broad of accent, and recently TV documentarians of morris dancing, the Unthanks are a good deal muddier and more interesting a proposition than many of their contemporaries in the recent British folk explosion. The Northumbrian duo are mighty singers, their music transforming anything it touches – whether that be traditional ballad, their own tune, or (comparatively) modern cover version – into something that sounds like it's been sung for generations by families of windblown crofters. On these dates they're performing the works of Robert Wyatt and Antony Hegarty, themselves neither unpowerful, nor unoriginal vocalists. To judge by the attendant live album, the Wyatt songs fare best, though the Unthanks are far from unsuited to Hegarty's compositions, his freaky downtown vibe a place they seem oddly at home in.
Princes Pavilion, Falmouth, Sat; Whelans, Dublin, Tue, Wed; Cyprus Avenue, Cork, Thu; Gulbenkian Theatre, Canterbury, Fri
JR
T4 Stars Of 2011, London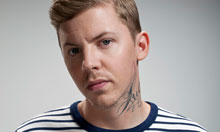 T4 is as near as terrestrial television gets to MTV, which is to say it started out showing a lot of music videos but it is now probably better known for real-life shows that have nothing much to do with music. Of course, it can still pull music out of the bag when it needs to, and this economy-sized take on the festive pop blowout of yesteryear is very a case in point. The DNA of the pop world is laid out pretty boldly here, from the X Factor alumni (Matt Cardle; Cher Lloyd), to the British MCs who used to be Mike Skinner's proteges but have gone on to be maybe more successful than he was (Example; Professor Green), to our domestic take on the US female pop star in the Lady Gaga era (Pixie Lott, now with added Pusha T; and Jessie J, now without crutches). It's on TV too (Sun, 2pm, Channel 4), so tape it, and try to spot yourself, or your friends.
Earls Court, SW5, Sun
JR
Henry Grimes, London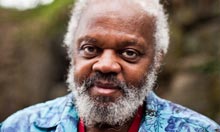 When Tom Waits's guitarist Marc Ribot released his 2005 album Spiritual Unity – a tribute to the shortlived 1960s free jazz pioneer Albert Ayler – one of the unexpected virtues of the venture was the presence on the session of Ayler's former bassist Henry Grimes. Grimes had been off the jazz radar for three decades, having sold the broken bass he couldn't afford to repair not long after Ayler's death. He worked as a janitor in LA until his rediscovery in 2002 by a jazz-loving social worker and subsequent encouragement by bassist William Parker. Grimes's turbulent, thick-textured sound and painterly, impressionistic technique soon came back to him, and in this partnership with post-Coltrane reeds player Paul Dunmall and quirky improv percussionist Roger Turner he has two impromptu UK partners who are right on his wavelength.
Cafe Oto, E8, Mon
John Fordham
Andy Sheppard/Brass Jaw, London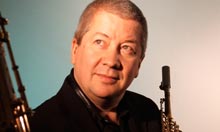 With his soft sound, delicately massaged tone changes, improvisational fluency and broad tastes, saxophonist Andy Sheppard is well equipped for a one-man jazz show, complete with an engagingly vague sense of humour. Sheppard's contemporary sax mix of languid Latin grooves, bursts of free jazz drama, and slow-burn improv method gives him one of the most recognisable styles on the European circuit. But for the first half of the Kings Place gig and the whole of the York show, Sheppard's unveiling a remix of those materials with a seasonal shot of gently warped carols and hymns, standard songs and Beatles hits, plus the odd diverting road-life anecdote. All-horn quartet Brass Jaw play the Kings Place second half, applying their dynamic saxes-and-trumpet postbop sound to Christmas songs, standards and originals.
Kings Place, N1, Thu; National Centre For Early Music, St Margarets Church, York, Fri (Sheppard only)
JF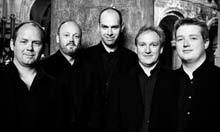 Spitalfields' winter festival offers something out of the ordinary for Christmas, with an evening based on Tom Waits music, plus Handel's Messiah and contemporary music. The contemporary side is provided by the London Contemporary Orchestra, whose programme frames the premiere of a new violin concerto by Scottish composer Martin Suckling, with works by Claude Vivier and Gérard Grisey; while Tom Waits's songs are presented in arrangements by Gavin Bryars. There's choral music too: I Fagiolini celebrate their 25th birthday and a new choir Gallicantus makes its debut; even Messiah is a bit different: it's here in a chamber arrangement by La Nuova Musica.
Various venues, E1, Sat to 20 Dec
Andrew Clements