It helps when the name of a band serves as a clue as to how they sound, and anyone who had never heard the first act on stage for the third night of Other Voices play previously was right to expect something not too fey or tremulous. So it was that Band of Skulls brought some refreshingly gnarly noise to St James's church in Dingle. In fact, if last night had been all about the crafted art of singer-songwriters, here was something elemental. Since the release of their debut Baby Darling Doll Face Honey in 2009, the trio have established themselves as a more-metal-than-thou alternative to the likes of the Dead Weather or Kings of Leon.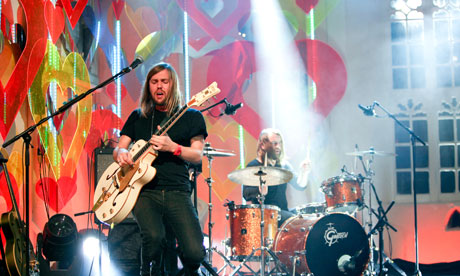 Comforting, too, was the title of the song with which they finished (the lead single from their forthcoming second album): The Devil Takes Care of his Own. Also that Matt Hawyard, Russell Marsden and Emma Richardson are not satanists from the Deep South, say, but nicely spoken folk from Southampton.
From the same county but inhabiting a different idiom was the next act, described by the evening's host, Philip King, as a troubadour. In fitting style, it turned out that Frank Turner had arrived in Kerry just hours earlier, having flown in from Berlin via Heathrow, while his guitar had got lost on the way, only being delivered at the end of his soundcheck.
Key to his music is its honesty, so that a slightly clumsy song such as Nights Become Days - about drugs - feels affecting all the same. Likewise Wessex Boy, his paean to Winchester, where Turner grew up, "drinking in the cathedral grounds". The only shame about the cover he played of Loudon Wainwright's great Motel Blues was that it ran the risk of putting his own material in the shade.
No such concerns for Edwyn Collins, whose comeback since the double brain haemorrhage that left him in a wheelchair in 2005, unable to talk, continues apace. His set began with the title track to his 2010 album Losing Sleep and ended with its closing song, Searching for the Truth. Then there was an achingly beautiful Low Expectations and a very moving Make Me Feel Again from 1994's Gorgeous George, as well as the inevitable A Girl Like You from the same album. Plus the Orange Juice classic Rip It Up, first recorded when the two bravura guitarists accompanying Collins were still in nappies, if that.
The man himself sat on a chair centre stage, singing into a mic, hands clasped throughout in the fashion of Jonny Wilkinson attempting to convert a try. It looks as if talking still comes to him with difficulty, although that awkwardness lends its own charm, as when he introduced A Girl Like You by saying: "It's a good song…. Isn't it?… This is it, people!" But he sang brilliantly, and the quality of his material isn't in doubt; and that includes the recent songs.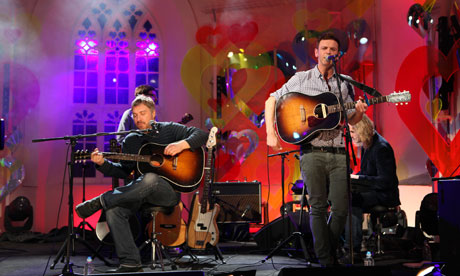 Finishing the third of Other Voices' four nights were Cherry Ghost, from the north-west of England, who'd been encouraged to come to Dingle by previous festival attendees Elbow. Like Guy Garvey's band, Simon Aldred's outfit make sensitive, literate rock music; they can do epic, but not at the expense of thought (this is a band whose debut single was called Mathematics). Then they were joined by their friend Jimi Goodwin of Doves, who battled a cold he was suffering heroically and who played two similarly brooding new songs, one a homage to his own part of the world, Didsbury Girl. But better was a song sung by the guesting harpist Esther Swift called Stillness of the Night Time.
Their best the ensemble saved for last, a beguiling cover of Jim Pepper's Witchi Tia To, a song also covered by Harpers Bizarre and Jan Garbarek. It took on the quality of a mantra - you could imagine Spiritualized, who are playing on the final night of Other Voices, also essaying it - which in the context of the church made compelling sense.
• This article was amended on 5 December 2011 because the original incorrectly said the guest harpist with Cherry Ghost was Esther Smith. This has been corrected.