To singer-songwriters, the terrain ahead must often appear crowded, and the second night of Other Voices saw four such practitioners in turn take the stage: two Irishmen, who both switched first from guitar to the piano; then two women, each of whom placed their music in fuller settings. So an evening of symmetry. And still a box of Quality Street passed around the audience of 90-odd souls in the church of St James in Dingle, Country Kerry, between these turns.
This part of the world has long specialised in the likes of Mick Flannery, from Blarney in nearby Country Cork, a figure who – and as the gathering's host, Philip King, later joked – doesn't say much, other than through his songs. A stonemason by trade, there is a chiselled seriousness to his work that also sounds in debt to a great deal of Americana. It made for an intense and moving beginning to the evening. (Rather brilliantly, his Wikipedia page explains that Flannery "tends to socialise with his fellow stonemasons instead of with other singer-songwriters. They prefer to talk about sex instead of music…. he has admitted: 'I'm a dour bollocks. I wouldn't be the life and soul of any party.'")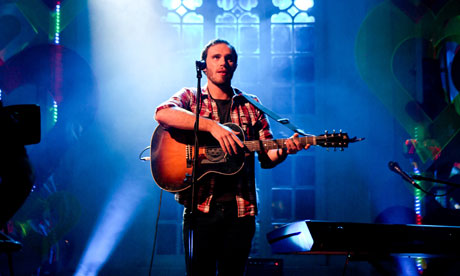 In something more closely resembling a celebratory mood was James Vincent McMorrow, an Other Voices veteran whose debut album Early in the Morning has been one of the slowburn successes of the last two years. But rather than cherrypick from that, the Dubliner marked the 10th anniversary of the festival by playing songs performed by previous attendees. So, first, Love is a Losing Game, by which to remember Amy Winehouse, who came to Other Voices five years ago. (The story is told that when she arrived at Kerry airport, she was met by a concerned taxi driver who asked: "But where's your mammy?"). Then Two by Ryan Adams and Higher Love by Stevie Winwood, both sung in McMorrow's keening voice so reminiscent of early Neil Young, the latter at the piano, the chords chopped out starkly; and finally, Bloodbuzz Ohio by the National, a brooding slice of rock'n'roll rendered into something more fragile and no less affecting.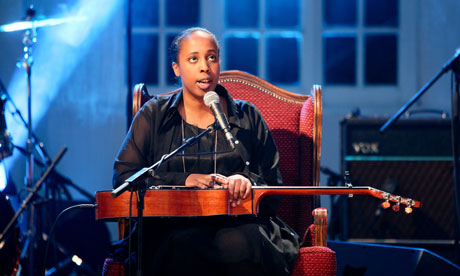 For many, the surprise of the evening was Cold Specks, aka the 23-year old Canadian Al Spx. Like Flannery, she is a confessed fan of Tom Waits, but she also channels something deeper, bringing to mind Gillian Welch vocally, and beyond her that lineage which can be traced back to the most tangled and dusty country blues. She sang from an armchair in the middle of the stage, her guitar complemented by a band featuring a bassist-cum-cellist and a sax player with a miraculous collection of horns. They were survivors of a session in one of Dingle's very many pubs the previous evening where, as Spx said, she witnessed the most extraordinary impromptu singing and harmonising (in part, courtesy of last night's performers in St James's, Little Green Cars). And in tribute to that tradition and to others, she now inserted an a cappella burst of Peace in the Valley into her own mesmeric performance.
(One footnote: when Cold Specks was picked up at the airport, it will now be told, she was met by a bemused taxi driver, who was under the impression that the arriving Ryanair flight was bringing her Coldplay.)
Concluding the second night of Other Voices was Lisa Hannigan, looking striking in an emerald dress, another regular at the festival: she first came nine years ago and described it now as a "musical wintercamp". A former member of Damien Rice's band, the 30-year old with her deft band can switch from the gentlest songs to a track like Knots, from her recent album Passengers, on which she genuinely rocked out with her banjo. So much so that she then had to joke about her perspiring armpits, in keeping with the now unbuttoned atmosphere of the church. And from there to the beautiful, witty Safe Travels (Don't Die), the sort of song that you can imagine Iris DeMent singing, and which Hannigan introduced by saying: "We'll do this one because it's full of good tips for life … and I feel safety is not … top of the list in Dingle."
After which, the enraptured audience poured happily into the night.