ATP: The Nightmare Before Christmas, Minehead
This year's pre-Christmas ATP event is actually more like "nightmares", plural; this is a residential gig curated by three popular leftfield acts. Representing indie rock, there's Les Savy Fav, a US group now back on top form after years in an eccentric, if unrewarding, holding position. Representing what used to be called "dance", there's Caribou, the vehicle for mathematician Dan Snaith, whose pastoral, psychedelic techno has evolved into an engrossing "live instruments" show. Somewhere between the two there's Battles, specialising in an oddly glam take on post-rock. Their tastes run far and wide, from the punk/Ethiopian jazz jams of the Ex featuring Getatchew Mekuria to the pounding, mesmeric repetitions of the Field, and the garage rockabilly of ex-Rocket From The Crypt types Hot Snakes. All round, it's the gift that keeps on giving.
Butlins Holiday Centre, Fri to 11 Dec
John Robinson
Poul Ruders Premiere, Birmingham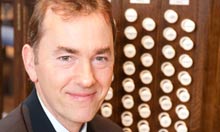 The combination of organ and symphony orchestra can be an uneasy one and successful pieces using both are relatively rare. But composers continue to search for effective ways of bringing together an orchestra and the only solo instrument capable of matching its tonal resources. The latest of them is the Dane Poul Ruders, whose Symphony No 4, An Organ Symphony, received its first performance in Dallas in January and arrives in Britain courtesy of Andris Nelsons and the City of Birmingham Symphony, which shared with the Dallas Symphony Orchestra in the commission, featuring the organist Thomas Trotter. Ruders trained as an organist before turning to composition, so the new symphony will definitely be a work composed from the inside; he likens the role of the organ in the symphony to that of a "parallel orchestra" rather than a concerto soloist.
Symphony Hall, Wed
Andrew Clements
Sun Ra Arkestra, London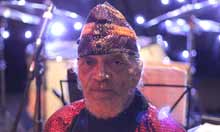 Just for their gravity-defying headgear, anti-corporate lifestyle, and the claimed capacity for interplanetary travel of their late founding father, the Sun Ra Arkestra would have been a jazz legend even if it hadn't played a note. This is only enhanced by a bizarrely cross-fertilised repertoire, from 1930s big band swing to free improv. When the Arkestra flies into the Cafe Oto from whatever galaxy it inhabits, it'll probably spend a while searching for the plot, and then build a compelling mixture of drama and vaudeville out of it. They're irresistably theatrical, and their theme song Space Is The Place always brings the house down. Octogenarian saxophonist and bandleader Marshall Allen faithfully preserves the original message.
Cafe Oto, E8, Tue to Thu
John Fordham
Liz Green, on tour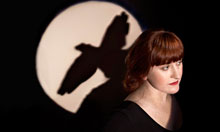 A compact disc is about the last place you'd expect to hear the voice of Liz Green. This north-west-based singer sounds ill at ease in the digital age, her mannered vocal inflections and detailed arrangements perhaps more at home issuing from the gramophone horn. Part of that, it's true, may be down to the hand of Toerag Studios' own Liam Watson in the production of her debut album, O Devotion! Never a man backwards about going backwards, Watson's valves and cylinders operation has proved to be a a natural home for Green. Her manner may tend to quirkiness, it's true, but Green is finding a seldom-explored lane in the busy world of olde time music.
Stereo, York, Thu; Thekla, Bristol, Fri
JR
Death In Vegas, on tour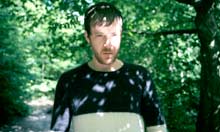 A man on a dance music mission, but of a dark hue, Richard Fearless seems torn between soundtracking the party or the hangover. The band's second album set the scene, beginning with a song called Dirge, and cueing up a collection littered with guests. Pretty much all the guests have left, judging by the spartan fifth album, Trans-Love Energies. But what it lacks in glitter, it gains in consistency: mutterings and stray clangs of guitar make it a cousin to Andrew Weatherall's rockabilly excursions. On some level, you know what Death In Vegas are about from the names they drop: Trans-Love Energies was the MC5-affiliate Detroit happenings division of John Sinclair; Coum (a track on the LP), a pre-Throbbing Gristle art collective. This might all sound a bit "Kate Moss mixtape", but it's a drama worth checking out.
King Tut's, Glasgow, Sat; Digital, Newcastle upon Tyne, Sun; Cockpit, Leeds, Mon; Leadmill, Sheffield, Tue; O2 Academy, Birmingham, Thu; Manchester Academy, Fri
JR
Jazz From Poland, London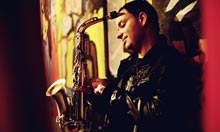 Poland has had a creative jazz pedigree since its post-cold war nurturing by the film composer Krzysztof Komeda, saxophonist Zbigniew Namyslowski and trumpeter Tomasz Stanko. This intriguing mini series of Polish jazz and new music – curated by Deconstruction Project – showcases young Polish performers inspired by improv and tradition, but also by what lies beyond. On Monday, saxophonist Maciej Obara and his quartet, and electroacoustic duo Arszyn/Duda perform at the Vortex, corralling fierce free jazz energies within subtle harmonic frameworks. On Tuesday at Camden's Forge, the innovative bass-and-drums pairing of the Oles Duo perform new pieces alongside pianist and Scarlatti-deconstructor Marcin Masecki. Wednesday's show at the Servant Jazz Quarters sees synth-accordionist Piotr Kurek perform electroacoustic experiments.
The Vortex Jazz Club, N16, Mon; The Forge Venue, NW1, Tue; Servant Jazz Quarters, N16, Wed
JF