It really isn't a large congregation that fills St James's church in Dingle, County Kerry, for Other Voices. The advance publicity suggested that no more than about 80 hardy souls could squeeze their way in and on to the mercifully padded pews. In the event, the figure was perhaps a little over 90. That still makes this the most intimate of festivals imaginable. Outside, the pale sun had long dipped behind the green mountains, and it had started to rain; inside, it was all giant candied-coloured hearts by way of decoration and garrulous anticipation.
If part of the intention with Philip King's enterprise is to illuminate the linking of different traditions - and this is a bill which climaxes on Sunday with the likes of post-dubstep pioneer SBTRKT – then it was only fitting that the show should begin with Truir, something of a supergroup round these parts. The band comprises fiddle players Martin Hayes and Caoimhin O'Raghallaigh and the concertina player and composer Peadar O'Riada (son of the hugely influential Sean O'Riada). Their reels and jigs, while new pieces, spoke deeply to their heritage, feeling wholly of the place: graceful, alight with a keening intelligence.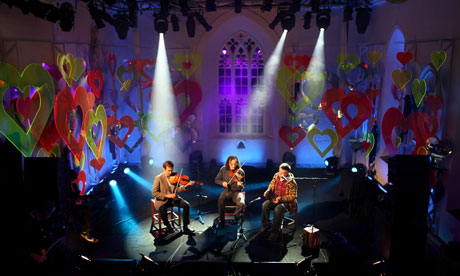 O'Riada was ultimately joined by the traditional singer Iarla O'Lionaird, who grew up in the Gaeltacht region of County Cork. Known for his work with the Afro Celt Sound System, it would be easy to imagine his performance refracted through the production work of a figure exactly like SBTRKT, but then, we already have the likes of James Blake. And O'Lionaird's voice, set in but the barest of contexts, is so much more captivating than that.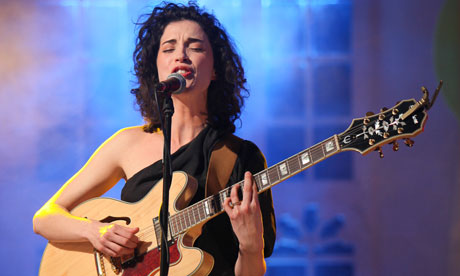 From there, it somehow made sense to find on stage a US songwriter of dazzling elegance, making wisecracks about one German interviewer's assumption that a song called Cheerleader must, in fact, be detailing a gang-bang. St Vincent (aka Annie Clark) was accompanied only by her own guitar and one other vocalist, but made a compelling case for her Strange Mercy being one of the albums of the year. In fact, stripped of its "Abba beat" (as she called it), Year of the Tiger, which finished her brief set, sounded even more striking.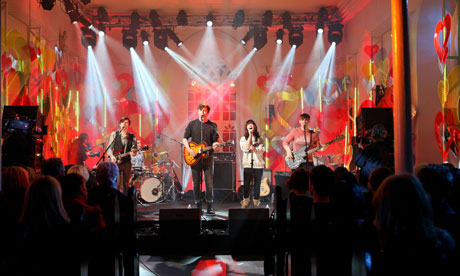 Part of the charm of Other Voices is that there's time between stage changeovers for the audience to nip out over the road for a swift Guinness in Benners hotel or Foxy John's (a pub-cum-hardware store, as it happens). Returning, there were two Irish bands: first, striplings Little Green Cars, who have been making waves in Dublin. The band trade on their harmonies – especially so on the closing My Love Took Me Down to the River (To Silence Me) – but slick musicianship aside, there's also a beguiling awkwardness to them, and an appreciation of what it is to be awkward in their songs, which brought to mind the Kinks as much as a more obvious comparison like Fleet Foxes or a Snow Patrol.
Even through their more hirsute appearance, it was evident that the Coronas are a more established proposition. Singer Danny O'Reilly (son of the great Mary Black) looked himself a bit like a caged wild cat, before he dispensed with his piano and grabbed a guitar. Theirs is an anthemic feel and sound and it's easy to see why from Kerry they were headed back to Dublin for six upcoming shows at the Olympia. Other Voices veterans, O'Reilly said: "We thought we weren't cool enough as a band for this kind of a gig." But then coolness is exactly what these sorts of things shouldn't be about.
Concluding the first night were the Frames, whose Glen Hansard conjured the idea of Other Voices with Philip King. For un-initiates, previously blind to the bulk of the band's history, it was revelatory: a performance so fierce that Hansard lost the power in his guitar, and lost patience with and tried to smash his effects box. "The wee folk who really police this place sometimes come in and unplug your shit," he later said by way of almost bashful apology. But most impressively - and this is not something you could easily envisage of their English peers - the band were able to switch into acoustic mode for a gorgeous version of Dominic Behan's The Auld Triangle, a song that has been interpreted by artists including Bob Dylan and Bert Jansch. And, so, a song that speaks to myriad traditions.
Philip King had spoken at the start of the evening of there being "a deadly buzz in the place". Correct. Roll on now the second evening.