Ian Anderson, Jethro Tull
Shea Stadium, New York, 1976
I stood with the rest of the band at the top of the ramp leading down to the field of Shea Stadium. As with the Beatles' Shea show 10 years earlier, this was not to be an artistic success, to say the least. Commercial jets on final approach to the adjacent La Guardia airport drowned out the sound, when it wasn't being drowned out by the firecrackers, whistles, hoots and hollers of the crowd. In those final moments before walking out on to the field, I was suddenly drenched with warm, sticky liquid from high above, where some of the rowdy, 50,000-strong audience looked down on to the players' access ramp. Only as I began the inaudible first verse of Thick as a Brick on acoustic guitar, did I realise with resigned horror that the liquid I assumed to be beer, was not, in fact, beer at all. It was urine. The unmistakable pong wafting from my then-ample head of damp hair and freshly laundered stage-clothing would remain for the duration of the show. An unholy baptism from above.
I could have picked the gig at Denver's Red Rocks Amphitheatre in 1971, when riots and police tear gas threatened to stop the show. Or being hit hard in the larynx by a baseball at Philadelphia Spectrum arena. Or anointment by the freshly plucked but seriously used tampon hurled with uncanny accuracy at another enormodome. Or the 10in steel spike impaled in the stage next to me at soundcheck when "fans" climbed into a roof gantry over the stage at soundcheck. Or the live rounds of automatic pistol ammunition thrown on to the stage during a show. But no – the bucket of piss, delivered with loving precision, wins out every time. You have to laugh. And count the money.
Blaine Harrison, Mystery Jets
Club Quattro, Tokyo, 2011
It was an early evening show, which we played before dinner, ie on an empty stomach. I had a few customary pre-gig drinks of rum and coke. It was a great gig, but before the encore someone from the record company brought over a bottle of mezcal – which usually comes with a worm at the bottom, and which a lot of people confuse with tequila, but is actually a lot stronger – with a scorpion in it. It was a weird, fucked-up brand of mezcal. And we were told it was the best thing to drink. So we all took several big glugs of it, then someone decided to take it on stage. In our encore we passed it between us. And basically I had a fit – an alcohol-induced fit – during our last song. I have no idea what happened next – I came to and woke up before I hit the floor, but not before hitting my head on the microphone. I looked around me and I was seeing everything in weird multiple dimensions, and the band seemed to be playing a completely different song to me. Everyone looked at me in horror, including the audience, and I mimed along for the rest of the song, hoping no one would notice. I had to be carried off stage to the dressing room, where apparently I was talking nonsensically, and got dumped in the bathroom. I guess I spent a long time there, because by the time I woke up everyone had left the venue. It was all quite horrifying, really. It's obviously lethal stuff, because another time our drummer downed half a bottle of it, got really violent, started hallucinating, and attacked our sound man. But that's another story.
Brian Briggs, Stornoway
Oxford, 2006
We were supposed to be supporting two rock bands, neither of whom turned up. So we had to play for two hours. Problem was, the audience consisted of two people, and one of them was a local BBC radio DJ who we'd been trying to get to a gig for weeks, called Tim Bearder, so we felt like we should soldier on and try to do our best to impress him, but we were absolutely mortified because we were mixing our own sound and there was no atmosphere and we had to play loads of covers because we had to fill two hours. But it had a happy ending – sort of – because shortly afterwards Bearder barricaded himself in a BBC studio and spent a whole hour of his breakfast show playing Stornoway demos, after which he got suspended.
Dave Hill, Slade
Scunthorpe Working Men's Club, 1969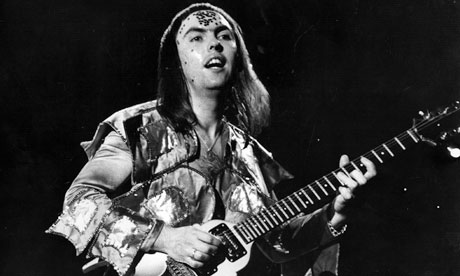 This was before fame, when we used to do Frank Zappa covers. You can imagine the venue: people chatting and drinking and playing pool at the back. So we go on stage and start to play, and we're halfway through our first song when suddenly this huge bloke appears on stage and shouts out: "Bloody rubbish!" And he says to the crowd: "I'm really sorry about this, ladies and gentlemen. The agent said they were good. Well, I think they're bloody crap. And they're too loud." So he carries on berating us and tells us to get off. The weird thing is, later we're in the dressing room and he comes in and says: "You were rubbish – the best band we ever had here was Steve Brett and the Mavericks." Which was hilarious because Noddy Holder was in them! So I told this bloke that, and he just said: "Bugger off."
Theresa Wayman, Warpaint
The Bowery Ballroom, New York, 2010
At the risk of sounding like a total B.I.T.C.H., I've never seen 30 Seconds to Mars play, but I'm sure that would be the worst gig I've ever seen. But the worst that I've ever played was this huge show where I felt really sick. It was flu. I could barely move on stage, and I could barely squeak out a sound. I might as well have been dead. But you can't really go out there and explain to the audience that you're sick, so they probably just thought I was a boring and horrible musician. That was embarrassing. I didn't throw up on stage, but I almost did. I had to keep turning round, and I probably looked really green. It was awful. We got some shoddy reviews, saying the vocals sounded weak, but no one mentioned that I was sick. It was really depressing. Not that I believe in giving excuses.
Jimmy Cliff
Luton, 1968
It was the very early part of my career, when I resided in England. I think about four people turned up. I carried on with the gig, though. And actually the four people in the audience really enjoyed it. As did I, and the band. I played a full set of about 15 songs to precisely four people. I can't remember which songs went down well, but I did a lot of soul classics, and they went down great. It was quite a contrast to the 400,000 people I played to at a political rally for the Sandinistas. But it makes no difference to me, whether there are four or 400,000. Once I step out there, I give my all.
Tina Weymouth
New York, 2003, with Tom Tom Club/Melbourne, 1984, with Talking Heads
Our supreme Spinal Tap moment was with Tom Tom Club. They were celebrating the Howl! Festival in New York. We agreed to do it because we thought it'd be great to do something for the community and the arts. The opening act was a band called Mini Kiss: a group of dwarfs, or midgets … little people, whichever is the politically correct way of saying it … dressed in full outfits and makeup, but with no instruments, lip-synching to Kiss songs. By the time we went on, most of the 30 people had left. The band was almost larger than the audience. And we went out there and played our hearts out. At the end of the gig our crew backed our rental truck into the marquee and every penny we made had to go to the replacement of that. I can laugh about it now, but at the time it was almost tragic. The absolute worst gig ever was the last Talking Heads show. We were headlining this tour in Australia and New Zealand. Opening for us were bands like Simple Minds, INXS, Eurythmics, B52's, Pretenders … It was a phenomenal lineup, and we were the headliners, and it was a fantastic opportunity. But we couldn't go on stage because David Byrne, without telling anyone, had let on a couple of crazy girls – who I suppose had their hearts in the right place – who were trying to promote this freedom for Maori people thing, but it was the wrong place and the wrong time. People were booing and throwing things at them, and that was difficult enough. Anyway, we finally got on stage and we were five songs into the show when David Byrne ran off and refused to come back on. He said: "I'm not going to play for a bunch of people dancing in the mud." Go figure. David had a lot of temper tantrums when he got to be a big star. He couldn't stop it; fame and the whole diva thing was just overwhelming for him.
There was meant to be a great big party afterwards and David didn't even show up. It was just this really sad, dismal affair where people got quietly drunk in the corner. The tour ended not with a bang but a whimper. It was awful that everything we'd been working towards ended like that.
Will Young
Switzerland, 2002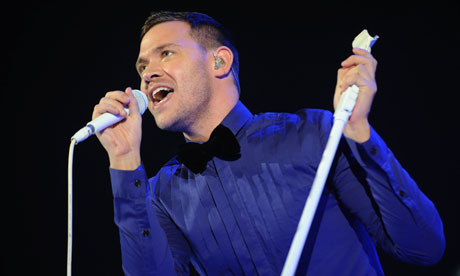 It was a TV festival in Switzerland and it was in a tiny little bar. It was horrendous, from start to finish. The journey was awful because I got the wrong gate, then I got on the plane, perspiring, having held up an entire plane of journalists. And the gig was terrible. I'd just got the record contract I'd always dreamed of, I'd started writing songs, and I'd done the Jubilee gig at Buckingham Palace. Now here I was in a Spanish restaurant. I felt like I was singing at a wedding, and not even a good wedding. There were about 30 people there. I remember singing Light My Fire, squeezing between the diners in the restaurant and perching down on this woman's lap. I felt like the turn after a conference where the attendees are members of a line-dancing club. All I can say is, thank God mobile phone cameras weren't invented then, and it wasn't being filmed. It was bizarre. Still, everyone was very nice. And I got a free enchilada, followed by some chorizo – I got paid in chorizo and San Miguel. I'd never go back there, to that dark, dark time. I think about it quite a lot – when I'm singing at Bestival and the stage is sinking I think: "At least I'm not singing in a Spanish restaurant for chorizo."
Pauline Black, the Selecter
Fresno, California, 1994
It was in the middle of nowhere, and we were accosted before the gig by a skinhead who had a copy with him of the skinhead bible Spirit of '69, which he wanted me to sign. He was ranting on to his Marine friends so I just signed it "Pauline Black" and in brackets "(Power)". I wanted to write "Which bit of 2-Tone didn't you get?" but I went for the shorthand form. I thought it was quite funny, and I thought he might see the funny side of it. Unfortunately, he didn't, and about two songs in he opened up his book to show another member of the audience, and the place, which was pretty packed, saw red, because they thought I'd defiled his skinhead bible. Suddenly, the venue was split down the middle: some of them – funnily enough down the left hand side – seemed to be OK, and on the right they seemed to have a real problem with it, and started haranguing us like mad. It was hairy. We had Brad from the Specials drumming with us, and he was well worried. I was a bit scared because there was this complete polarisation in the room, and everyone in the band's eyes swivelled towards me and they were like, "You've got to deal with this, love." After everyone had gone we heard the skinhead and his mates were looking for us. So we had to stay inside the venue for quite a long time. Gigs are meant to be edgy, and I never want to preach to the converted. But when you're in a place where the tumbleweed blows through the car park, you rather wish they were all converted.
Joe Jonas, Jonas Brothers
Sacramento, California, 2006
We played a strawberry festival, where they actually judge strawberries, with taste tests and everything. It was also the most awkward gig we've ever done. There was hardly anyone there, and the sound cut out halfway through, and that was a little bit upsetting. We had to perform without any sound equipment. We didn't get angry and smash the place up, no. But we did get asked to judge the winning strawberry as compensation for the bad sound. The winning strawberry was fantastic.
Francis Rossi, Status Quo
Dundee, 1969
You used to get extra money for playing in Scotland because it was so dangerous, although luckily the Scots took to us early on. We were in this brand new room with parquet flooring, and this fight broke out. I'd never seen anything like it – 1,500 people, everybody punching everyone else: men punching men, men punching women, women punching men, women punching women … it was like the Wild West. People bottling each other in the back and neck, glasses flying. And we were onstage and there was no way out. Luckily someone told us to get our stuff, get out, and come back in the morning. We didn't argue, we just left. We came back in the morning and these 20 old washer-women were there in a line, on their knees, scrubbing the blood out of this lovely new parquet floor.
Duane Eddy
Iowa, 1959
We knew something was wrong when we were told to park in the alley and unload our gear for the gig and then when we came out afterwards the police had written parking tickets on the tour van. Then this guy pulled a gun on my drummer and said he'd come to collect his money. So he got his money. We just thought: "This is too weird." So we went back to the motel, packed up all our stuff, and left not just the town but the whole state.
We'd been in America with Alice Cooper as special guests on his Welcome to My Nightmare tour, that was 80 shows, then we went to Scandinavia, then we flew to Japan for some shows, then to Australia for a month, then we went to New Zealand – we were on the road for about six months non-stop. You're talking tired. New Zealand was the last port of call and we were flying through the night when I noticed a little spot on my leg – I thought I'd got bitten. Then I woke up and the spot was travelling up my leg in a line: it was blood-poisoning. This was the day of the gig. The doctor had to cut me, but I still went onstage with the poison pouring out, in all my leathers! It's called being a pro. The show must go on and all that. But this was the only time I ever thought I shouldn't have gone on. It was really painful. I was on painkillers and the dressing had to keep being changed.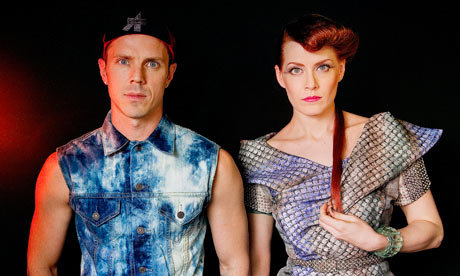 We agreed to do this gig in Italy for a fashion party, but no one there was even remotely interested in anything going on onstage – they were more interested in what they were wearing. There was one really well-built, muscly man wearing a short man-skirt that looked not so much gladiator fierce but gym-trash trying to be fashion. At one point I tapped someone on the shoulder while I was singing Tits on the Radio, and he motioned to me as though they wanted me to wait 'til they'd finished their conversation! Luckily I could see the funny side of it.
Another time, on the Ta-Dah tour, we were scheduled to play this festival in Germany. We were on before Kraftwerk, and we were not what the minimal house-heads wanted. Everything I said on stage went down like a lead balloon, and I got the feeling nobody understood what I was saying, so I started using the biggest words I could think of. At the end I said: "Thank you for your benign Teutonic countenance," and I don't think they got it. After gigs like that I tend to go backstage and beat an inanimate object with a shoe.
Matt Davies, Funeral for a Friend
A school in Buckinghamshire, 2002
We'd been out the night before celebrating the end of a tour, even though I knew we had a gig the next day. Obviously, being young, I just wanted to have a good time and hang out with my friends. Anyway, the next day we turned up at this school hall, which was surreal, and needless to say I was very, very ill. And the head of our record label, Mushroom, was coming there specifically to see us play, and possibly give us a deal. I spent the entire 40-minute set vomiting between each song in a bucket by the stage. I couldn't even talk to the audience, I was just throwing up profusely like an idiot. It was slightly disconcerting knowing the label head was there. Amazingly, we got signed.
Guy Chambers
Hanover, 2000
It was a gig with Robbie Williams. He was pushed off stage by a fan who thought he was an impostor because he'd dyed his hair black. We had four SAS members looking after Rob's security and none of them managed to stop this guy running on the stage and pushing Robbie off the stage into the pit. He was quite shaken up, but he went straight back on stage. He doesn't give up easily. He can be quite tasty, can Robbie: he once pushed me up against the wall for putting a saxophone solo on Let Me Entertain You. He said, "If you ever put a saxophone solo on one of my tracks, I will kill you." So I put a trumpet solo on instead.
Steve Hackett
The Four Feathers, London, 1968
I played this gig with Canterbury Glass, who were booked to play a club at this shotgun wedding. The two families weren't very happy with each other, put it that way. When Canterbury Glass started playing it was clear they'd booked the wrong band – they wanted The Last Waltz by Englebert Humperdinck, not heavy rock and blues. The band got progressively more freaky and psychedelic, with lots of feedback, and the audience started attacking the stage, dragging leads out of amps. It all deteriorated into a punch-up between the two factions. I kept my head down till the police came.
Another time, with Genesis in 1973, we were supporting Lou Reed in Toronto in Massey Hall, and there were people who wanted to watch Genesis, and people who wanted to watch Lou Reed. And that deteriorated into a punch-up between the Lou Reed fans who were on downers, and the Genesis fans who were more into Earl Grey tea. Tony Banks started up his Mellotron introduction to Watcher Of The Skies and someone shouted out, "Sounds like fuckin' Beethoven!" They just wanted a boogie.
It was the first night of our second UK tour and there was absolutely no one there. Oh, and the back of the venue looked on to a prison, so every time we walked to the back of the stage the prisoners could see us from their cells and started shouting abuse at us and throwing stuff. They weren't familiar with our work. But then, I don't think anyone in Shrewsbury was familiar with our work. There were four of us on stage, and four people in the audience, including the promoter, who was crying.
Shane Filan, Westlife
Indonesia, 2001
It was an amazing gig, but it ended badly. There were about 20,000 people there because it was our biggest territory outside of the UK: our album had gone 22 times platinum or something. But it was afterwards that things went horribly wrong. There was total hysteria and we couldn't leave the stadium until they cleared it of people. Unfortunately, as the police tried to do so, all these security men started running at them. It was like a battle. They were flat-out attacking each other, thumping and kicking. It was unbelievable, about 100 police and 100 security. Eventually, the army got called in. It was like something out of Braveheart.
Andy Summers, the Police
Oxford, 1978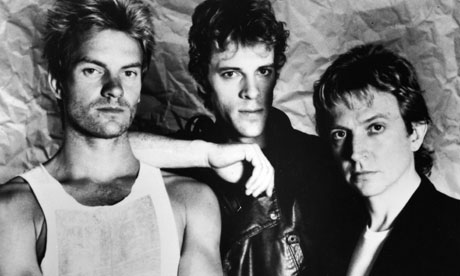 It was an earlyish Police gig, in a smallish theatre, maybe about a thousand people. We were playing our set when suddenly the doors burst open and about 30 skinheads walk in, fully clad, in leather and bovver boots. And we were like: "Fuck." They walked down to the front and started pogoing and moshing and screaming "Sieg Heil!" – it was really fucking intense. No one knew where it was going to go. And I have to hand it to Sting, because he invited them all to come up on stage. So they were pogoing all over the place, and it was just ridiculous, us trying to keep playing throughout. Sting got them all singing along. Then he told them to fuck off. And eventually they did. A week later, our very tough London promoter went down to Oxford with a bunch of guys, found them, and divine retribution was delivered.
Tinchy Stryder
Glasgow, 2008
I was supporting Kano and they said I was on in five minutes. They opened the doors early and put me on earlier than I was expecting, so as I started people were still walking in. Not that there were many people there – maybe 20 or 30. It felt like I was performing to no one. Even when you're performing on your own in your bedroom, in front of the mirror, you're in your comfort zone. This was in the middle of nowhere and everyone was wondering whether the show had actually started. All the other dates were fine, but this one I couldn't wait for the set to finish.
Ed Sheeran
A pub in Suffolk, 2006
This was before I had a fanbase. I was about 14 or 15. I had to borrow my mate's PA. I set it all up and soundchecked, and within the first 10 seconds of the first song, the dude that owned the pub – literally no one else was there, I was playing to the barmaid – came down the stairs and said: "Oh, I didn't approve this, it's too loud, can you pack up and go?" It was a disaster. I wouldn't mind, but it was just me and an acoustic guitar, so it couldn't have been that loud. It was a tiny bit humiliating, but no one else was in the pub, so not many witnessed it. I just rang my dad and said: "I need to come home." Still, better to be told to stop playing because I was too loud than because I was too crap. That hasn't happened yet.
Peter Murphy, Bauhaus
Hammersmith Palais, May 1983
It was the last show Bauhaus played. The performance was quite intense and overwrought. We were at the height of our career and just about to break, and there was a decision to split, so I wasn't expecting the gig to be triumphant. I felt like I was jumping off the edge of a cliff into the sea. There was an audible gasp when the audience saw us come out – we knew how fervent they were. But between the band there was a lot of juvenile but dark, repressed, negative energy – sort of: "We are the creme de la creme and we can do what we like, we can split up or we can record a fart as a track on an album." I personally had to get out of that. But it was the end of something I had worked very hard to achieve, so it was very bitter. It was never going to be violent – it was gentlemanly, all stiff upper lip and respectful. One of the band members, though, chose to close the show with the words "RIP", and that was not cool: it was as though we were some death-orientated, Munster-rock band, and it cemented the perception of us as this graveyard rock thing, later to be identified as goth. I always thought of Bauhaus as the Velvets gone holy, or the Sweet with better haircuts.
We'd been playing with a relatively new bass player, who was a solid bassist, but for some reason he was making a lot of mistakes each night. Sometimes even the first note of the evening would be wrong, and we'd all get off on the wrong foot. That night we were all on edge worrying about the mistakes he might make, and it had a sort of domino effect where everyone on stage started making one bum note after another for the entire show. It became known as our Pass the Suck Ball gig. Strangely enough, the next day we got a four-star review in a Swedish national newspaper.
Joe Mount, Metronomy
The Opera House, Bournemouth, 2006
The first year of your touring career can be pretty soul-destroying because you have a dream of the touring life and then you find yourself driving round the country in a Nissan Micra, playing venues where no one knows who you are. We turned up at this place, and it felt huge, like: "God, how are we going to fill this?" In the end, four people attended, two of them bar staff, the other two friends of Oscar , our keyboard player. And even they were on the guest list. It was the most upsetting yet hilarious gig of our lives.
We were in a town called Normal. The concert was sold out and all was going well, until the encore. We all walked to the front of the stage to take a bow when a grand piano appeared behind us through a hole in the stage. Just as it opened, I stepped back and fell in the hole. Luckily, one of the road crew caught me, but I ended up breaking a rib and had to finish the gig with a large red and purple patch on my right side. I spent the rest of the night in the local hospital being woken up every hour in case I had internal bleeding. There was nothing "normal" about it.
Roger Hodgson, Supertramp
Reading Festival, 1974
It was pelting down with rain and we were all drenched but soldiered on. My amplifier blew up and I was forced to play with a small practice amp - a Fender amp that was not grounded and every time I went up to sing and touched the microphone, I got an electric shock. The amp was so quiet I couldn't hear it so I was playing blind, soaked to the skin and getting electric shocks every other minute. Gratefully, I'm still alive and touring and lived to tell the tale.
'It wasn't even funny … just pathetic': Guardian writers remember their worst gigs
Bubba Sparxxx
Astoria, London, 2002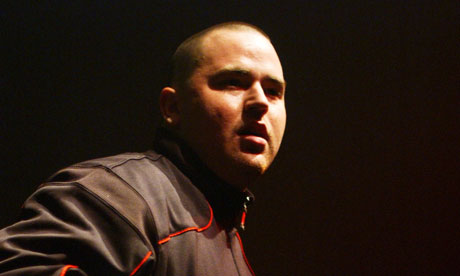 If you were being tipped as the Dirty South's answer to Eminem, you'd make sure your London debut knocked 'em dead, right? Somebody forgot to tell Georgia MC Bubba Sparxxx (below). The Astoria was packed with hipsters keen to check him out, and he set about alienating them from the moment he lumbered on stage, 40 minutes late. Never mind that most of his rapping was a spume of spittle and expletives – you expect that at a hip-hop show. But he may have been the first MC ever to disappear backstage after three numbers to "go for a dump" (though he promised to be quick: "I won't even wipe my ass"). On his return, he spontaneously tore his clothes off and, to the audience's horror, displayed his extravagantly fleshy backside. Another couple of songs and the show was over. It had lasted 20 minutes. Bubba sauntered off in a hail of beer glasses, his UK career essentially over. Caroline Sullivan
ARE Weapons
Garage, London, 2001
In 2001, there was a buzz around ARE Weapons, as there was around everything from New York in the wake of the Strokes. Some of that buzz had been generated by Jarvis Cocker, at whose behest ARE Weapons had been signed to Rough Trade. One of my clearest memories of the night I saw them is of Cocker, leaving in what looked like quite a hurry after a couple of songs, wearing a slightly sheepish expression. I didn't blame him. Within seconds of their arrival on stage, it was clear there was an excruciating gulf between ARE Weapons' opinion of themselves – they were nearly herniating themselves trying to be confrontational, to give off a Suicide-like aura of druggy Lower East Side sleaze – and the actual sound they were making, which was simultaneously clodhopping and feeble in the extreme. It wasn't even funny, usually the bad gig's saving grace. It just looked pathetic. For the first and only time in my career as a journalist, I made a snap decision: I rang my editor and told her that I had literally nothing constructive to say about this band at all and asked if I could abandon the review I was supposed to be writing. Unexpectedly, a bouncer who was standing behind me snatched the mobile out of my hand. For a moment I stared at him, furious and baffled. Then he put the phone to his ear. "He's telling the truth," he barked into the phone, sympathetically. "They're the worst fucking band I've ever seen in my life." Alexis Petridis
Wilco
Shepherd's Bush Empire, London, 1997
Maybe if I'd known about Jeff Tweedy's problems – the migraines, the addiction to painkillers to control them, the depressive illnesses – I'd have been more understanding. But there's having problems, and there's taking those problems out on 2,000 people who've paid to see you. Wilco mythology holds this as the gig where Tweedy (above) lost his temper with an unenthusiastic audience; my memory is different. I recall a musician who, from the start of the gig – the last of a world tour – gave every sign of wanting to be anywhere else. Going through the motions would be too generous a description: there was no motion about the set whatever. That's why the audience lost interest. And that, in turn, is when Tweedy started cursing and castigating us. One reviewer said this was the point at which the gig caught fire. Again, my memory is different: this was the point at which the band stopped giving half a stuff about what anyone thought. And for the encore? Tweedy didn't even bother coming out. Instead a roadie emerged to sing a ramshackle version of Black Sabbath's Iron Man. There's a coda. A while later I was buying CDs at the Virgin Megastore in central London. Jeff Tweedy was at the till next to me. I turned to him, smiling, and said I had tickets to see Wilco the following evening, and that I hoped he was feeling happier than he had been last time he'd been in London. "I'll feel however the fuck I want to fucking feel," he said, or something along those lines, and turned away. Fuck you, too, Jeff. Michael Hann
• This article was amended on 5 August 2011 to remove the last item in the list.