Known magniloquently as the English Riviera, Torbay would like to think it's in southern California. Instead it's in south Devon, where its white yachts, paved coastal esplanades and streets lined with palm trees give off an LA glamour, undermined only by the need for layers.
Joe Mount, the man behind Metronomy and the Guardian's escort around this seaside town, grew up in Torbay and nearby Totnes, "making my own fun" going to beach parties while driving round the bay blasting Ace Of Base. In the winter, while the bay hibernated, he'd fiddle with electronic sounds on his home computer. By the time Joe was 18, Metronomy was fully formed in his mind.
Almost immediately, he moved away. As a student in Brighton he put together a band to play his songs, enlisting his cousin Oscar Cash and Gabriel Stebbing to play keyboards and bass. Mount then moved to London where he made up for a youth without a scene.
"I became so absorbed in London," he says. "I was caring about what NME said, who the new bands were, getting jealous when others were doing better than us. I was going out every night, just because I could." Metronomy's second album, Nights Out, offered despondent reportage from that metropolitan underworld. Or, as Mount puts it now: "Eugh, parties."
Nights Out was successful enough for Mount to spend the next year attending parties, in places which had pop music in their bones: "Where I'm from, if you're into music you really struggle. There are no venues, no bands, no scene. I wanted to make music like that for the people I grew up with."
So where there wasn't a scene, Joe started to imagine one. He summoned up images of American west coast cool. He loved the thought of workshy stoner bands, sleeping in until 12, hitting the beach and stumbling across songbook classics like shells in the sand. "This area is very laid-back, there are kids who've got so much time they can spend hours in a recording studio and make this sun-kissed, seaside music." he says. "I was trying to imagine what that would sound like. That's why the new album shares its name with the English Riviera."
'This area is very laid-back … the kids can spend hours in a studio and make this sun-kissed, seaside music I was trying to imagine what that would sound like'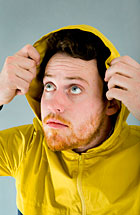 For Metronomy's regeneration into a laid-back coastal band to be complete, Joe had to take himself aside for a chat. While he had been in the grip of his musical fantasies, bandmate Gabriel left the band to concentrate on being frontman of Your Twenties. It forced Joe to reconsider the concept of Metronomy as "a spiky synth, wonk-pop party band" and retool it as a four-piece. Squeaking doors and 99p toy synthesizers, staples of Metronomy's sound until now, were replaced by more delicate percussion and warm lounge keyboards: "Although the album is self-produced, I imagined what a producer would say to me. The first thing he'd say would be, 'Stop cluttering up your songs with weird little noises.'"
So that was that: Metronomy transformed themselves from a new-rave London three-piece to the Fleetwood Mac of the West Country. Welcome to The English Riviera: please drift slowly.
Wind in our hair and sun on our skin, it's easy to buy in to Joe's American dream in the golden-brown resort that English pessimism forgot. Torbay, however, is still Torbay. We walk down the wide coastal road, lined by what looks like a Jersey Shore theme parkwith lurid arcades called Stardust, Regency Palace and Leisure 2000. The bar we go into might serve mojitos on tap, but the sex-toy vending machine in the toilet proffers inflatable sheep. Mount finds a flyer boasting "LADY GAGA IS IN TOTNES TONIGHT" with a picture of a girl in a blonde wig and papier-mache dress. A quick Google search reveals she does Christina and Britney tributes, too.
As for Mount himself, he wouldn't know how to deploy the bombast that comes naturally to Californians. His face spattered with brown freckles, his manner is polite, considered and encumbered by a modest Englishness. His answers are always suffixed with an awkward "... but I don't know", and he describes the popularity of the XX and James Blake as the rise of "groovy music" .
It's this clash of Super-8 US fantasy with stark English reality that makes The English Riviera a triumph. Its sparse arrangements, commanding first-person narrative and off-kilter rhythms will lead to comparisons with LCD Soundsystem. But while James Murphy's barbed nihilism is a deadpan dissection of New York living, Mount's rose-tinted love letter to Torbay paints a picture of a home to which he'd like to return.
"I know, it's not very cool to be from the south, is it?" he says. "But it would be so disrespectful to people who grew up in worse places to just moan about where you came from."
"Nights Out was a bit cynical," adds Oscar. "This one's supposed to be affectionate. It's offering a sound to bands: here's an idea, you could try this."
'It's not very cool to be from the south, is it? But it's so disrespectful to people who grew up in worse places to just moan about where you come from'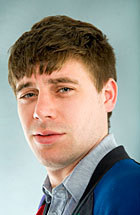 The record has none of the brashness of US yacht rock. Even its most brazen moment, The Bay, a paean to Torbay's sexy charm, isn't a boast as much as a spurt of giddy excitement. Its charisma lies in the bits of Americana it gets wrong. It's groovy music.
After a few jugs of – go on then – the on-tap mojitos, the idea of Masqueradey Gaga is starting to appeal. A taxi ride later, we're in a drab hotel conference room where a woman dressed in a leotard and wrapped in party lights is bent over a Roland keyboard and warbling something that sounds a bit like Poker Face. Behind her, two very enthusiastic male dancers do their best to make the whole thing look less like The Mighty Boosh. After the third airing of Bad Romance, we give up and head to the kebab shop to talk about our favourite Magic FM bands over a polystyrene box full of sweating lettuce. "These LA bands like the Beach Boys and the Eagles: they had so much time," says Mount, doner meat dangling from his lip. "It was just, 'Let's go chill out. Smoke a doob. Spend three months in the studio. Smoke a doob.'"
Does he think it's the same here? "I think it could be. But all it ends up creating is drum'n'bass DJs, tribute acts and singer-songwriter shit. There's another guy from round here who got a record deal recently who does that James Morrison style-thing. That's what it creates: a kind of douchebaggery."
The next day Joe flies off to Paris to play a DJ set at 4am. Once he'd been blinded by stage lights, the charms of a Torbay sunset were never going to be enough. But he no longer fears the ennui that follows a small-town upbringing, nor that of middling indie fame. He may not be the coolest man in London, but Joe smiles the smile of a man who know he's already lodged himself into local history.
"I've already been getting emails from the English Riviera tourist board," he grins. "Their Google alerts must be going crazy."