Magnetic Man, On tour
The idea of a dubstep supergroup might seem a little counter-intuitive. Dubstep's early chroniclers tended to revel in the genre as a masked urban phenomenon, designed by and for intense young men in hooded sweatshirts. Certainly, there's not an enormous amount of that initial outlaw frisson around Magnetic Man. As producers, remixers and individual performers, the trio of Skream, Benga and Artwork have undoubtedly been instrumental in the evolution of dubstep from its first underground stirrings to its movement into the mainstream, and it's that last development that seems to have birthed this project. Rather than urban menace, it's mainstream pop that's the keynote on their debut album, the female vocal tracks serving notice that their dues paid, the trio are coming, sounding a bit like Kosheen, to take over the charts.
Sub Club, Glasgow, Sat; Concorde 2, Brighton, Tue; Heaven, WC2, Wed; Cockpit, Leeds, Thu; Nottingham Trent Uni, Fri
John Robinson
Big Boi, On tour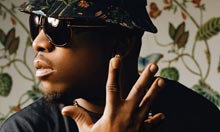 On again, off again, the relationship between OutKast's Big Boi and his flamboyant co-worker Andre 3000 has been a long-running melodrama. The more they each try to assert their individuality, the more their public yearns for another joint effort. Much of the same soap opera surrounds Big Boi's first "proper" solo album, Sir Lucious Left Foot. Perceived as the more hardcore yin to Andre 3000's outré yang, Big Boi's music is actually much more complex than that. Warm and funky, though tweaked for modernity with obligatory synths, it's an album of some familiar themes, but one that seems more of an oddity the more it tries to fit in.
HMV Forum, NW5, Mon; Ritz, Manchester, Tue; O2 Academy Glasgow, Wed
JR
Release The Bats, London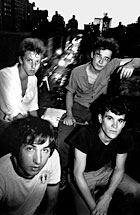 Events organised by All Tomorrow's Parties are generally exemplarily programmed affairs, exquisitely tailored to the tattooed former Black Flag fan of a certain age. This year's Release The Bats – their Halloween event – is in parts a rather more trendy show, however. This is in no small measure down to the headliners, Liquid Liquid (pictured), who replace the previously announced bill-toppers Battles. A band who emerged in an early-80s New York throbbing with no wave, post-punk and the early stirrings of hip-hop, Liquid Liquid's grooves granted them admission to all genres: they were labelmates with ESG, were sampled by Grandmaster Flash, and were US cousins to British groups like Public Image Limited and 23 Skidoo. In what we might call the "DFA era", the band's eerie punk-funk – you will know their track Cavern, even if you think you don't – has been widely rediscovered, and become more seriously revered. Tonight they emerge again, with support from Polvo, Beak>, The Field and Tweak Bird.
HMV Forum, NW5, Sat
JR
Terry Riley, On tour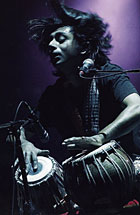 Terry Riley is recognised as the founding father of minimalism, a composer whose use of short repetitive phrases as musical building blocks in the early-60s opened a door through which Steve Reich and Philip Glass followed. Riley's influence has extended far beyond the realm of the classical avant garde into rock, jazz and world musics, and he has regularly collaborated with performers and composers from musical traditions both western and eastern. Riley was 75 in June and he ends a rare European tour in Britain this week. He appears with saxophonist George Brooks and tabla player Talvin Singh in a programme that's a tribute to the Hindustani singer and teacher Pran Nath.
Elmwood Hall, Belfast, Sat; Turner Sims Concert Hall, Southampton, Tue; Kings Place, N1, Wed; Royal Northern College Of Music, Manchester, Fri
Andrew Clements
Jason Moran, London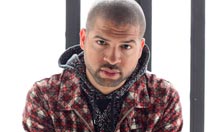 Jason Moran, the Thelonius Monk-inspired piano improviser and composer from Texas, is one of the most exciting and independently creative US musicians to have emerged in recent times. Moran plays this show with his superb trio featuring Tarus Mateen on bass and Nasheet Waits on drums, and their repertoire is likely to concentrate heavily on material from his latest album, Ten. Moran has often favoured explicit storylines and narrative concepts for his recorded work, but Ten was driven by nothing more preconceived than his long-acquainted virtuoso trio's powers to listen and play together. The set also showed how traditionally bluesy or gospel-rooted themes could be led through a contemporary world of probing, busily improvised bass counterpoint, bumpy street-groove rhythms and the occasional sampled effect – including feedback from Jimi Hendrix's 1967 Monterey performance.
Ronnie Scott's, W1, Mon
John Fordham
Jarek Smietana Trio, London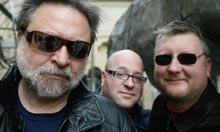 This one-off gig is a rare chance to hear one of Europe's less widely known jazz guitar legends, Krakow-born Jarek Smietana. He's been a key figure on the highly creative Polish scene for over 40 years, and has worked with international stars including Joe Zawinul and Gary Bartz, led ensembles from early fusion groups to big bands, and partnered some of the major pioneers of his country's much-acclaimed jazz tradition. Smietana plays this gig with regular drummer Adam Czerwinski and Gilad Atzmon's powerful bassist Yaron Stavi, and the show is likely to focus on the leader's hard-bop and fusion-influenced originals, classic themes by Ornette Coleman and Keith Jarrett, and subtle reworkings of pop anthems by Jimi Hendrix and others. It coincides with a run of east European-angled gigs at the Posk Theatre in Hammersmith's Polish Centre, presenting jazz from Poland, Russia, Lithuania and elsewhere – see jazzcafeposk.co.uk for details.
Pizza Express Jazz Club, W1, Sat
JF