This year, in the first flush of spring, a band that time forgot played the gig of their lives. "It was so special, it was impossible to leave it behind, wasn't it? We had to keep picking at it, didn't we? It was like a scab." The once long-fringed frontman who led the band that launched Britpop – albeit against his will, Brett Anderson reminds us – sits in a hotel room on a darkening weekday evening, remarkably untouched by both time and excess, recalling Suede's performance at the Royal Albert Hall in March. Next to him, drummer Simon Gilbert and keyboardist Neil Codling are similarly Peter Pan-like; bassist Mat Osman is in New York; while Richard Oakes, the young pup who replaced guitarist Bernard Butler after writing to the band's fanclub, is in the gents.
"He's hiding," says Anderson. "He's terrified. Be gentle with him."
In 2010, something remarkable has happened to Suede. Nearly 18 years after their debut album became the fastest-selling in British history, and seven years after they split not with a bang but with a whimper, they are, incredibly, the talk of the town. Next month, they release a carefully curated Best Of – Osman says on the phone, later, that Anderson has spent months labouring over it, making his own CDs to discover the best running order. In December, they play the O2, their biggest-ever non-festival show. This is all thanks to a gig they played for Teenage Cancer Trust back in March, preceded by two "practice runs" at London's 100 Club and the Manchester Ritz. At the Royal Albert Hall, they were a revelation: five men in their 30s and 40s playing at full throttle, as if the world was going to cave in once the curtains came down. When they played Metal Mickey, they received a standing ovation that went on for five minutes. Oakes finally enters the room as we discuss it, and smiles shyly when he realises what we are talking about. "I thought someone had walked on stage, or something. It was genuinely unexpected."
"That's the one moment that I'd relive for the rest of eternity," adds Anderson. "And I did actually say on the night – here's your bold quote if you want it – I've taken a lot of drugs in my life and nothing compares to it."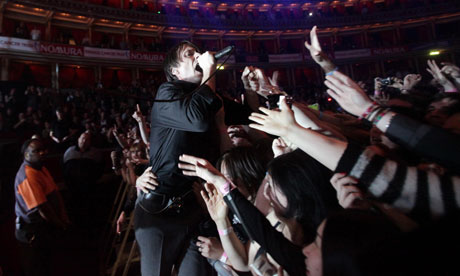 Everyone laughs. Suede know who the press expect Anderson to be: the easy-to-parody commuter-belt wordsmith, still in love with suburbs and skylines, nicotine and gasoline. The old dog still deploys flamboyant one-liners – when Gilbert's lost phone turns up in his pocket, for example, he says, "Oh, come on, Simon, this isn't Arthur C Clarke's Mysterious World" – but in 2010, Anderson is much more self-aware. He is, he says, "much less interested in the persona of Brett Anderson", and even has a sense of humour about having a parodist on Twitter, something you couldn't have imagined 15 years ago.
Since Suede broke up in 2003, all the members' lives have changed hugely. As well as making three solo albums and reuniting briefly with Butler as the Tears, Anderson has married and gained a stepson "who likes being read bedtime stories about pirates", and lost a father, who died in 2005. Gilbert moved to Bangkok as soon as the band split, and now drums for two bands called Futon and Goo ("that's G-O-O"); Codling became "a keyboardist for hire" for Natalie Imbruglia, among others; Osman became an editor of the online zine le cool; while Oakes has been working quietly on a new band, Artmagic, though he had not been on stage since Suede played their last note seven years ago.
But then Teenage Cancer Trust came calling. At first, Anderson didn't know whether reforming would be wise. "There were two conflicting voices," he says. "One saying I'd love to play those songs again, I'm really proud of them. Another saying I should leave well alone." He spoke to Osman and Codling, called Gilbert on Skype, then spoke to Oakes – the least convinced party. Oakes stands out from his bandmates in other ways today: he wears a beige jacket and scruffy jeans while the others are stylish in black; he has a receding hairline; and he still looks acutely aware that he filled Butler's shoes, despite co-writing some of Suede's biggest hits. "I was thinking, 'Oh God, can I do it, revisiting the past?' All these emotions, I didn't think I could cope." Osman will also admit late that he had his doubts: "Men in their 40s performing teenage songs … it could have easily gone horribly wrong."
Anderson confirms there were lots of difficult conversations. "But if it had been the wrong thing for one of us, it would have been the wrong thing for all of us. We kept persevering because we knew there was still something there."
To decide once and for all whether a reunion would work, this version of Suede (Oakes joined in 1993, Codling in 1996), went to a tiny rehearsal room near Anderson's house. It was the first time they had played together for 10 years (Codling left the band in 2000 because he was suffering from ME). It was crucial there were no managers or roadies present, explains Anderson, so the five musicians could just drink tea and chat, and then hook up their instruments. They played Filmstar first, and it sounded amazing, he says. "We also noticed a purity in those songs, because we'd had distance from them," adds Codling. "It also helped everyone remember," adds Anderson, "why they were written in the first place."
As the Albert Hall show approached, Osman remembers them discussing how important it was that they present the music free of frills: "It had to be like five boys playing the Southampton Joiners Arms. To hide behind anything would have been cheating. We had to do the opposite."
Anderson felt they had a point to prove, too. "I don't think there's ever been a point in Suede's career when we haven't. We've always had our doubters. We've always polarised opinion." He stops, then smiles. "Although there's part of me that quite likes that, you know. I never wanted to be in someone's fifth-favourite band."
Suede were born to be divisive: from early on, they were criticised for being the beneficiaries of media hype, even though they had spent years in various bands playing "in front of three people". Later on, the fact that Anderson had been involved with Justine Frischmann, who became the frontwoman of Elastica and dated Blur's Damon Albarn, helped transform Britpop into a class-fuelled soap opera, with Blur cast as foppish class tourists, Suede as poor urchins looking at the stars and Frischmann a black-clad princess tearing them apart. Anderson doesn't think about the other Britpop bands now, he says, though he is still close friends with Frischmann, who now lives in LA; they had dinner together with their spouses last year, and he wishes he saw her more often.
By 1994, as Oasis became more popular, it became clear that Suede didn't fit into Britpop any more, even though it was still a year before the scene's commercial apogee. Butler's departure also gave the critics extra fuel for the fire. "They realised that a part of our armour was missing," recalls Anderson. "That was the first time I realised that people often run in packs, and when they smell blood, they attack."
Suede didn't want to run with a herd, though – and their second album, Dog Man Star, was deliberately anti-Britpop for that reason. "We didn't want to wave union jack flags. And I didn't want to talk about my life any more, or include any references about living in London on the dole. It felt weird how they became Britpop references, really, and how quickly they got turned into beery cartoons."
Anderson was also missing the departed Butler. "He's an amazing musician, so I missed him in that sense. And the two first Suede albums were obviously very special." Butler has played a big role in putting together the Best Of, Anderson says. "It was really nice: the two of us sitting together listening to Suede songs in the studio for the first time for nearly 20 years. A really lovely trip down memory lane." Anderson won't go into detail about their friendship, but thinks they made a good album together as the Tears, although they were naive not to realise how much the idea of their reconciliation being a de facto Suede reunion would overshadow it. Butler, though, will have no part of this reformation.
Instead, Suede's current lineup is centred around their most commercially successful spell, one that gets overlooked because of the excitement of their early breakthrough. 1997's Coming Up produced five top 10 singles, and also made Suede famous in Europe and Asia. They all remember that time fondly, Gilbert says: "It was make or break, but also really exciting. We were all waking up each morning not feeling any pressure." Things only went awry with 1999's Head Music. Codling was getting ill, and having to send ideas in by email; Anderson "was off my head on buckets of drugs"; Oakes, whose guitar parts were getting replaced by electronics, was "switching off", he says. "Which I really regret."
By 2002's A New Morning, the band had grown apart, and Anderson was trying to tear Suede's sound into pieces – partly, he now realises, because he didn't want there to be a band any more. "I think that we shouldn't have made that record, quite honestly." He persevered out of sheer bloody-mindedness – wanting to prove to the doubters, once again, that Suede hadn't been a flash in the pan. Instead, the band broke up amicably with a run of full-album gigs at London's ICA, which they nonetheless remember as quiet final flourishes. "We didn't go out the way we had planned," Osman says. "We should've gone out in a blaze of fists in Bangladesh, or something."
Quietness seems inimical to Suede: Anderson misses the danger and fierceness his band used to thrive on. "I do find it weird that the last 10 years hasn't thrown up a new definitive genre. It seems that music is here to placate now, rather than provoke. Maybe a sense of apathy has crept in, or people's lives are too comfortable. No one wants to inspire extremity, as we used to do."
Perhaps sticking around beyond the winter tour would help make this happen, I suggest. The room falls silent as the notion floats around. "At the moment … we don't know," Anderson says finally, making it clear he is the ringmaster. "I think we'd have to be convinced that it would be the right thing to do. You know, has the moment passed, or should we pick at the scab again?"
Next year, after all, he releases another solo record, a big rock-inspired album – although its energy has, he admits, been fuelled by Suede's reunion. And everyone agrees that something has changed in all of them in the wake of the reunion. "The fact it happened 20 years after the band formed – isn't that wonderful? Who's to say it couldn't happen again in the future?" Anderson raises his hands, and his cheekbones gleam in the evening light as it falls through the window. Everyone smiles, and understands. This isn't yesterday's man.
The Best of Suede is released on Ministry of Sound on 1 November.
• This article was amended on 22 October 2010 to correct the date of A New Morning.