Of Montreal, On tour
When the good ship indie seems to be sinking, there's always the lifeboat of dance. So it's currently proving with the likes of Dirty Projectors or Mr Hudson, but among 90s-vintage indie bands it's Of Montreal (actually from Athens, Georgia) who were among the first to make the leap. They're a band who have thrived just as their leader's fortunes seemed to be fading: as Kevin Barnes got depressed, the more upbeat and melodic his music became. Now an admired pop auteur in the vein of, say, Stephin Merritt, Barnes's skills have been sought out by the likes of Janelle Monáe and Solange Knowles, while Of Montreal remain a vibrant outlet for his own creativity.
The Academy, Dublin, Sun; Queen Margaret Union, Glasgow, Mon; Academy 2, Manchester, Tue; KOKO, NW1, Wed
John Robinson
Male Bonding, On tour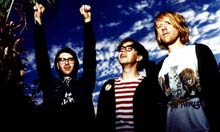 From London, Male Bonding are successfully finding their inner Los Angeles. A band capable of considerable chaos, a sly sense of humour as well as the occasional tune, the trio seem to fit more readily among US contemporaries like No Age and Best Coast, and have quickly built up momentum. No surprise, then, that the band are signed to a US label with a grand history in this kind of activity – Sub Pop – and that debut album, Nothing Hurts, continues in an unorthodox tradition. A policy document for the band at this stage might simply read "try anything". Over its hectic half-hour, the album incorporates both galloping indie rock and derailed avant punk, the impression that they leave ultimately being that whatever ideas they come up with, Male Bonding will have the chutzpah to pull them off.
Audio, Brighton, Mon; Start The Bus, Bristol, Tue; Academy 2, Manchester, Wed; Electric Ballroom, NW1, Thu; Skate Central, Sheffield, Fri
JR
Junip, On tour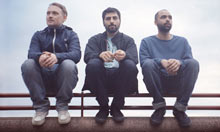 While you may not know Junip, you possibly know their singer and guitarist, José González. A man of pleasant voice and tidily played acoustic guitar, his folky cover versions of dance tunes are one of the chief reasons that TV advertisements for hi-tech products now feature unshaven people doing somersaults in fields rather than robots working in space stations. But what of the indie rock band he left behind in Sweden in 2005? Well, that's Junip, and if anything their material even more quaint than that offered by José solo. Players of a pastoral brand of indie, in their best moments they're reminiscent of the Beta Band, or Radiohead, if Radiohead had spent more time listening to Traffic than Pink Floyd. Certainly, current album Fields won't frighten González fans, but the occasional loud bit and lyrical twist show they're not incapable of surprises.
Thekla, Bristol, Mon; XOYO, EC2, Mon; Bodega, Nottingham, Wed; Deaf Institute, Manchester, Thu; Plug, Sheffield, Fri
JR
Strange News, London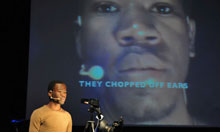 In both its number of performances and their importance in the profile of European new music, the London Sinfonietta is only a pale shadow of its former self. Yet the orchestra still does some valuable work, and the concert that opens its new series at the Southbank Centre this weekend promises to be one of those events. Now in his early 50s, the Norwegian Rolf Wallin has carved out a distinctive niche for himself in recent years with music that nicely balances mathematical complexity with intuitive expressiveness, and often tackles major contemporary issues. His Strange News seemed a bit simplistic when it was first performed in Birmingham two years ago, but it did at least dare to address a real subject – the role of child soldiers in African wars – combining newsreel footage with Wallin's ensemble music. The London Sinfonietta is pairing it with two choral works that carry their own extra-musical messages – Xenakis's Nuits and Michael Finnissy's Maldon – and it will be fascinating to see if the combination works.
Queen Elizabeth Hall, SE1, Sun
Andrew Clements
The Duenna, On tour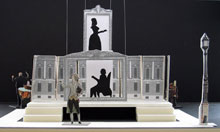 The most popular of operas in 18th-century England, even eclipsing the success of John Gay's Beggar's Opera, The Duenna was Richard Brinsley Sheridan's only foray into musical theatre, supplying the text for which the Linleys of Bath, father and son, both called Thomas, composed the music. The piece, a comedy with spoken dialogue, is set in Seville in Spain, but as far as Sheridan was concerned it was thinly disguised autobiography. In the 20th century both Prokofiev and Roberto Gerhard composed operas on Sheridan's text, but performances of the Linleys' original are rare, so English Touring Opera's version is a collector's item; Richard Suart and Nuala Willis head the cast.
Lighthouse, Poole, Sat
AC
Gilad Atzmon, On tour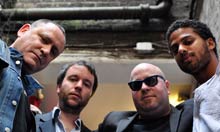 Since he came to the UK in the 1990s, saxophonist Gilad Atzmon has displayed a rare knack for joining jazz improv surprises to lyricism and catchy grooves. An Atzmon set can rampage through rapturous love songs unceremoniously invaded by funk and bebop; bursts of free-jazz and dense Bitches Brew electronics; maybe veer into a lateral take on Wonderful World; or classical references upstaged by through-the-horn guffaws. He also runs an imaginative venture dedicated to Charlie Parker's sax-and-strings music of the late-1940s, tomorrow's Brighton gig being a reprise of that entertaining show. The others are for Atzmon's Orient House Ensemble, the world-jazz group now celebrating a decade of colliding American, central European and middle eastern music.
Corn Exchange, Brighton, Sun; Jazz Bar, Edinburgh, Wed; Montrose Folk Club, Links Hotel, Fri
John Fordham