The Coral, On tour
Of all the qualities one might attribute to the psychedelic scouser, an intense work rate probably isn't one of them. The Coral, however, were a band to buck the trend: their youthful productivity was matched by a considered musical maturity. The past three years have found the band reconsidering its membership (guitarist Bill Ryder-Jones has departed) and the more frantic aspects of their sound. Now steeped even more profoundly in the warm and involving music of the late-60s, new one Butterfly House is music to expand the mind, but also to involve the heart.
O2 Academy Leeds, Sun; Royal Albert Hall, SW7, Mon; O2 Academy Oxford, Wed; ABC, Glasgow, Fri
John Robinson
Titu Andronicus, On tour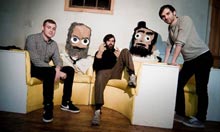 Titus Andronicus could lead you to suspect that New Jersey musicians don't just share a locality, they also share a strand of genetic code. Like Bruce Springsteen and Gaslight Anthem, they specialise in a wordy and passionate rock. The Titus Andronicus way, however, is more violent and unpredictable than either. And also, it has to be said, a little more complaining. The band's first album The Airing Of Grievances was effectively an indie rock letter of complaint to their hometown. Their second, The Monitor, has expanded their conceptual brief. Loosely about the US civil war, it proves that the reach of their music cannot be contained within the New Jersey borders.
Prince Albert, Brighton, Wed; Haymakers, Cambridge, Thu; Cooler, Bristol, Fri
JR
The Greenhornes, London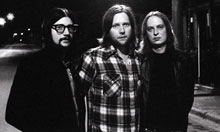 As grubby as their origins were, the main players of the 2002 "garage rock revolution" (the most influential, if poorly named guitar movement of the past ten years) have gone on to form an executive gentleman's club of modern rock players, centred around Jack White. The Greenhornes, originally from Indiana, have in part benefitted considerably, and in part been swallowed in the wake of this development. Two of its members – Jack Lawrence and Patrick Keeler – have been involved in such White-related projects as the Raconteurs, Dead Weather and playing with Brendan Benson. Poor frontman Craig Fox, meanwhile, has been left rather out of the loop. Goodwill, however, is still extended to the band, and seems likely to greet their 2010 LP Four Stars, a record which proves a great truism. Seasons change. Time moves on. Garage rock, however, remains unchanged.
Cargo, EC2, Fri
JR
Nine Rivers, Glasgow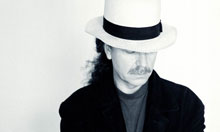 It is not a cycle, James Dillon insists, but "a collection of works with internal symmetries". However they are categorised, though, the nine pieces that make up Dillon's Nine Rivers are crucial to understanding his development as a composer through the 1980s and 90s. The first performance of the complete work has been described as one of the most cancelled music projects of all time, but finally the BBC Scottish Symphony is marking Dillon's 60th birthday this year with that much-anticipated premiere. All the pieces that make up Nine Rivers can be performed independently, but heard in sequence, they follow an epic trajectory in three parts, taking in solo percussion, pieces for 16 solo voices, and some involving electronics, until all the forces involved are combined in the final Oceanos, the "delta" of the work. It's hugely ambitious, musically and conceptually extremely complex, yet as ever with Dillon's music packing a huge emotional punch, too.
City Halls, Glasgow, Sun
Andrew Clements
Huddersfield Contemporary Music Festival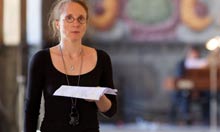 Before artistic director Graham McKenzie started including it in Huddersfield festival concerts, Enno Poppe's music was hardly known in Britain. But McKenzie clearly believes in the 40-year-old German, and has chosen to open this year's festival with the UK premiere of Poppe's most ambitious work to date, Interzone, a portrait of urban life with texts by Marcel Beyer and William Burroughs and video images by Anne Quirynen. As well as premieres of works by Abrahamsen, Ferneyhough and Stockhausen, the featured composer this year is another whose profile in this country has been considerably raised by the festival: Rebecca Saunders. There are five premieres of Saunders's works as well as Chroma, the piece she conceived for Tate Modern's Turbine Hall.
Various venues, Fri to 28 Nov
AC
London Jazz Festival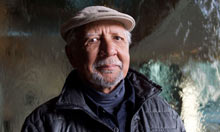 This festival's abundance of unmissable shows makes highlight-picking a nightmare, but the double-header (Barbican Hall, EC2, Wed) for US saxophonist Chris Lloyd's quartet and Grammy-nominated UK singer Norma Winstone's European trio more or less chooses itself. Lloyd, one of the first jazz musicians to bring the music into big rock venues in the 1960s, is now regarded as one of the most eloquent and unusual saxophonists in the world. His gospel and ballad sound has an affectingly bluesy fragility, but he brings a free-jazz edginess to more urgent material, is a gifted composer, and has the perfect band for his needs, including pianist Jason Moran and drums firebrand Eric Harland. This week also sees a residency at (Kings Place, N1, Thu to 20 Nov) of American-Canadian postmodern jazz trio The Bad Plus, known for their infectious collisions of classical music, jazz and pop covers, pushed further by fast-jazz improv.
Various venues, to 21 Nov, londonjazzfestival.org.uk
John Fordham