Phosphorescent, On tour
There's a lot to be said for writing your own job description. After a good 10 years spent on the fringes of alt-country, Brooklyn-based musician Matthew Houck effectively applied to become part of the guild of respected songwriters with his 2009 album To Willie, an album covering songs by the don of outlaw country, Willie Nelson, who subsequently invited him to play live. His new one, Here's To Taking It Easy, is a strong addition to his CV: kicking off with a song called It's Hard To Be Humble When You're From Alabama, it has the air of someone coming to terms with the country rock lexicon, and simply getting on with it. In fact, just taking it easy, you might say.
ICA, SW1, Wed; Deaf Institute, Manchester, Thu; Captain's Rest, Glasgow, Fri
John Robinson
Mi Ami, On tour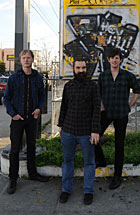 "Tribal" was one of the key adjectives for the alternative, often Brooklyn-based music of 2007, but Mi Ami are a group bringing it back into use. However, while some of the sounds of a couple of years ago have since grown a little more polite, this San Francisco trio have retained an eerie shouting, human-sacrificing vibe to their material. Reminiscent in their thundering, noise and bass-filled excursions of some quite trendy post-punk names to drop – 23 Skidoo, PiL, Killing Joke, to name but three – at least part of Mi Ami's strength live is in the considerable discrepancy between how they look (smart, collegiate) and how they sound (drooling, woad-daubed, cauldron-stirring). In spite of this alarming aspect, the band are not unclubbable, but Mi Ami's key strength is in the vaguely intimidating nature of their groove.
Prince Albert, Brighton, Wed; Bardens Boudoir, N16, Thu
John Robinson
Toumani Diabate, London & Hay-on-Wye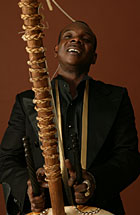 People often talk about "musical evolution", but Toumani Diabate is probably the best example. The latest in many, many generations of kora players, he's the only player of his line to have evolved his art to the level where recording a solo kora album might be seen as a good idea. It's a difficult instrument, evidently. More importantly, over the 20-plus years he's been recording, Diabate has been steadily winning converts to the music he makes with it. A collaborator with Damon Albarn and with Björk, it is, however, probably on his solo work (the wonderful Mande Variations from 2007, or the 2010 release Ali And Toumani, with the late guitarist Ali Farka Touré), that he is best heard. Diabate makes music of grandeur, and spirituality – and the kind of spontaneity that's the product of many hundreds of years.
Barbican Hall, EC2, Wed; Guardian Stage, Hay Festival, Fri
John Robinson
Garsington Opera, Oxford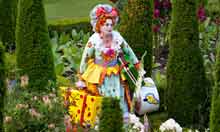 This is the final summer that the Oxfordshire village of Garsington will host an opera season. The month-long festival, begun by the late Leonard Ingrams in the gardens of his home 21 years ago, is moving on. The name will remain, but from 2011 Garsington Opera will move the short distance into Buckinghamshire to a specially built temporary theatre on the Wormsley Estate. The Garsington years for the festival are ending as they began with Mozart's The Marriage Of Figaro, in a revival of a production that John Cox first mounted here five years ago. There is Britten in this final season too – a new staging of A Midsummer Night's Dream by Daniel Slater – and in keeping with the more adventurous programming over recent years, a Rossini rarity too in the form of Armida.
Garsington Manor, Wed to 4 Jul
Andrew Clements
Bobby McFerrin, London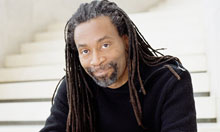 Hardline jazz fans, and not a few players too, can be pretty sniffy about singers, but nobody's sniffy about Bobby McFerrin. An extraordinary virtuoso, McFerrin was a flesh- and-blood instrument-mimicking synthesizer and human beatbox years before anybody thought a deck belonged to anything but a boat. This show marks the release of his VOCAbuLarieS album, the culimination of a decade-long investigation in which the best of all his work, both solo and collaborative, has been stitched into one tapestry by composer-arranger Roger Treece. The lyrics feature languages from Arabic to Zulu, as well as McFerrin's own invented words, and he's partnered by a fine local choir.
Barbican Hall, EC2, Sat
John Fordham
Martial Solal, Bath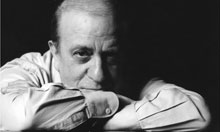 When he played London last year, Martial Solal received demands for three encores that reminded music-lovers he's an improviser with a late-career imagination and virtuosity comparable to the powers of Sonny Rollins. Solal, who broke out of the jazz loop back in 1960 by composing the score to Jean-Luc Godard's New Wave classic A Bout De Souffle, is immersed in classical music as well as jazz. A glittering career includes composition of the piano concerto that led to the founding of France's Orchestre National de Jazz, leadership of many innovative groups, and receipt in 1999 of international jazz's Nobel Prize, Denmark's Jazzpar. The 2010 Bath International Festival jazz weekend will be a magnet for jazz piano trio fans (Django Bates's Charlie Parker-devoted threesome plays on Monday), and Solal plays this gig with gifted bass and drums siblings François and Louis Moutin. Dutch trumpeter Eric Vloeimans shares the Sunday evening bill.
The Pavilion, Sun
John Fordham