Wax Fang, On tour
Wax Fang sounds like a good name for a Monty Python villain – and that's not entirely coincidental. From Louisville, Kentucky, this trio specialise in an over-the-top, generally comic take on rock music, nothing too bombastic, or divergent, for their ultimately satirical ends. On current album, La La Land, that would appear to mean looking at a mad, corrupt and chaotic world, and responding to it with some mad and chaotic music. In this project, the group have used unlikely tools: they recorded at Ardent in Memphis, historical home of Big Star and powerpop, and also have an unlikely ally. My Morning Jacket's Jim James has endorsed and guested with the band, an indication that, for all their apparent wackiness, Wax Fang are making music that's worthy of respect.
The Well, Leeds, Mon; Sound Control, Manchester, Tue; KOKO, NW1, Fri
John Robinson
Slow Club, On tour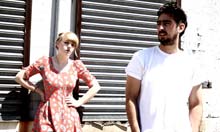 Cuteness being an essential part of folky British music at the moment, Slow Club are in the right place at the right time. The duo of Charles Watson and Rebecca Taylor make music with the cheerful and upbeat tone of morning television programming, a practice that (as the likes of Mumford & Sons are proving) isn't necessarily that bad an idea. So far Slow Club have had a very well-received debut album, Yeah So, and the obligatory use of their material in an ad for a mobile network, but those who crave a little more danger should be aware that the odd clang of electricity does occasionally force its way into their music. New single Giving Up On Love, (with a video featuring a particularly baleful-looking Mackenzie Crook), is such an example: a fizzing indie shambles, and much the better for it.
O2 Academy, Oxford, Tue; Sin City, Swansea, Wed; O2 Academy, Liverpool, Thu; The Factory, Manchester, Fri
John Robinson
Villagers, On tour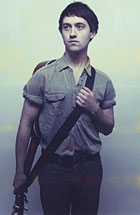 The project of one man, Irish musician Conor O'Brien, Villagers ask you to imagine the aftermath of an accident that leaves the Arcade Fire fronted by the Divine Comedy's Neil Hannon. That, at least, is the conclusion you may reach on hearing the first Villagers album, Becoming A Jackal. Theatrical, occasionally witty, with what at times is a strangely macabre tone, the self-consciously literary bent of the material is much improved by the singing voice of O'Brien himself; for all the guile of his songs, the voice itself inspires trust. It's perhaps this quality which has so far endeared Villagers to some more senior figures in the game: the expanded band have supported Neil Young and made a creditable appearance on Later… It's true, Villagers' arch mode can be off-putting at times, but his heart seems to be in the right place.
Deaf Institute, Manchester, Tue; Brudenell Social Club, Leeds, Thu; King Tut's, Glasgow, Fri
John Robinson
Bath Festival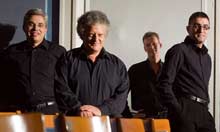 Like festival directors across the country, Joanna MacGregor has had to strike a careful balance of programming both challenging and popular events at Bath. She's made a bit of thing of the Chopin bicentenary, with Stephen Hough playing the B minor sonata, late-night concerts featuring all of the nocturnes shared between pianists Alexandra Danescu and Sasha Grynyuk, plus MacGregor playing the mazurkas. The indefatigable Arditti Quartet bring a programme of Dusapin, Birtwistle and Schnittke; the outstanding choir Exaudi mix contemporary and Elizabethan music; while 5 June is devoted to Judith Weir's music and its connections with Celtic folk traditions.
Various venues, Wed to 6 Jun, bathmusicfest.org.uk
Andrew Clements
Vinicius Cantuária/Rodrigo Leão & Cinema Ensemble, London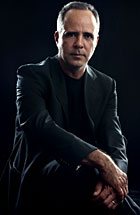 As befits a jazz-influenced singer-songwriter who started his career as a percussionist, Brazilian-born Vinicius Cantuária's music purrs with compelling grooves but they're a lot more layered and subtly nuanced than is usual for the nu-bossa style. Cantuária is a remarkable progressive in an idiom that can drift into pop or lounge-music clichés, and he's worked with artists from all over contemporary music – jazz, hip-hop and electronica. Sharing this bill is composer-keyboardist Rodrigo Leão, a star of Portuguese music. Leão's romantic soundscapes rework old Portuguese ideas in chanson and tango, tinged with contemporary classical and avant pop.
Barbican Hall, EC2, Tue
John Fordham
Simcock/Walker/Swallow/Nussbaum, On tour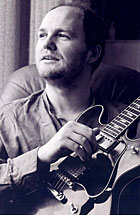 One of the best-kept secrets on the British jazz circuit is the world-class talent of Salford guitarist Mike Walker, who tours in this dream-ticket Anglo-US quartet with piano virtuoso Gwilym Simcock and the ultra-hip rhythm partnership of bassist Steve Swallow and drummer Adam Nussbaum. Walker's surreal intelligence, extra-musical talents, a teaching career and a disinclination to leave the north-west may have kept him from stardom, but he has long sounded like a man in a league of his own. His album Madhouse And The Whole Thing There was a soaringly confident piece of idiosyncratic contemporary fusion, and the idiomatic breadth and one-touch improvisational reflexes of pianist Simcock should produce some fascinating conversations.
CBSO Centre, Birmingham, Sat; Richard Attenborough Centre, Leicester, Sun; Ronnie Scott's Club, W1, Mon
John Fordham