Pavement, Glasgow
No grand gestures, no big fanfare: the manner of Pavement's re-forming has been handled in about as casual a way as was their split. Witty, and ironic, the band embodied some of the perceived slackness of the 1990s, but none of that decade's self-obsession: one imagines big rock and its personal dramas are as mortifying to Pavement now as they were then. Initially the project of guitarist Scott Kannberg, Pavement was quickly taken over by Stephen Malkmus, whose free-associating, nostalgic lyrics and offbeat take on country rock became their default position. The band had like minds – they were pals with Radiohead and influenced Blur – but few peers. In their hands, musical experimentation seemed a fuzzy exercise, not a scientific one, and they seem to have retained their affinity with happenstance.
Barrowland, Wed
John Robinson
Iggy And The Stooges, London & Minehead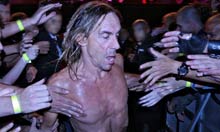 When Stooges guitarist Ron Asheton died in 2009, it seemed to end the late bloom of one of rock music's most important, but contemporaneously unloved bands. Their induction into the Rock And Roll Hall Of Fame and the reissue of 1973 album Raw Power this year has, however, presented the band with the return of guitarist James Williamson after 30 years. Now in their 60s, their menace remains undiminished: Williamson's riffs brought to the group additional notes and an increased brutality; they remain simple, primal and beautiful. As producer Steve Albini once said, "like a mushroom".
HMV Apollo, W6, Sun, Mon; ATP, Butlins, Minehead, Fri
John Robinson
Camden Crawl, London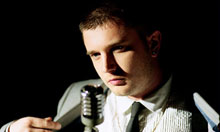 The Camden Crawl is an event that serves to remind that there is more to this north London enclave than the ready availability of T-shirts bearing the legend "The Pope Smokes Dope". A cross between pub crawl and boutique rock festival, the Crawl is often emulated but itself remains unchanged: one buys a ticket, and then begins two days' worth of music-themed round robin – walking, planning and jostling for standing room in Camden's many rock venues. The nature of the event helps determine that performing acts are of a certain stature, but that doesn't mean there's any skimping on quality. Worthy of particular note this year are two turns from British MCs. Professor Green, essentially Mike Skinner with the face of Michael Cera, is one. Another is the return of Plan B, now on an impressive old soul tip with new album The Defamation Of Strickland Banks.
Various venues, NW1, Sat & Sun
John Robinson
Szymanowski Focus, London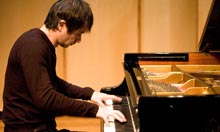 Though Karol Szymanowski's orchestral music, especially his two violin concertos, is established in the repertory, his smaller-scale instrumental and vocal works are less well known, at least outside his native Poland. But the Wigmore's mini-Szymanowski festival, curated by Polish pianist Piotr Anderszewski, aims to plug a few gaps in our knowledge. As well as playing Szymanowski's evocative Métopes and Janácek's cycle In The Mists, Anderszewski partners Henning Kraggerud in the set of pieces for violin and piano, Myths, and accompanies soprano Iwona Sobotka in Slopiewnie and the exotic Songs Of A Fairy Princess, while the Belcea Quartet play Szymanowski's string quartets as well as Bartók's first quartet.
Wigmore Hall, W1, Wed & Fri
Andrew Clements
John Scofield, London & Cheltenham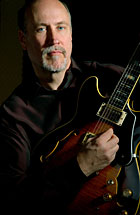 Guitarist John Scofield delivered an album of funky workouts on a set of gospel classics on last year's Piety Street. But his quartet gigs in London and on the penultimate days of the Cheltenham Jazz Festival this weekend look like representing his jazziest qualities, aided by lively postbop pianist Michael Eckroth and an old associate in gifted drummer Bill Stewart. Early in his career, Scofield recorded with jazz stars of the stature of Charles Mingus and Miles Davis, and Davis in particular valued his mix of improvisational subtlety, soulful blues-playing, catchy composing skill, and barging rocker's brawn. Since those 1970s days, he's made a lot of fine jazz recordings with very big names, and some infectiously funky ones with Medeski, Martin and Wood and others; and it's likely these shows will be a balance of those styles. But whether bebopping or street-grooving, Scofield usually sounds like he's having fun.
Ronnie Scott's, W1, Sat; Cheltenham Jazz Festival, Imperial Gardens, Sun
John Fordham
Evan Parker, Cheltenham & London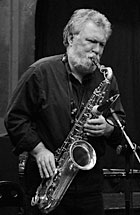 The great English saxophonist Evan Parker has been refining a unique and influential virtuoso technique for over 40 years. On tenor sax he plays in a hoarse, staccato manner; on soprano he veers between the sounds of seabird cries and the percussiveness of popping corks; but his jazz origins surface in a tender gravitas on tenor that can evoke Coleman Hawkins or John Coltrane. Tonight in Cheltenham, comic and free-improv fan Stewart Lee curates an eclectic Parker-centred show, including John Zorn cello-collaborator Okkyung Lee and New York trumpeter Peter Evans. Parker resumes with Lee and Evans on Sunday at London's improv-devoted Freedom Of The City Festival, which also features American free-jazz trumpeter-composer Ishmael Wadada Leo Smith and drummers Mark Sanders and Eddie Prevost.
Playhouse, Cheltenham, Sat; Freedom Of The City, Conway Hall, WC1, Sun
John Fordham