The Besnard Lakes, On tour
A long, atmospheric build-up; a period when you wonder if it's ever going to get going; and finally, the whole thing builds up quite a head of steam … that's not only the plan for most songs by the Besnard Lakes, but for their career, too. After a slight 2004 debut, they've arrived at their third album: a louder, altogether more strident prospect. Recorded on a mixing desk owned by Led Zeppelin, The Besnard Lakes Are The Roaring Night finds the band engaging in a sometimes underrated activity: not overthinking it, and just rocking out.
The Cockpit, Leeds, Sat; Captain's Rest, Glasgow, Sun; Dulcimer, Manchester, Mon; Hare & Hounds, Birmingham, Tue; Cargo, EC2, Wed
John Robinson
Phoenix, London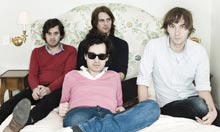 So inextricably are Phoenix plugged into the French disco scene, it's hard to see why they would want to be in a band at all. Pals and former bandmates of Daft Punk, once backing group to Air, with their latest album produced by Cassius' Philippe Zdar, the group were the very definition of hipness circa 9/11. And – hey! – incidentally, they still are. It's true, there are those who would infinitely prefer Phoenix to remain the band they were around their Run, Run, Run or Long Distance Call singles – a chic and tidy hybrid of persuasive 1980s pop and modern dance productions, the kind of destination to where Stuart Price's Zoot Woman were once headed. But there's still a great deal to be said for their most recent work. A different, untidier kettle of fish it may be but last year's Wolfgang Amadeus Phoenix saw the band not only revealing their respect for European classical composers, but also (particularly on the excellent single Lisztomania) for Strokes-like indie rock, too.
Roundhouse, NW1, Mon, Tue
John Robinson
Peter Gabriel, London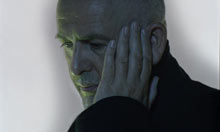 From its highly theatrical beginnings, Peter Gabriel's career has for 40 years been a slow but steady retreat from the spotlight. No longer the chap prancing about dressed as a marigold, nor even the odd but influential pop star, in recent years Gabriel has seemed content to exert his influence behind the scenes: as owner of Real World Studios, and as a patron of world musics. His latest move – a new album, Scratch My Back – both confirms and confounds this proposition. Yes, it's a new Gabriel album, and it occasions this brace of whopping gigs at the O2 Arena. But it's also, as testament to the singer's offbeat sensibility, a covers album on the principle of "song swapping"; he'll do one of yours, if you do one of his. It'll be most interesting to see what the increasingly wizard-resembling artist brings out here: rock theatre, worthy cultural curation, or some hybrid of the two.
O2 Arena, SE10, Sat, Sun
Abdullah Ibrahim/Ekaya, On tour
The majestic power and playful exuberance of his latest album, Bombella, might well spark dreams of hearing the great South African pianist-composer Abdullah Ibrahim delivering that session's repertoire with a full big band. But if this short tour is for his more modest Ekaya ensemble, that vigorous group can unleash a significant storm on its own. Ekaya is built around Ibrahim's regular trio, but adds three saxes and trombone; enough firepower to reflect the late arranger Steve Gray's achievement with Bombella, in making an Ibrahim group sound like a cross between a Salvation Army band and a roaring Saturday night swing-era ensemble. The compositions driving this show express the pianist's heartwarmingly soulful lyricism, his gleefully strutting swing, and almost certainly his lifelong devotion to Ellington and Monk.
The Sage, Gateshead, Sat; Barbican Hall, EC2, Tue; Anvil, Basingstoke, Wed
John Fordham
In C, London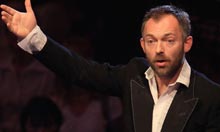 Unlike with most other musical genres, it's easy to pinpoint the beginning of minimalism. It's generally agreed that the first minimalist work was composed in 1964 by the Californian Terry Riley. The score of In C consists of 53 short musical phrases, all of different lengths, which may be repeated any number of times with each player slightly out of phase with the next, over a constantly pulsing C note, hence the work's title. Players work their way systematically through all the phrases, and performances can last anything from 20 minutes to several hours. This week, Charles Hazlewood and the BBC Concert Orchestra play Riley's score in a free afternoon concert.
Queen Elizabeth Hall, SE1, Thu
Andrew Clements
Fluid Piano/Matthew Bourne/Nikki Yeoh, London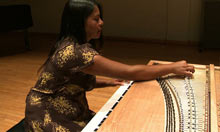 With last year's Songs From A Lost Piano, Matthew Bourne improvised on a battered collection of Yorkshire's discarded pianos. But the Fluid Piano Event looks like pushing the envelope further, being a showcase for probably the most radically re-engineered acoustic piano in the instrument's long history. The Fluid Piano is the invention of Geoff Smith, a specialist in the hammered dulcimer who has reconfigured the tuning mechanisms of a conventional piano to enable it to also play the microtonal scales of the Middle East. Bourne explores this fascinating new machine alongside jazz performer Nikki Yeoh, classical pianist Pam Chowhan, and Iranian musician Ramin Zoufonoun, a specialist in instruments using traditional Persian tuning. It's a new world for pianists, and the four very different guinea-pigs at this gig will all be bringing their own kinds of experiments to it; inevitably it will be a work-in-progress, but a very unusual one.
Purcell Room, SE1, Sat
John Fordham