In 2000 Neil Tennant and Chris Lowe visited Glastonbury for the first time, proved an unexpected success on the Pyramid Stage, and left Worthy Farm triumphant. A decade later, they're back to headline the Other Stage tonight. Now, rewind a fortnight as they meet with the Guide to discuss runaway pigs, Neil's new-found role as folk royalty, the potentially boring bits in their set and – can you imagine anything worse? – music festivals overrun by Guardian readers.
YOU FIRST VISITED GLASTONBURY 10 YEARS AGO. WHAT DO YOU REMEMBER ABOUT IT?
NEIL It was Saturday night, and I was shitting myself. I'd never been to Glastonbury. I thought, "This is not our audience." We were on the main stage between Ocean Colour Scene and the headliners, Travis. I just couldn't see the relevance of us to this bill. I was feeling quite nervous, then just as we were walking up to the stage the lead singer of Ocean Colour Scene came running up to me and said [attempts pitiful Cockney accent], "NEIL THEY'RE GONNA LOVE YA, YOU'VE GOT ALL THE SONGS!" He probably didn't sound like that; the voice is meant to indicate that he was a bit pissed. Anyway, we went on, it was still light, and gradually one noticed that the audience started paying attention. In the end it was quite good.
THERE WAS, NOTORIOUSLY, TAP DANCING.
NEIL There was tap dancing! I'm not sure if that was a Glastonbury first – there was probably a tap dancing tent at one point – but there was definitely tap dancing.
DID YOU INVESTIGATE THE REST OF THE FESTIVAL?
CHRIS I went to the dance tent, saw someone get chinned, then went backstage again. That was it.
NEIL It was fun backstage. There was a lot of socialising going on.
IS THAT 'SOCIALISING' IN THE SENSE OF 'I WAS SOCIALISED OFF MY TITS LAST NIGHT'?
NEIL No, it was "chatting to friends"–type socialising. It was funny because friends and family watch from the photographers' pit which is so huge at a festival that when I looked out from the stage all I saw was our family, Janet Street Porter and Stephen Daldry, just standing there. It does put you off, but obviously people can't be going "wahey" all the time.
SURELY 'WAHEY ALL THE TIME' SHOULD BE THE AIM OF A FESTIVAL SET?
NEIL But you can't really have "wahey all the time" because otherwise you've then got nowhere to go, have you?
SO DO YOU DELIBERATELY THROW IN SLOW SONGS AND BORING BITS?
NEIL Slow songs are not boring bits. If Kylie, for example, did Je Ne Sais Pas Pourquoi you would probably think it was quite a good moment.
THAT SONG IS, STRICTLY SPEAKING, MID-TEMPO.
NEIL Well, if we're talking mid-tempo that's a different matter.
'I think we'd get Lady Gaga to headline. We'd put her above ourselves in a very humble and selfless way, but come back on for her encore' - Neil Tennant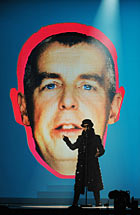 WHY SHOULD GLASTO-GOERS CHOOSE YOU OVER MUSE, WHO HEADLINE THE PYRAMID STAGE AT THE SAME TIME?
NEIL Well, it's a pretty wide choice. I mean Muse and the Pet Shop Boys … [Pause] Actually let's be quite honest about it, I've never really even heard Muse.
CHRIS Everyone says that they're good live.
NEIL What are Muse's songs?
CHRIS There's something about a black hole …
NEIL Is there a ballad?
CHRIS I think they were the first to play at the new Wembley. The pitch has still not recovered.
IF PET SHOP BOYS WERE TO INVENT THEIR OWN FESTIVAL, WHO WOULD HEADLINE?
CHRIS Well how big's the festival?
IT'S A BIG FESTIVAL. TICKET SALES, TO BE FAIR, ARE SLOW.
NEIL That's very Pet Shop Boys, not to have sold out immediately.
CHRIS [Spluttering] Or at all! [Chortles lengthily]
NEIL Well I think it would be Lady Gaga to headline. We'd put her above ourselves in a very humble and selfless way, but come back on for her encore. It would be an electronic dance music festival, with dressing up. The food would be amazing. We'd have the top chefs with their own food tents, and there would be a wine tent. It would be like Royal Ascot. I'd go.
U2 HAVE BOTTLED GLASTONBURY. DOES THAT MEAN YOU WIN?
NEIL [Aghast] What do you mean we bottled it? [Pause] Oh, you mean U2! Our manager calls us "you two". "You two: what are you doing?"
CHRIS Who's standing in, then?
GORILLAZ.
NEIL As you predicted, Chris.
CHRIS I did predict that.
NEIL I did wonder whether it wasn't a bit "top heavy" having U2. People were talking about Kylie headlining but I suspect what you look for with an act who can step in at short notice is whether they have a show up and running. To be drearily practical I don't think they would have been able to make it work with Kylie. Whereas Gorillaz is up and running.
DIZZEE RASCAL'S ON JUST BEFORE GORILLAZ. WHAT DO YOU MAKE OF HIS POP REINVENTION?
NEIL Well it's brilliant, of course. I mean he's a household name.
CHRIS Four No 1s! [And he's had another since this interview took place – Ed].
NEIL As many No 1s as the Pet Shop Boys. It's interesting that Dizzee is playing just before Gorillaz. [Leans forward conspiratorially] Damon should be a bit worried about that …
CHRIS Have Gorillaz dumped the cartoons yet?
NEIL Well the cartoons are behind them now.
CHRIS I wondered how long Damon could hide behind a cartoon. [Guffaws] You knew, ultimately, that he'd pop out.
IN HONOUR OF U2 TRAGICALLY PULLING OUT HAVE YOU CONSIDERED THROWING YOUR VERSION OF WHERE THE STREETS HAVE NO NAME INTO YOUR SET AS A TRIBUTE?
NEIL No, actually.
CHRIS That's a great idea, though. I hadn't even thought about it. We could dedicate it to Bono!
NEIL I could!
CHRIS And you could say, "Get well soon!" [Guffaws at length] Oh well, it's too late now, we've done the rehearsals. The show's in two weeks' time!
SURELY THAT'S TIME ENOUGH TO LOAD UP THE BACKING TRACK.
NEIL [Above a mock-horrified gasp from Chris] It's a thought …
CHRIS We could get Stuart [Price, the show's musical director] to do it. I mean he's revamped the rest of our songs …
CHRIS I can't that believe nobody else has suggested it. It would be a good encore.
'Latitude festival was full of Guardian readers with their kids! Oh, this is for the Guardian isn't it? Oh dear! I didn't mean Guardian readers! Ha ha ha ha!' - Chris Lowe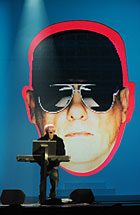 WHAT ARE YOUR THOUGHTS ON COWS?
NEIL I find cows quite scary. Quite a few people get trampled. They stampede! A friend of my sister's was injured by a stampeding cow. Where I grew up in Newcastle there were fields behind our estate and we used to get cows in the back garden. And pigs! Even now I get nervous around cows.
CHRIS Apparently the first Glastonbury there was free milk. T-Rex and a glass of milk – lovely. It's amazing that cows are so big and they only eat grass.
NEIL They do a lot of eating, though. I suppose they might eat other things by mistake.
CHRIS They might eat a dandelion.
NEIL Do you know what time we're on? Because we don't. I'm worried, and so is Jake from the Scissor Sisters, that we're coinciding.
SCISSOR SISTERS ARE ON JUST BEFORE MUSE, SO YOU MIGHT OVERLAP. HAVE A LOOK AT THIS RUNNING ORDER.
NEIL [Peering at printout] Ooh, Editors are on before us. And the Cribs are on too, so Johnny Marr will be there.
CHRIS And Tinchy Stryder! [Bursts into a chorus of Tinchy and N-Dubz's Number 1]
LOOKING DOWN THIS RUNNING ORDER DO YOU NOW THINK, 'LET'S GET THERE A BIT EARLY SO WE CAN SEE KATE NASH?'
NEIL Probably not.
CHRIS Is there a Hare Krishna tent? There's a lot to do, isn't there? It's like a massive rave. You don't need these big stages. [Goes back to studying lineup]
NEIL Someone was saying, actually, and I think it might have been Johnny Marr …
CHRIS Ooh, Sub Focus!
NEIL … that it was the instance of the "rave" thing in Britain that made Glastonbury more than just a music festival because people suddenly liked the idea of standing in a field at three in the morning.
CHRIS You don't really need to go to the main stage at all, do you?
IS THAT ANTI-MUSE PROPAGANDA FROM THE OTHER STAGE HEADLINERS?
CHRIS [Still scanning running order] Ooh, for Neil, there's "poetry and words"!
NEIL I don't like poetry! Is there not a classical music tent?
CHRIS There's probably a folk area for you, now that [referring to Neil performing at Meltdown's Kate McGarrigle tribute] you're part of the folkocracy.
NEIL Yes, according to Chris I am now part of "the folkocracy". The Wainwrights, the Thompsons …
CHRIS The Tennants … [Laughs uproariously] But of course we've always had "acoustic corner" in our shows. The swing-your-pants bit. But that's not in this show.
NEIL Acoustic corner has been banned.
CHRIS We've put a stop to that nonsense.
WAS THAT THE DELIBERATE RUBBISH BIT?
CHRIS Stop coming back to this idea of a deliberate rubbish bit! There isn't a rubbish bit!
ACOUSTIC SECTIONS ARE TRADITIONALLY A VERY USEFUL POINT TO VISIT THE BAR OR TOILET.
NEIL [Sternly] Or, for our dancers to get changed.
CHRIS Anyway, you don't actually go anywhere to go to the toilet at Glastonbury, do you? Don't you just do it down the back of the person in front of you?
THAT'S MORE A READING AND LEEDS THING.
CHRIS We did a very family-oriented festival last year.
NEIL Latitude.
CHRIS Latitude! It was full of Guardian readers with their kids! Oh, this is for the Guardian isn't it? Oh dear! [Splutters] Not Guardian readers! Ha ha ha ha!
NEIL [Rescuing situation] Latitude is very arty. [Changing the subject] Also, it's on shallow sandy ground so if it rains the water drains away. I bought wellies specifically for it but didn't need them.
WHAT SORT OF WELLINGTON DOES A PET SHOP BOY PURCHASE?
NEIL I bought Hunter wellies. Green, rather than industrial black. I'll keep them for Glastonbury.
CHRIS I'll be wearing a pair of trainers.
For full Glastonbury coverage, during and after the festival, click here. The Guardian is a Glastonbury media partner.