Aerosmith, Derby & London
Divorce! Reconciliation! Drug addiction! The recent career of Aerosmith seems less something you'd read about in a music magazine, more a supermarket tabloid. Though by reputation a no-nonsense, hard-rocking band (for 40 years Aerosmith have fitted in the slot between the Rolling Stones and Guns N' Roses that we'll call "hard rock in scarves"), of late, the Bostonians have created almost nothing but nonsense. In short, this has been a tale of rehab (singer Steven Tyler), a decision for Aerosmith (led by guitarist Joe Perry) to tour with a different singer, a lawsuit, and now … finally, what is said to be a triumphant reconciliation between this ersatz Mick and Keith.
Download Festival, Donington Park, Sun; O2 Arena, SE10, Tue
John Robinson
Scissor Sisters, Glasgow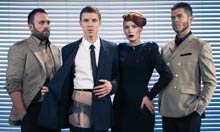 Like air force bases and Macy Gray, Scissor Sisters are something that Americans aren't wild about having in their own country, but are quite happy to see in the UK. Outré, and a working demonstration in how a good show and a finely tuned sense of innuendo can go a long way, this New York band was never an easy fit in the US, yet found their natural home in the up-for-it climate of the British festival. That's not to say that there's not a lot going on in Scissor Sisters records, though of late, things have seemed to be running far from smoothly. Last year the band scrapped an entire album's worth of material and called in Madonna collaborator Stuart Price. Duly spruced up, third album Night Work arrives in a post-Gaga world, and – of course – just in time for festival season.
Barrowland, Wed
John Robinson
Ariel Pink's Haunted Graffiti, On tour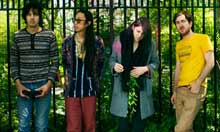 Fittingly enough for someone who traffics in a kind of nostalgia, Ariel Pink isn't quite what he used to be. Once a writer of melodic, drivetime radio music, for several years this LA-based musician recorded his songs in such a lo-fi way as to render them oddly psychedelic. Now, however, things have changed – up to a point. Pink, a gentleman who embraces a pan-sexual worldview, and who also lives in a flat next door to his mum, has now smartened up his act considerably, and made a full, proper band album. Certainly, Before Today is a truly enticing thing – here, sumptuous 1980s arrangements sit beside late-80s-style Pixies guitar noise – but it's worth noting that the sweeter the tune, the odder the content is likely to be. The closer that you examine Pink's world, in short, the more you'll likely be drawn in.
Spanky Van Dyke's, Nottingham, Sat; Captain's Rest, Glasgow, Sun; Brudenell Social Club, Leeds, Mon; Scala, N1, Tue
John Robinson
Lohengrin, Birmingham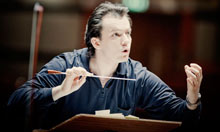 Andris Nelsons is just coming to the end of his second season as the City Of Birmingham Symphony's music director. When he took over the Birmingham baton from Sakari Oramo he was virtually unknown, but over the last two seasons his profile has rocketed; making a huge impact in his concerts with the CBSO, his debut at both the Metropolitan Opera in New York and at Covent Garden, and conducting the Vienna Philharmonic. Next month Nelsons's career takes another leap when he opens this year's Wagner fest at Bayreuth, conducting the new production of Lohengrin. Before he starts rehearsals, though, his Birmingham audience will get a preview of what the faithful are going to hear there, with a concert performance of the work. Nelsons's credentials for his performances at the Wagner shrine will certainly be put to the test.
Symphony Hall, Sat
Andrew Clements
Alan Hovhaness, London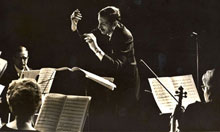 Twentieth-century American music made a whole tradition out of iconoclasts. Beginning with the greatest of all of them, Charles Ives, there's a whole lineage of maverick composers, who followed their own bloody-minded creative paths. Some were hugely influential, others simply followed their own instincts into what have turned out to be musical dead ends, and so far it seems as though Alan Hovhaness (1911-2000) belongs in the second category. Yet one of the problems with getting any sense of Hovhaness's music is the sheer amount of it – over 500 works, including more than 70 symphonies – plus its uneven quality and a lack of performances on this side of the Atlantic. But the Southbank Centre's Meltdown this weekend offers a rare chance to hear some of his unfamiliar and eclectic output, as Charles Hazlewood conducts the Philharmonia in three of Hovhaness's scores, including his setting of The Rubaiyat Of Omar Khayyam for reciter, accordion and orchestra.
Royal Festival Hall, SE1, Sun
Andrew Clements
Wynton Marsalis, London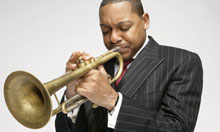 Talk of these gigs has been buzzing in the UK jazz world since the news broke a year ago that star American bandleader and jazz campaigner Marsalis would play in London for an extended run, documenting the history of big band jazz over three shows, extending the usual jazz-celeb concert patch to Hackney (20 June) and letting his musicians loose in after-hours club jams and educational projects. There may be all kinds of arts politics and Olympics backstories to this, but the inspiration to young local jazz musicians will be immense. These first two Barbican shows cover the classic big band swing era of the 1930s and 40s and the pioneering bebop years of the 40s and 50s.
Barbican Hall, EC2, Thu, Fri
John Fordham