They say don't read your reviews, weigh them. And if Brooklyn's Yeasayer had loaded up the cuttings that their second album, Odd Blood, received, the scales would have been creaking. It's sitting pretty on review aggregator site Metacritic with 78/100, a few points below recent efforts from LCD Soundsystem and the National, and way ahead of Scouting For Girls' meagre 44. Combining 80s pop with ravey synths and falsetto ballads, Odd Blood is undoubtedly one of the records of the year. You'd like it. In the spirit of fairness, we decided to let the band have their say, and review the reviewers who put them in this enviable position. First things first, though: do they read their reviews?
"You see the few bad ones, or the really nasty ones, or the really misguided ones and start to cry," jokes Chris Keating, Yeasayer's main singer, when the Guardian sits them down at London's K West Hotel. "Music journalists forget that we're people too," adds Anand Wilder, former high-school cello geek turned freak-out guitarist and keyboard player.
"And they're mostly full of shit," deadpans bassist Ira Wolf Tuton, who's sporting a curly sponge of hair atop a shaved head, and a vest, shirt 'n' bovver boots combo that makes him look, frankly, well hard.
Chris and Anand have known each other since they were schoolkids in Baltimore, where they performed in bands and plays together ("Hamlet, Little Shop Of Horrors, Chekhov," explains Wilder). Architecture grad Ira's sister married Anand's cousin, and the two became friends while studying at Penn together. Yeasayer were born as a trio at Ira's birthday party in a now-defunct Brooklyn bar in 2005. Then those reviews started coming in.
'These kids want it all, and with Odd Blood, Yeasayer get it' Rolling Stone, 4/5
How did it feel getting such a good review in Rolling Stone? Does being in the magazine feel like a vital moment in a band's career?
All No.
Anand But it still feels cool ...
Ira ... but Rolling Stone, as part of their business plan to stay alive, has spread into being an entertainment magazine where you get one of the stars of Twilight on the cover.
Chris No, multiple stars of Twilight on the cover multiple times. My mom has had a subscription my whole life. She's like, [mumsy voice] "You got your fourth mention in Rolling Stone this month." And it's just one line: "Jay-Z saw Yeasayer." My mom has all the ones that we're in in a little stack.
Anand They've misidentified the singer [it says Chris "is like a schizo Daryl Hall" on the track ONE].
Are they talking about the bit Chris sings?
Anand I think that's a miss. But the description of The Children is really great: "Opens with clattering beats, synth heaves and processed vocals that crossbreed like T-Pain and the Residents …"
Chris T-Pain and the Residents, that's cool.
Anand "… yet at the core it's a gentle ballad about vigilant, and potentially vengeful kids." That's great. It surprises me that reporters don't say, "So what are these lyrics?" The New York Times reporter asked for our lyrics before the interview. He was asking about [the track] Strange Reunions, and I was like, "How the fuck did you know that?" It's a great review.
Ira [Rolling Stone's] Will Hermes is pretty good. He's not on my list, of journalists who if I see in public I'm gonna have words with. I literally have that list.
Who's on it?
Ira [Coyly] I forget. I have these names in my head. Someone I might run into in New York or a festival: "Who do you work for? Oh yeah? I remember what the fuck you said!"
'Yeasayer consolidate their modicum of global success with their pop album' NME, 8/10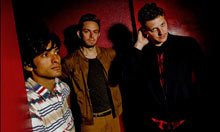 Is pop what you were aiming for?
Chris Pop was a word we were throwing around, like "What does it mean to make pop music?" And it [Odd Blood] was our version of that. There's a difference between being a "pop star" and trying to make an album that has a dialogue with some of the music that pop stars make. I don't think any of us are cute or clean shaven enough to be pop stars.
Anand Or willing to jump through the hoops. We've always struggled with trying to be contemporary and engaging in new technology. The people at the forefront of that a lot of the time are pop stars.
Chris Pop producers are people who are so far left of centre and doing all this experimental weird noise sound shit, soundscapes and crazy things. We try to keep our ears open.
Did you like NME's description of you as 'Neo-hippies with a penchant for synthesizers and string vests'?
Ira I think that's because we used to have long hair.
Anand NME was very obsessed with our image because it ran so counter to the kind of [English accent] "English pop 18-year-old Kasabian" thing.
Chris I don't know what that line means. I have some things in common with hippy ideologies but many things I don't.
Like what?
Chris A distrust of authority and an interest in drug-taking and free love. Well, not fully indulging in those things … but certainly an interest. But I don't really want to live on a commune. I don't like astrology. I don't want to be high all the time; there's a time to be high.
Anand I like that they say Love You Girl is this "mentalistic microcosm", cos we did pack so much shit into that one song. It's a great review. [Reading aloud] "Around 17 songs crammed into one." That's great. I love that the review is about getting images into your head; it's not about imagining a band looking cool, and that's the idea with Yeasayer.
'I Remember seems predestined to soundtrack a zillion high-school slow dances' The AV Club
Anand Can you imagine writing a song that was going to be the slow dance for a zillion high schools? Chris We'd be rich. So rich! Anand If we had written [sings loudly] "And I would do anything for love …" That was played at every single prom and bar mitzvah.
What were your slow dances?
Ira In middle school it was Stairway To Heaven. I'd be like, "Why are they playing this song?"
Chris I remember it coming on at a bar mitzvah. I had no idea what it was and Lauren Whaley, a hot older girl, was like, "Let's all lie on the floor in a pentagram!" I was like, "That is the coolest shit, ever."
Ira All slow dance songs are just the slow dance songs from John Hughesmovies.
Chris They talk about it there [points to a line in the review which says "post-John Hughes Orchestral Manoeuvres In The Dark"]. I don't think it would necessarily be post-John Hughes OMD. But if you put "post" on anything it makes it sound smarter.
How did the pentagram go down?
Chris It was awesome. And then me and Lauren Whaley were cool, but it turned out she thought I was gay. Which now seems awesome, even in high school that could've gotten you in. But in seventh grade I was like, "Nooooo ..."
Ira I got that too that until I started to have growth spurts. Girls going, "I think he's gay." I was just, "I haven't been through puberty yet. And I'm really insecure that I have no pit hair!"
'Ambling Alp [about boxer Joe Louis] manages to retain the leftfield bona fides with an easy-to-love glossy pop sheen' Pitchfork, 6.1/10
Chris The mythology of sport is pretty cool, especially boxing. My grandfather was an English boxer, he boxed under the name of Chris Kelly. He actually boxed at the Royal Albert Hall.
Anand I'm really frustrated by the fact that Pitchfork is the one – the arbiter – and people will just rip them off. And be like, "Well, I couldn't possibly like that song if they didn't like it."
Ira That's the problem with most journalism today. It's just lazy. And blogs start quoting each other and there's that cycle …
Chris ... the cut and paste. This time we knew [how things works] so we put some specific terminology in our press release and it shows up [in articles]! It didn't even make sense, but they ended up using it.
Ira [To the Guardian] So don't be lazy!
'Nine tracks of near perfection' PrettyMuchAmazing, 89/100
Is it flattering to be praised in that way on a new music blog?
Chris Not really. Who is that person? I don't know. I want to ask, "What else do you like?" It would be one thing if Nick Cave wrote me a letter saying, [Aussie accent] "I really like your album."
Does that go for people who hated it, too?
Chris I'd care more if they hated it. If they do like it, I'm like, "Cool ... You probably like a lot of crap."
Anand I don't despise criticism in general. If I really hate a movie I'll search for someone who agrees with me and put it in a really distinct turn of phrase.
Are you a fan of music blogs?
Chris I think what's going on is that you have these bloggers with no real experience. They're just trying to get their opinions out, and as a result real journalists dumb down so they can be part of that world too. The integrity and the quality levels fall.
Ira Whole fact-checking departments at magazines are going. So more things fall through the cracks.
Chris That thing in Almost Famous where the fact-checkers call the band and the band are like, "No, we didn't say that," and they can't print the article. That would never happen now.
But haven't the music blogs played an important part in your career?
Ira It's given us a career. We're in that [blog rock] world, but it's important to be critical of it.
Chris I think the nature of being creative in the public sphere means you need to have thick skin. At the end of the day, I don't give a shit what people are going to say. I care what these guys [Anand and Ira] say, and that people are coming to see us play, and that we're progressing. Beyond that, I don't care.