Wolfmother, On tour
Wolfmother seem to have been constructed on the principle of "hair first, music second"; given the scale of frontman Andrew Stockdale's mane, it's hard to imagine that this could ever have been a quiet band. Built on the founding essences of large riffs and mild sexism, these Australians, like spiritual forefathers AC/DC, are giving it all they have in a medium beyond parody. In principle, it's a formula for uncomplicated rock'n'roll business; in practice, it's proved anything but. After an initial flurry of activity around 2006, the original trio broke up. Now a four-piece, their Cosmic Egg album sees them returned with renewed, if still absurd, vigour.
O2 Academy Glasgow, Thu; O2 Academy, Newcastle upon Tyne, Fri
John Robinson
Sarah Gillespie, London
Sarah Gillespie, a young British singer-songwriter who has spent a lot of her life in the US, doesn't seem to have heard the news that jazz-inclined female vocalists nowadays are supposed to sing in a whisper. Gillespie is loud, defiant, and the opposite of world-weary, in which respect she closely matches the approach of her inspirational producer and principal accompanist, the saxophonist Gilad Atzmon – who also plays accordion on this gig in a band including bassist Ben Bastin drummer Enzo Zirilli. The jazz on Gillespie's debut album Stalking Juliet mainly came from Atzmon, with his synthesized soul-horns riff on the title track one of the standout episodes of the set. Gillespie can sing with a punkish ferocity, sometimes with rap's percussive phrasing, and often with a faintly mannered mix of Tom Waits's growl and Bob Dylan's drawl, but she matches her imposing delivery with superior lyrics.
The Vortex Jazz Club, N16, Thu
John Fordham
Gary War, On tour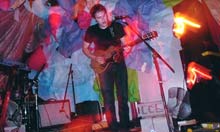 2009 provided some great examples of how a band could blow your mind, without breaking the bank. Whether it was Sun Araw, or Wavves, distorted manglings of conventional fidelity proved to be a thrilling way to add involving new dimensions to pop compositions. It's an erratic playing field in which Gary War, from New York, can be found. Titles of his latest album (Horribles Parade) and new tour ("Pleading For Annihilation") could get you thinking that he's out to confound and offend, but War has a lot in common with earlier acts like Ariel Pink: he makes pop, but pop that has been subjected to harsh, strange processes. With flavours of Gary Numan and Depeche Mode, and equally of Fisher-Price, War is playing – but he's playing very seriously.
Star & Shadow, Newcastle upon Tyne, Sat; Portland Arms, Cambridge, Sun; Cowley Club, Brighton, Mon; Lexington, N1, Tue
John Robinson
Park Lane Group Young Artists New Year Series, London
The PLG's New Year week of concerts – showcasing up-and-coming musicians in 20th- and 21st-century repertoire – began back in 1956. Over the ensuing half-century, the series hasn't always adapted to the changing musical environment, but its importance in spotlighting new talent is unquestioned. This year's crop is fairly conventional: just one singer, a tenor, among an array of pianists, violinists, cellists and string quartets, including the Finzi String Quartet (pictured). Repertoire-wise there are premieres from Richard Causton, Haris Kittos and Andy Scott, plus a focus on the music of Nicholas Maw and Kenneth Leighton.
Southbank Centre, SE1, Mon to Fri
Andrew Clements
Kenny Wheeler 80th Birthday Celebration Concert, London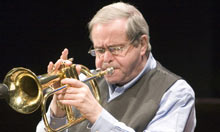 Since his arrival in England in the early-50s, the Toronto-born trumpeter Kenny Wheeler has displayed the technique and imagination to play in almost every kind of jazz band – from John Dankworth's 50s and 60s orchestras, to the free-improvising Spontaneous Music Ensemble and the bands of Mike Gibbs, Dave Holland and Anthony Braxton. He later emerged as one of the British jazz scene's most creative composers, writing haunting harmonies around faintly melancholic melody lines that were as recognisable as a signature. As the star of this performance, Wheeler is joined by an A-list (including pianist John Taylor, singer Norma Winstone, saxists Evan Parker, Stan Sulzmann and Julian Arguelles) to collaborate on his scores, with bassist Dave Holland flying in from the States as a special guest.
Royal Academy Of Music, NW1, Thu
John Fordham
Vivian Girls, On tour
In the world of psychedelic synths, tribal ecstasies and Technicolor vegetarianism that is the Brooklyn music scene, Vivian Girls cut a bit of an odd dash. Rather than the futuristic raves created by, say, Animal Collective, TV On The Radio or Gang Gang Dance, this all-woman trio instead bear witness to a parallel wave of indie nostalgia. Harking back to the flaky sounds of indie bands from 1986 like Shop Assistants, and Fuzzbox (and in their no-nonsense approach, still further back, to the ethos of the Ramones), they play a bracing guitar rock, the limit of their technical capabilities forcing a resourcefulness in how to get the job done. Their primitive harmonies proved an eerie and impressive feature of their reverb-drenched debut, but for their latest, Everything Goes Wrong, it's the sheer profusion of thrashy relationship vignettes which is the strongest selling point.
Freebutt, Brighton, Thu; Jericho, Oxford, Fri
John Robinson