Bowlie 2, Minehead
We now take such things for granted, but the first Bowlie (a seaside holiday with sand, sea and indie) was a mindblowing idea. Who in 1999 knew there might be a place where you could paddle, then go and see Godspeed You! Black Emperor? Or indeed, that this might be a good, even game-changing idea? Certainly a lot has changed. Back then curators Belle And Sebastian enjoyed a kind of mythic power, since softened by time into something a little cosier, but they can still programme an excellent show. Literate gentleness dominates at this sequel event, with Field Music, Saint Etienne, Camera Obscura, and Vashti Bunyan – but there's also feistier stuff from Crystal Castles.
Butlins, Fri to 12 Dec
John Robinson
When it started life in 2001, British quartet Acoustic Ladyland took a quietly soulful tone-poetry approach to the music of Jimi Hendrix. But by 2005, when it launched the Vortex Jazz Club's move to Dalston, Hendrix's wild spirit had taken over, creating a rapturously noisy collision of punk, drum'n'bass, rock'n'roll, Albert Ayler and Pharoah Sanders. These four gigs celebrate Acoustic Ladyland as it winds up under its present name and reincarnates. The gigs showcase albums from debut Camouflage through to last year's Living With A Tiger, and Ladyland memorabilia and rare vinyl will be available for the real hardcore.
The Vortex Jazz Club, N16, Wed to 11 Dec
John Fordham
Lighthouses Of England And Wales, Glasgow
The BBC Scottish Symphony Orchestra has been celebrating its 75th birthday with a concert series devoted to 20th-century British music. All the usual suspects have featured, from Elgar onwards, as well as a brand new piece by Helen Grime, while the final concert in the series, conducted by the BBCSSO's former chief conductor Ilan Volkov, revives one of the most extraordinary British orchestral scores of the last quarter century, Benedict Mason's Lighthouses Of England And Wales from 1987. Mason describes his quarter-hour piece as a "guided tour" around the main Trinity House lighthouses, from the Solway Firth to the Farne Islands, many of which he visited to notate the patterns of their flashes. Those patterns provide the material for the piece, as they fade in and out of focus in turn, as if the listener is "moving on a fast journey … while always remaining on the same spot".
City Halls, Thu
Andrew Clements
Mahler's Beethoven, London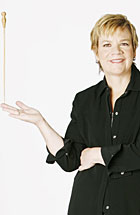 With the 150th anniversary of his birth this year and the centenary of his death next year, Gustav Mahler's symphonies and song cycles are ubiquitous this season. But other aspects of Mahler are also being explored, especially the relationship between his careers as a conductor and composer. Last month at London's Royal Festival Hall, Vladimir Jurowski revived Mahler's reorchestration of Beethoven's Eroica Symphony and, with the London Symphony Orchestra this weekend, Marin Alsop conducts two more of his Beethoven reworkings, the third Leonora Overture and the Seventh Symphony. "All Beethoven's works need a certain amount of editing," Mahler is quoted as saying, and his belief that the orchestras of the early-19th century were inadequate to present those symphonies was the raison d'etre of everything he did to enhance their power.
Barbican Hall, EC2, Sun
Andrew Clements
Jenny Lewis is a strange kind of solo artist – one who never quite seems happy alone. The sometime frontwoman of Rilo Kiley (essentially Sleeper: the American Edition), Lewis's waspish delivery of their songs considerably enlivened the band's slightly foursquare rock. Lately, she has intermittently broken away, via a series of collaborations, the latest being Jenny And Johnny, a band with boyfriend Johnathan Rice. Both the relationship and the sound (it's that 2010 staple, well-produced old school indie) make it sound quite insular, but that's possibly the point. An ironically-titled sort of album, I'm Having Fun Now, is periodically like eavesdropping on a bitchy conversation. Who did what to and to whom? It plays like an album à clef, where you wonder who is being gossiped about.
Norwich Arts Centre, Sat; The Roadmender, Northampton, Sun; 93 Feet East, E1, Tue; Bush Hall, W12, Wed; Mass, SW2, Thu; The Luminaire, NW6, Fri
John Robinson
Charismatic, with an aesthetic that's part psychedelic Cotton Club, part funky German expressionism, Janelle Monáe is weird, but in a very good way indeed. It's true, in a pop/R&B world where a megastar like Rihanna is still only 22, Monáe might seem a little over the hill at 25, but hers is a talent that has undoubtedly benefitted from having been given time to mature. After a brief dabble in performing arts – incidentally, she'll be supporting Amy Winehouse next year – she has been nurtured under the wing of the OutKast organisation, appearing for years in low-key guest spots, before debuting on her own. Her first album The ArchAndroid is certainly not afraid of eclecticism – producers include indie types Of Montreal, plus OutKast's Big Boi – but Monáe has the personality to hold all these disparate influences together.
O2 Shepherd's Bush Empire, W12, Sun; Manchester Academy, Mon
John Robinson