Neon Indian, On tour
It sounds like an AOR hit from 1983 but fuzzily so? It has the word "summer" or "beach" somewhere in its title or the band's name? Then you are most likely experiencing chillwave, the generic surge in post-Animal Collective bands who have as much time for melodies and electronic sounds as distortion and psychedelic drugs. Neon Indian's 2009 debut album Psychic Chasms joins ranks alongside Ariel Pink's Haunted Graffiti and Memory Tapes in exploiting the weird potential of misremembered 80s hits. As with so many such projects, Neon Indian is the brainchild of one composer, Alan Palomo, and the music he's made is nostalgic, occasionally rueful, but always tuneful. Live, he uses a full band, the better to bring these strangely private reveries to life.
Cental Station, Wrexham, Wed; Cargo, EC2, Thu; Start The Bus, Bristol, Fri
John Robinson
Jónsi, Bristol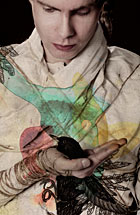 Jónsi Birgisson is the frontman of Sigur Rós, but he's effectively also the voice of the natural world. If there's an arcing curlew, a school of dolphins or a drifting ice floe on your television screen, chances are there's the sound of Birgisson's dramatic, if slightly anonymous, music somewhere in the background; musical shorthand for, "This is quite moving stuff, isn't it?" Solo, Jónsi is theoretically more straightforward: on his debut solo album, Go, the Icelandic musician sings in English rather than the cooing spookiness of his band's imagined "Hopelandic". It's still, however, music that may as well be instrumental. Birgisson communicates more efficiently with the eeriness of his voice – one part Liz Fraser, one part owl – than with what he's actually saying, an effect that's otherworldly yet still strangely personal. Now he brings his epic and oceanic ambiences to a challenging new musical landscape: indoors.
Colston Hall, Bristol, Wed
John Robinson
MV & EE, On tour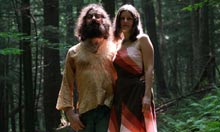 "Freak folk" were buzz words of 2002, but Matt Valentine and Erika Elder are a pair who serve to remind that – while scenes come and go – sheer freakiness and individuality will abide. A cabin in the woods, a faintly Amish vibe: even without their eccentric guitar-based meanderings, MV & EE would be interesting characters, but the pair operate as far off the beaten track musically as they do residentially. Based in Vermont, and part of the evolving musical community there – Sunburned Hand Of The Man are probably their most storied spiritual cousins – the band explore elements of rock, folk, blues, ragas and improv in no particular order, a journey chronicled on their 30-plus LPs since 2001. It's fair to say that as old as its roots are, the nature of this music is its unpredictability; there may be hit and miss moments, but there will possibly be magic also.
Cafe Oto, E8, Mon; Miss Peapod's, Penryn, Tue & Wed; Phoenix, Exeter, Thu
John Robinson
Berliner Philharmoniker, London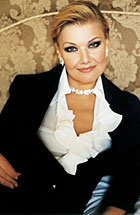 Since Simon Rattle took the helm 10 years ago, the Berlin Philharmonic has become a much more regular visitor to London, especially to the Proms. But if its appearances have less novelty value than they did a generation ago, that hasn't diminished the quality they almost invariably provide. This year's pair of Proms plays to the orchestra's strengths in the Austro-German tradition. Rattle conducts symphonies by Beethoven and Mahler in the first programme, while the second is almost a history of the tradition. It begins with the prelude to Wagner's Parsifal, ending with sets of orchestral pieces by the composers of the second Viennese school, Schoenberg, Berg and Webern. In between soprano Karita Mattila joins Rattle and the orchestra for Strauss's Four Last Songs, whose premiere in 1950, after the composer's death, was effectively a farewell to the world of German romanticism.
Royal Albert Hall, SW7, Fri
Andrew Clements
Bliss, Edinburgh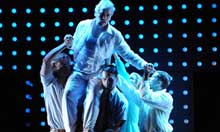 New operas don't tend to appear at the Edinburgh International Festival but its final big event this year is a major European premiere. Opera Australia brings over Brett Dean's black comedy with the original cast headed by Peter Coleman-Wright, directed by Neil Armfield, with Elgar Howarth conducting the BBC Symphony Orchestra. Based upon Peter Carey's debut novel, Amanda Holden's libretto tells of the midlife crisis of an ad man who abandons his family to start a new life in northern Queensland. It's Dean's first opera, and a hugely accomplished one, full of vivid, busy orchestral textures and wonderfully singable vocal lines; it's also very funny.
Festival Theatre, Thu & 4 Sep
Andrew Clements
Jure Pukl's Slavic Soul, On tour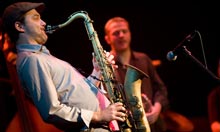 Jazz listeners in America and eastern Europe have already picked up signals from young tenor saxophonist-composer Jure Pukl; now the UK can hear this exciting newcomer. Slovenian-born Pukl was taught in the States by the great George Garzone; has recorded with innovative jazz and hip-hop drummer Marcus Gilmore; and been acclaimed for mixing postbop, his own Slavic folk roots, and rhythm-layering contemporary grooves. On this tour, he'll mainly appear with a bespoke band featuring Irish singer Christine Tobin.
Jazz Bar, Edinburgh, Sat; Vale Bar, Glasgow, Sun, Western Hotel, St Ives, Tue; St James Social Club, Swansea, Wed; Dempsey's, Cardiff, Thu; Broxbourne Rowing Club, Fri
John Fordham