Avi Buffalo, On tour
Teenage kicks: legendarily hard to beat, and on the debut by Avi Buffalo, they're equally hard to ignore. A young band, Avi Buffalo write music that's rich in the yearnings, inarticulate declarations, and courtship rituals of their fellow Californians. If that sounds like the stuff of thrashy rock, you'd be mistaken; what's most interesting about the band is the languid way they let their songs unfold. Reminiscent at times of Mercury Rev, there's a wonderful poise to the band's debut. On it, guitarist-songwriter Avi Zahner-Isenberg admits space for woozy psychedelia, cool guitar playing and masturbatory reminiscence equally. It sounds like a horrible formula, but it works incredibly well.
Green Man Festival, Sat; Lancaster Library, Sun; Cargo, EC2, Tue; O2 Academy Islington, N1, Wed; Reading Festival, Fri
John Robinson
Caitlin Rose, On tour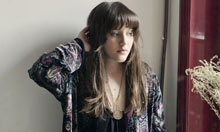 Most country music claims to be telling the truth, but there are very few country singers you feel inclined to believe. Pedal steel guitar, weeping fiddles … Caitlin Rose, young and from Nashville, bears much of the brand of the country singer, yet seems instinctively believable, in a way that, say, Zooey Deschanel just doesn't. Clarity of voice and candour of production is the key to her Own Side album but, under all its polish, it is possible to detect a playfulness in what Rose is up to. Earlier this year, she released a rawer set of songs recorded when a teenager, while songs like For The Rabbits have a surprising resemblance to the quirky works of maverick indie Jeffrey Lewis.
Cleere's, Kilkenny, Sun; CrawDaddy, Dublin, Mon; Cyprus Avenue, Cork, Tue; Night & Day, Manchester, Wed; The Glee Club, Birmingham, Fri
John Robinson
Reading/Leeds Festival 2010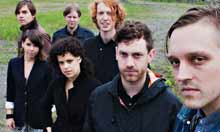 There was a time when men in denim gathered on land near Reading to incinerate tents and hurl urine-filled bottles at music artistes. Those days are gone, but a lineup such as you'll find at Reading and Leeds this week could make you wonder. Guns N' Roses. Biffy Clyro. Lostprophets. Limp Bizkit: it's only a smattering of what's on offer over the three days, but these are names to chill the marrow of what has become the festival's alternative heartland. Happily, there remains an oasis of indie music. On Saturday 28 Aug (Reading) or Friday (Leeds), alongside the likes of the Walkmen and Gaslight Anthem, you can catch a couple of festival exclusives. First up, the much-anticipated reformed Libertines, and second, headliners the Arcade Fire, back with third album, The Suburbs.
Little John's Farm, Reading; Bramham Park, Leeds, Fri to 29 Aug
John Robinson
Presteigne Festival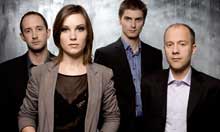 Presteigne's distinctive musical blend, with its emphasis on a particular strand of British contemporary composers, seems to have stood the test of time. The festival continues to thrive in its modest six-day format and regularly attracts a faithful following. As usual, anniversaries are acknowledged and significant figures in British music recognised. This time the Schumann bicentenary gets special attention, and the composer in residence is Hugh Wood, whose Divertimento opens the festival, conducted by artistic director George Vass, and whose new orchestral songs are included in the closing concert. Also in the opening programme is a new orchestration of Elgar's String Quartet, commissioned by the festival from David Matthews, while elsewhere are premieres of commissions from Joe Duddell, Stephen McNeff and Judith Bingham, plus visits from the Tippett Quartet and the Galliard ensemble.
Various venues, Thu to 31 Aug
Andrew Clements
Daar Kom Die Alibama, Edinburgh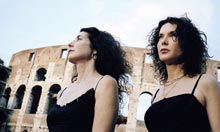 As usual, premieres are in relatively short supply during the Edinburgh International Festival, especially in the orchestral concerts. But the Scottish Chamber Orchestra's first appearance there under its new principal conductor Robin Ticciati does include one of considerable significance: the latest large-scale piece by the South African-born, Irish-resident Kevin Volans. South Africa itself is evoked in a symphony to which he has given an Afrikaans subtitle, Daar Kom Die Alibama. It's a reference to a song composed by members of the Cape Malay community in the 1860s, in honour of a confederate ship, the Alabama, which arrived in Cape Town harbour during the American civil war. Volans's 22-minute piece is, he says, "a meditation on the sea and the role of ships and their cargoes in our history", which "hovers in a state of unfulfilled anticipation from beginning to end".
Usher Hall, Fri
Andrew Clements
Scottish National Jazz Orchestra, Edinburgh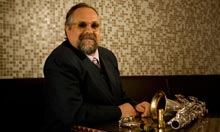 The Scottish National Jazz Orchestra, directed by saxophonist Tommy Smith, is becoming one of the world's great jazz-repertory big bands. The tireless and imaginative Smith keeps the programme fresh, from reinterpretations of Rhapsody In Blue showcasing pianist Brian Kellock to celebrations of Miles Davis's electric music with guitarist John Scofield. But maybe this gig is the most ambitious of all, with music by big band legends Duke Ellington, Count Basie and Dizzy Gillespie fronted by Smith and American saxophone giant Joe Lovano, and conducted by Gunther Schuller – who played on Miles Davis's Birth Of The Cool sessions. Smith is already a leading jazz soloist, but he's also evolving into an original orchestrator and arranger of classic orchestral jazz. The collaboration with Lovano ought to be as memorable as anything in the Orchestra's vivid history.
Usher Hall, Thu
John Fordham