Hallogallo Neu! 2010, Edinburgh
Beneath the serene pulses of their motorik beats and the glacial reverb of their guitar, the relationship between Neu! founder members Klaus Dinger and Michael Rother was not always placid. Together for three essential albums, the pair's relationship foundered over the creation of their fourth, Neu! 86, and had not entirely recovered at the time of Dinger's death in 2008. This probably won't surprise you if you've heard their later work, which sounds like Hawkwind produced by Stock, Aitken & Waterman, but indirectly it's this which has led to Hallogallo 2010. A Neu! box set from earlier this year included a finished version of '86, and testified to their mounting influence. Now, Rother feels the time is right to honour the music (and his former comrade) live.
HMV Picture House, Tue
John Robinson
Flying Lotus, London
There's a strong tradition of the cosmic around Flying Lotus. His great aunt, Alice Coltrane, made music that essayed the spiritual and celestial. Now LA resident Stephen Ellison, assisted by nothing but Thom Yorke, medical marijuana and his own strong vision, is doing his own bit for musical space exploration. If you've been wandering the galaxies looking for the next DJ Shadow, then FlyLo's second album, the heavy psychedelic hip-hop of Cosmogramma, may mark the end of your voyage. For his next trick, Ellison will be going to several places where no man has gone before. At least, not in such quick succession. First up, he'll head to a car park to play live, supported by, among others, Kode 9. Then it's to the Tate Modern to play his live soundtrack to Harry Smith's Heaven & Earth Magic. He comes back down to earth with a live set at the ICA. Hearn Street Car Park, EC2, Sat; Tate Modern Starr Auditorium, SE1; ICA, SW1, Wed
John Robinson
Green Man Festival, Brecon
Green pastures. Encroaching mists. Dramatic hills. The raw ingredients of the Green Man Festival don't only sound like the setting for a folk-based festival, they sound themselves like the setting for a folk song. A meeting of both traditional folk and the more modern groups loosely interpreting the music, Green Man is not at all a dogmatic place, its mellow setting of a piece with the activities within. That's not to say, however, that the event's headliners are not heavyweights: this year the event plays host to the baroque tales of Joanna Newsom and the increasingly rowdy and freeform Flaming Lips, while indie stalwarts Doves headline on Friday. Further down the bill, the notional folkiness is preserved with the likes of the impressive Unthanks, the excellent Alasdair Roberts, and the rather more commercially successful proponents of acoustic music: Laura Marling, and the ebullient Mumford & Sons.
Glanusk Park, Usk, Fri to 22 Aug
John Robinson
Barbara Morrison, Edinburgh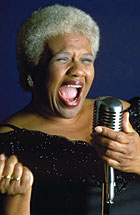 Barbara Morrison, the irrepressibly entertaining Michigan-born jazz, blues and gospel singer, is a big favourite at Edinburgh, and this three-week run confirms the festival's faith in her pulling power. Introduced to Scotland by local pianist Tom Finlay, Morrison is steeped in the traditions established by Ella Fitzgerald, Billie Holiday and Carmen McRae, but she learned a vaudevillian playfulness as a child, and has never lost the sense that the audience is as important to the show as anything onstage. Her musical partners have included Ray Charles, Dizzy Gillespie, Dr John, Nancy Wilson and Mel Torme, but Morrison can make even smoochmeister Liberace's songs sound hip.
Outhouse, to 29 Aug
John Fordham
Les Enfants Terribles, London
The Grimeborn Opera festival's jokey name may signal its healthy disregard for anything associated with the operatic establishment, but it also belies the seriousness of what its programme contains. Like Tête à Tête's festival taking place concurrently on the other side of London, Grimeborn acts as a host for small-scale music-theatre companies with productions that have already been elsewhere. Some shows, though, are brand new, and the final one this year is the Volta Theatre Company's staging of Philip Glass's Les Enfants Terribles, a UK premiere. In the 1990s Glass completed a trilogy of stage works based upon films by Jean Cocteau, and his 1996 version of Les Enfants Terribles – labelled a dance opera by Glass – was scored for three singers and a troupe of dancers who portray the action between them, accompanied by three keyboards.
Arcola Theatre, E8, Fri
Andrew Clements
BBC Symphony Orchestra, London
Ten o'clock on a Friday evening isn't exactly one of the prime slots in the Proms schedule. But some of the most intriguing programmes are often found tucked away in that late-night ghetto where they won't upset the mainstream audience, and music from the postwar English and American experimental traditions certainly falls into that category. The conductor of this sequence of John Cage, Cornelius Cardew, Howard Skempton and Morton Feldman, is the BBC Scottish Symphony's former chief Ilan Volkov, whose programming was such a breath of fresh air when he was in charge of the orchestra. Two of the works, Cage's clangorous First Construction in Metal and Skempton's hypnotic Lento, are relatively well known, but both Cardew's Bun No 1 and Feldman's Piano and Orchestra will be receiving their London premieres. It's a wonderfully bold and challenging programme, and a real treat for anyone interested in the music of the second half of the 20th century.
Royal Albert Hall, SW7, Fri
Andrew Clements