Calvin Johnson, On tour
Record label pioneer, eccentric performer, friend of Kurt Cobain …Calvin Johnson is an example of that great oxymoron: indie royalty. And with good reason: as the founder of K records – and also in his bands Beat Happening and Dub Narcotic – Johnson proved that the alternative music of the late-80s and 90s wasn't a dreadful shambles, but a liberation of style and a showplace for persons of great individuality. K, the label, is still thriving, and although his bands are no more, Johnson continues to operate in such a way that cuts down personnel without sacrificing quality, with solo acoustic shows. Johnson is a big man with a big voice, and it's this impressive baritone – somewhere between Johnny Cash and the voice of God from some made-for-TV movie – that gives him a presence of great authority.
Chapter Arts Centre, Cardiff, Sat; Cube Microplex, Bristol, Mon; Trinity Centre Hall, E8, Tue; Leahoe Sports & Social Club, Hertford, Fri
John Robinson
Get Cape Wear Cape Fly, On tour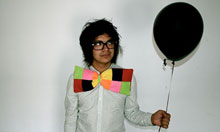 It's probably the curse of being a one-man band that it's all down to you. For Get Cape Wear Cape Fly's Sam Duckworth, it's resulted in a sound you can't quite pin down. Is it indie-folk? Or acoustic drum'n'bass? The forthcoming third Get Cape album makes makes things no easier, adding to his formerly rather suburban collaborators – Billy Bragg, Kate Nash – slightly more interesting names: Baaba Maal and Shy FX. Ironically, Duckworth is best when he keeps it simple: one suspects the sooner he learns to love his inner Coldplay, the easier it will be for everyone.
The Deaf Institute, Manchester, Tue; Borderline, WC1, Wed; Rock City, Nottingham, Thu; The Electric Circus, Edinburgh, Fri
John Robinson
Steve Mason, On tour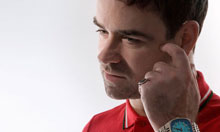 Steve Mason is a great musician, but also an interesting indication of what might have been. As the main singer and songwriter for the Beta Band, Mason was a signpost to an odder place, that had Britpop somewhere within sight, but odder destinations over the horizon. Under Mason's direction, the band began playing a kind of epic, apocalyptic folk, and ended playing weird rock dressed as technicians at a power station, always assured of their own brilliance, but too unwilling to compromise to achieve wider acclaim. Since then, Mason has been no less complex or whimsical. There has been great solo work (as King Biscuit Time), a spell when he quit altogether, and now what passes for a rebirth in the shape of new album Boys Outside, a collaboration with mash-up pioneer Richard X. These sporadic dates will serve as a fitting reminder of Mason's misfiring genius.
The Louisiana, Bristol, Thu; Summer Sundae Weekender, Leicester, Fri
John Robinson
Three Choirs Festival, Gloucester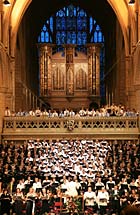 As the Three Choirs festival rotates between the cities of Hereford, Worcester and Gloucester each year, so the artistic direction of the programme goes with it. Each of the cities' cathedral organists takes turns to plan the schedule in their own venue, and this year is the first in charge for Adrian Partington, who moved into the Gloucester organ loft in 2008. Though he has been careful to maintain the festival's generally conservative approach, Partington has a definite sense of reforming zeal. The first major event, a performance of Elgar's The Kingdom, will satisfy the traditionalists, but there's also the premiere of Joubert's An English Requiem, a concert marking the centenary of Vaughan Williams's Tallis Fantasia, and another concert bringing together works by Ivor Gurney, Elgar and Gerald Finzi's masterpiece, Intimations Of Immortality.
Various venues, Sat to 15 Aug, visit 3choirs.org
Andrew Clements
El Niño, Edinburgh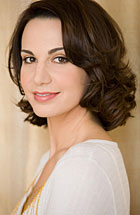 The connections are sometimes drawn rather vaguely, but the theme of this year's international festival in Edinburgh is the European discovery of the New World, and the resulting cross-fertilisation of ideas. Performers from the Americas and Australasia figure prominently and, while 20th-century music from South America is not well represented, composers from the US and Australia both get plenty of exposure. The opening concert, John Adams's El Niño, featuring mezzo soprano Kelly O'Connor, chimes perfectly with that emphasis. Adams tells the story of the nativity through sources in English Spanish and Latin: there are extracts from St Luke's gospel and from the apocryphal gnostic gospels, as well as poems by contemporary Hispanic women writers. Adams describes the work as an "opera-oratorio", but this will be a straightforward concert, and El Niño's future seems likely to be as a work in the choral oratorio tradition.
Usher Hall, Fri
Andrew Clements
Orchestre National De Jazz: Around Robert Wyatt, Brecon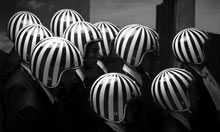 One of the highlights of this weekend's rejuvenated Brecon Jazz Festival (even among a blaze that includes the Buena Vistas' latest incarnation, Mercury contenders the Kit Downes Trio, Erik Truffaz, Andy Sheppard and many more) is France's innovative national jazz orchestra playing its take on the Robert Wyatt songbook. The orchestra, under new director Daniel Yvinec, put out this ingeniously and very entertaining collaboration with the eccentric, jazz-loving English troubadour as a highly acclaimed album in 2009, and it's one of Saturday night's must-sees, despite glitzy competition on the bill.
Christ College Stage, Brecon Jazz Festival, Sat
John Fordham